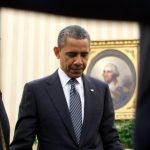 Some of the many false viral claims about Barack Obama's faith and citizenship.
Q: Did Obama replace the U.S. flag on the tail of his campaign plane with his campaign symbol?
A: Yes. Obama's newly designed campaign plane features the campaign's logo on the tail. However, an image of the U.S. flag appears on the side of the plane.