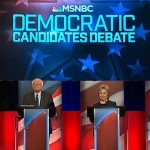 Clinton, Sanders exchange misleading claims in a head-to-head debate leading into the New Hampshire primary.
Q: Is it true that 36 percent to 37 percent of eligible voters failed to vote in the recent presidential election?
A:Actually, the number is slightly higher than that: 38.4 percent of eligible voters didn't cast a ballot for president in 2008. Even more — 39.9 percent — didn't vote in 2006.