Q: When did blacks start voting Democratic?
A: There was a big move to Democratic voting in Franklin D. Roosevelt's administration, and another in Lyndon B. Johnson's.
FULL QUESTION

I've had a question for a long time and haven't yet found what I consider to be an unbiased source, or the raw data to do my own analysis.
For how long have the Democrats garnered the black vote? Certainly there was a point during the last century when a majority of blacks started supporting the Democrats rather than Republicans. What has been the voting pattern and what happened to change that pattern?
FULL ANSWER
Blacks mostly voted Republican from after the Civil War and through the early part of the 20th century. That's not surprising when one considers that Abraham Lincoln was the first Republican president, and the white, segregationist politicians who governed Southern states in those days were Democrats. The Democratic Party didn't welcome blacks then, and it wasn't until 1924 that blacks were even permitted to attend Democratic conventions in any official capacity. Most blacks lived in the South, where they were mostly prevented from voting at all.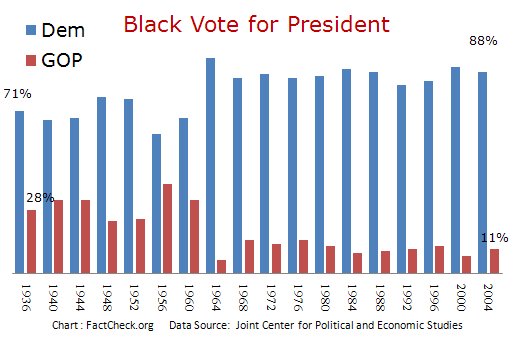 The election of Roosevelt in 1932 marked the beginning of a change. He got 71 percent of the black vote for president in 1936 and did nearly that well in the next two elections, according to historical figures kept by the Joint Center for Political and Economic Studies. But even then, the number of blacks identifying themselves as Republicans was about the same as the number who thought of themselves as Democrats.
It wasn't until Harry Truman garnered 77 percent of the black vote in 1948 that a majority of blacks reported that they thought of themselves as Democrats. Earlier that year Truman had issued an order desegregating the armed services and an executive order setting up regulations against racial bias in federal employment.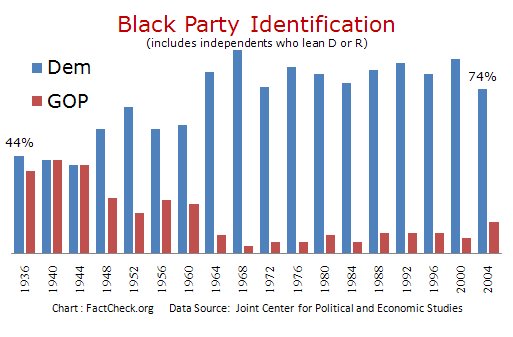 Even after that, Republican nominees continued to get a large slice of the black vote for several elections. Dwight D. Eisenhower got 39 percent in 1956, and Richard Nixon got 32 percent in his narrow loss to John F. Kennedy in 1960.
But then President Lyndon B. Johnson pushed through the landmark Civil Rights Act of 1964 (outlawing segregation in public places) and his eventual Republican opponent, Sen. Barry Goldwater, opposed it. Johnson got 94 percent of the black vote that year, still a record for any presidential election.
The following year Johnson signed the 1965 Voting Rights Act. No Republican presidential candidate has gotten more than 15 percent of the black vote since.
Footnote: Younger African American voters have been edging away from the Democratic Party in recent years. David Bositis of the Joint Center notes "a fairly long-term pattern of decreasing identification with the Democrats by younger African Americans." Of course, it remains to be seen what the 2008 campaign will bring.

-Brooks Jackson
Sources
Bositis, David A. "Blacks and the 2004 Democratic National Convention." Joint Center for Political and Economic Studies, Table 1, Presidential vote and party identification of black Americans, 1936–2000; p. 9.
Bositis, David A. "The Black Vote in 2004," Joint Center for Political and Economic Studies, 2005.
Apple Jr., R.W. "G.O.P. Tries Hard to Win Black Votes, but Recent History Works Against It." The New York Times, 19 Sept. 1996.