In our work fact-checking political claims and debunking viral deceptions, we have found a tremendous amount of misinformation on the coronavirus pandemic.
Here's a guide to our coverage of the facts. Click on the headlines for the full stories.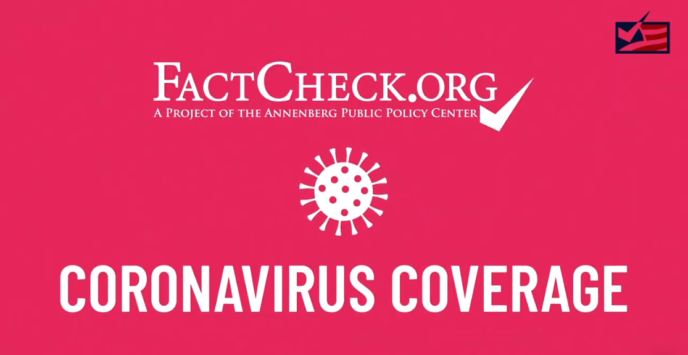 Our Latest Stories
These are stories published in the last seven days, as of April 3:
Trump, Pence and Reassessing Coronavirus
In this story, we outline President Trump's evolving language on the deadliness of the virus, its spread in the U.S. and how it compares with the seasonal flu. We also provide a timeline of the president's comments.
Trump Falsely Claims He Inherited 'Empty' Stockpile
More than once, President Donald Trump has falsely claimed that the federal stockpile of emergency medicine and supplies he inherited from his predecessor was an "empty shelf."
Video Misconstrues Pelosi Tweet on 'un-American Travel Ban'
A viral video makes the bogus claim that House Speaker Nancy Pelosi's Jan. 31 tweet criticized the Trump administration's restriction on travelers from China to slow the spread of the novel coronavirus. Her tweet was unrelated to those travel restrictions.
Misinformation on COVID-19 Death Protocols in New York
A viral Facebook post about COVID-19 falsely claims that in New York "every contaminated corpse belongs to the state" and will be incinerated without any "wakes or memorial services to pay your last respects." The state is allowing funeral services with limited visitors; cremation is not mandated.
Trump, Biden and the Defense Production Act
Biden repeatedly has criticized Trump for failing to make timely and full use of his powers under the Defense Production Act. But Biden exaggerates when he claims to have called for its use much earlier than he did.
Hoax Letter Stirs Confusion About Missouri Schools
A false claim that students in Missouri will have to repeat the school year was pushed online through a viral letter with a state logo as part of an April Fool's hoax. State officials have publicly debunked the claim.
Lemon Juice Tea Does Not Cure COVID-19 in Israel, or Anywhere Else
A post circulating on social media falsely claims that a blend of sodium bicarbonate and lemon juice tea will "eliminate" the novel coronavirus. The post also claims this "cure" has prevented any COVID-19 deaths in Israel — but more than 30 people have died of the disease there.
Biden's False Claim on Trump's Response to Coronavirus
Former Vice President Joe Biden was wrong when he said that the Trump administration made "no effort" to get U.S. medical experts into China as the novel coronavirus epidemic spread there early this year.
Trump's Spin on 'Broken' Testing
While his administration has faced criticism for being slow to ramp up testing for coronavirus infections, President Donald Trump has repeatedly claimed that the problem was with his predecessors, saying the administration "inherited a broken system" that it "rebuilt." That's misleading.
April Fool's Posts Falsely Claim Students Must Repeat the School Year
April Fool's Day brought a spate of false posts claiming students will have to repeat the school year due to the coronavirus pandemic. Don't believe it.
Baseless Attack on News Media Over Photo of Coffins
A viral post on Facebook claims without substantiation that the "media" is running a photo of coffins from a 2017 movie with news stories about the novel coronavirus pandemic in Italy. The picture is actually from 2013; it did appear in the 2017 movie, too, but there's no evidence it's being used by credible news organizations now.
Flawed Comparison on Coronavirus, H1N1 Emergency Timelines
Facebook posts falsely claim that it "took [President Barack] Obama 'millions infected and over 1,000 deaths' to declare the H1N1 flu a health emergency," but President Donald Trump "declared a health emergency" before the first coronavirus death. In reality, both administrations declared public health emergencies before the first reported deaths.
Union's Search for Face Masks Gets Twisted Online
A meme falsely claims that a health care workers' union was "caught hiding 39 million N95 masks," and other posts cast suspicion on the union's motives. In reality, the union had called medical suppliers nationwide in an effort to find masks — and it never had or hid them.
Trump and the Coronavirus Death Projections
In his March 30 appearance on "Fox & Friends," President Donald Trump suggested an estimate that the novel coronavirus might kill a huge number of Americans was a new revelation.
Trump vs. Cuomo, Round 2
President Donald Trump continued his misleading attacks on Democratic New York Gov. Andrew Cuomo's handling of the coronavirus pandemic as it ravages the state.
No Evidence to Back COVID-19 Ibuprofen Concerns
Q: Does ibuprofen make COVID-19 worse?
A: There is no evidence that ibuprofen or other non-steroidal anti-inflammatory drugs can make COVID-19 cases more severe. You should consult your doctor before changing medications.
All of our coronavirus stories can be found here. All of our coronavirus videos can be found here.
FAQ
Some of the explanatory articles that we have done:
Q&A on the Coronavirus Pandemic
We answer some key questions about what is known so far about the outbreak and the virus.
The Facts on Coronavirus Testing
We explain how testing works, what happened with the CDC's coronavirus test and what's known about how many tests are available in the U.S.
Editor's Note: If you have a question about the coronavirus pandemic, send us an email at editor@factcheck.org and put "COVID-19" in the subject line.
Political Claims
Some of our most popular stories on claims made by politicians include: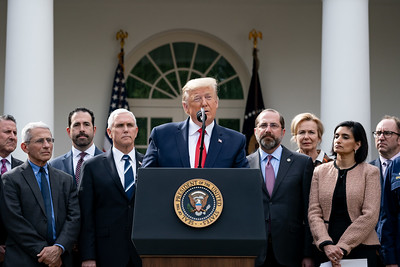 Trump's H1N1 Swine Flu Pandemic Spin
The president made false and misleading comparisons between his response to the new coronavirus and President Barack Obama's handling of the 2009 H1N1 influenza pandemic.
False Claim About CDC's Global Anti-Pandemic Work
Democrats have said that the Trump administration cut the CDC's anti-pandemic work in over 40 countries to just 10. The CDC told us that's not true.
Democrats' Misleading Coronavirus Claims
Democrats, including former Vice President Joe Biden, have claimed Trump "cut" CDC funding. The president's budget proposals have consistently called for reduced funding, but Congress hasn't enacted those cuts.
The Facts on Trump's Travel Restrictions
The president has made a number of misleading statements about his decision on Jan. 31 to impose travel restrictions related to the novel coronavirus epidemic.
Will the New Coronavirus 'Go Away' in April?
Trump suggested that the new coronavirus would "go away" in April, as temperatures warm. While some viruses are seasonal, it's not yet clear if the new virus will follow the same pattern — and experts caution against banking on the weather to resolve the outbreak.
FactChecking Trump's Coronavirus Press Conference
Facing a declining stock market and criticism from Democrats, President Donald Trump and other officials have minimized the risks of the coronavirus to the U.S. and given inaccurate and misleading information about the new virus.
Trump's Statements About the Coronavirus
President Donald Trump said on March 17, "I felt it was a pandemic long before it was called a pandemic." While it's not possible to know what Trump "felt," there's no doubt that Trump had minimized the threat of the new coronavirus for weeks in statement after statement.
Dems Misconstrue Trump Budget Remarks
After President Trump said, "I don't know anything about" the disbanding of a White House pandemic response office, the Democrats claimed that he "lied" and pointed to Trump's earlier remarks about "some of the people we cut" as evidence. But those remarks were in response to a question about proposed budget cuts — not the anti-pandemic team in question.
Biden, Trump Wrong About WHO Coronavirus Tests
Following a flawed rollout of test kits in the U.S. for the new coronavirus, former Vice President Joe Biden and President Donald Trump have given inaccurate information related to the diagnostic tests distributed by the World Health Organization.
Trump and the 'New Hoax'
Democrats criticized Trump for using the term "hoax" in connection with the coronavirus outbreak. There's no question that the president described the disease as the Democrats' "new hoax" at a political rally on Feb. 28 in South Carolina. But the following day, Trump said he used the word "hoax" when referring to Democratic criticism of his administration's response to the coronavirus, not the virus itself.
Trump's Misleading Ventilator Counter-Punch at Cuomo
Hitting back at New York Gov. Andrew Cuomo's pleas for the federal government to provide more ventilators, President Donald Trump misleadingly claimed Cuomo rejected a 2015 recommendation to purchase 15,000 ventilators and instead "established death panels" and "lotteries."
All of our coronavirus stories can be found here.
Viral Misinformation
We've published a significant number of articles on false and even dangerous information that has circulated on Facebook and other social media. Some of our most popular stories include: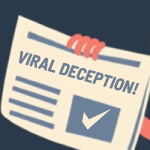 False Claims of Nationwide Lockdown for COVID-19
The National Security Council is warning Americans of a "FAKE" rumor circulating on social media that falsely claims President Donald Trump will impose a nationwide "mandatory quarantine." President Donald Trump said his administration "may look at certain areas," but it is not considering anything that would affect the whole country "at this time."
Viral Social Media Posts Offer False Coronavirus Tips
Posts are circulating false and misleading tips on social media — in some cases wrongly attributed to Stanford University — about how people can monitor and avoid the coronavirus.
False Claim of Congressional Pay Raises in Stimulus Bill
Facebook posts falsely claim that House Democrats included $25 million to boost their own salaries in their proposal for the coronavirus-related stimulus package. That funding is not for legislators' pay increases; it's also in the bill being advanced by the Republican-controlled Senate.
False Claim That Pelosi Withheld Coronavirus Funds Over Abortion
A viral Facebook post falsely claims that House Speaker Nancy Pelosi "wouldn't release 8.5 billion for Coronavirus without abortion funding." A House bill providing $8.3 billion in relief was already signed into law. The "abortion funding" claim is a distortion of a separate debate over a different bill.
No Link Between Harvard Scientist Charles Lieber and Coronavirus
Lieber, a nanoscientist, was charged for lying about his participation in a Chinese recruitment program and his affiliation with a Chinese university. He is not accused of being a spy and has no connection to the new coronavirus.
Baseless Conspiracy Theories Claim New Coronavirus Was Bioengineered
Several online stories inaccurately claim that the new coronavirus contains HIV "insertions" and shows signs of being created in a lab. But there is no evidence that the new virus was bioengineered, and every indication it came from an animal.
New Coronavirus Wasn't 'Predicted' In Simulation 
A conspiracy theory website distorted the facts about an emergency preparedness exercise to suggest that the "GATES FOUNDATION & OTHERS PREDICTED UP TO 65 MILLION DEATHS" from the coronavirus now spreading. The event dealt with a hypothetical scenario involving a fictional virus.
No, Clorox and Lysol Didn't Already 'Know' About New Coronavirus 
Numerous social media posts falsely suggest that because Clorox and Lysol products list "Human Coronavirus" on their bottles, the new coronavirus driving the outbreak in China was already known. It wasn't. There are many human coronaviruses, and these products were tested against a strain that causes the common cold.
Social Media Posts Spread Bogus Coronavirus Conspiracy Theory 
Multiple social media posts falsely claim that the deadly new coronavirus has been patented and a vaccine is already available. That's not true; the patents the posts refer to pertain to different viruses.
You can find all of our coverage of viral claims on the new coronavirus, and other topics, on our Facebook Initiative page. We work with Facebook to debunk misinformation on social media. Also, see our tips on how to spot false stories.
Coronavirus Resources
Centers for Disease Control and Prevention
The CDC provides daily updates of U.S. cases in each state, as well as information on how to protect yourself and what to do if you think you are sick. Information on testing can be found here.
National Institutes of Health
The NIH website provides information about clinical trials underway to develop a vaccine and antiviral treatments for COVID-19.
World Health Organization 
The WHO provides international travel advice and global situation reports, and answers questions.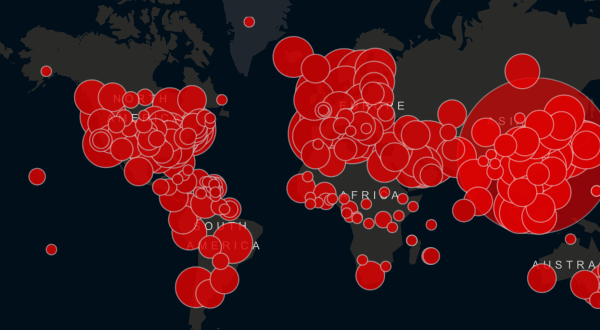 Johns Hopkins University & Medicine
This website includes an interactive map that tracks cases across the globe in near real time.
New York Times Coronavirus Tracking
The Times is tracking reported cases in the United States.
New England Journal of Medicine
The NEJM provides a "collection of articles and other resources on the Coronavirus (Covid-19) outbreak, including clinical reports, management guidelines, and commentary."
National Governors Association 
The NGA website provides state-level information, including timelines of actions taken in each state to date.
U.S. Department of Education 
This is a resource page for schools, teachers and other education personnel.
U.S. Department of Labor
The Labor Department provides resources to help workers and employers, including information on unemployment benefits and workplace safety.