In our work fact-checking political claims and debunking viral deceptions, we have found a tremendous amount of misinformation on the coronavirus pandemic.
Here's a guide to our coverage of the facts. Click on the headlines for the full stories.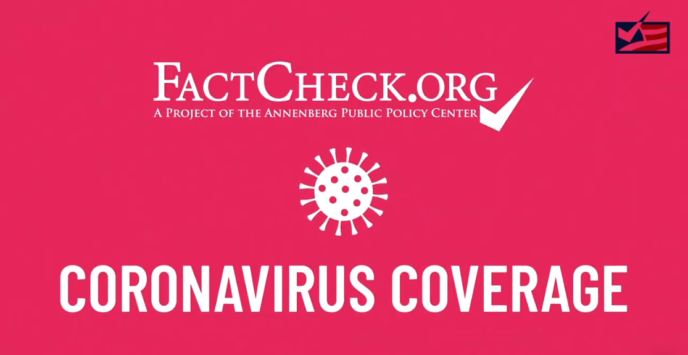 Our Latest Stories
These are the most recent stories we published on COVID-19:
Dueling Trump, Biden Claims on COVID-19 Vaccination Distribution
As scientists work to find a safe vaccine for COVID-19, President Donald Trump and his Democratic challenger, Joe Biden, have made competing claims about the administration's plans to carry out the daunting task of distributing hundreds of millions of vaccine doses. We look at the planning to date.
Trump's Misleading COVID-19 Comparisons to Other Countries
In a flurry of tweets and remarks, President Donald Trump continued to distort the facts on the coronavirus pandemic, including leaving the misleading impression that the U.S. is doing better than several countries seeing recent upticks in cases. But nearly all of the nations Trump mentioned still have fewer new daily per capita cases than the U.S.
Asthma Medicine Not Proven as COVID-19 'Cure'
A viral headline on Facebook claims that a vaccine isn't "Needed" for COVID-19 because "There Is Already A Cure." But the supposed "cure" is an asthma medication, touted by a Texas doctor, that has not yet been proven in clinical trials as an effective treatment for COVID-19 — though researchers are exploring its efficacy.
COVID-19 Nasal Swab Test Does Not Cause Risk of Infection
A viral Facebook post makes the false claim that the nasal swab test for COVID-19 damages the "blood-brain barrier" and can therefore lead to brain infections. Medical experts say the swab test is completely safe.
COVID-19 Data-Reporting Changed, But Not Florida's Case Count
As Florida's COVID-19 case count rose to the second-highest in the U.S. in July, a former challenger for House Speaker Nancy Pelosi's congressional seat falsely claimed on social media that the Centers for Disease Control and Prevention had made a "mistake" and subsequently reduced Florida's count by 79,000 cases. There was no such adjustment.
FactChecking Trump's COVID-19 Press Briefing
President Donald Trump, at a July 28 briefing, made a few false and misleading statements about COVID-19 — including falsely claiming that "large portions" of the country are "corona-free." Only 35 counties, accounting for less than 0.02% of the population, have not reported a coronavirus case in the past week.
In Viral Video, Doctor Falsely Touts Hydroxychloroquine as COVID-19 'Cure'
A widely shared video, featuring a doctor falsely claiming hydroxychloroquine is a "cure" for COVID-19, ignited an online storm that resulted in the video being pulled by social media platforms. There is no known cure for COVID-19, and current scientific evidence hasn't found that hydroxychloroquine is an effective treatment.
Trump Didn't Tweet In 2009 That He 'Would Never Let Thousands' Die in Pandemic
An image on social media falsely purports to show a tweet from Donald Trump in 2009, saying he "would never let thousands of Americans die from a pandemic while in office." There is no evidence Trump ever posted that tweet.
What Science Says About Children, COVID-19 and School Reopenings
In promoting the reopening of schools this fall, Trump administration officials have, at times, inaccurately described the evidence on how COVID-19 affects children. We review the existing evidence on kids and COVID-19.
Cuomo Distorts CDC Finding in Blaming Trump
New York Gov. Andrew Cuomo made the over-the-top claim that if the Trump administration "had done its job, the virus wouldn't come" to New York. Cuomo pointed to a study that suggested government officials could have better mitigated the spread of the coronavirus in New York City, but it didn't say they could have stopped it.
Video Misrepresents the Science Behind Face Masks
A viral video misrepresents scientific papers and the reasons for wearing face masks to claim that they are ineffective in mitigating transmission of COVID-19. The Centers for Disease Control and Prevention has said that masks may help prevent the spread of the disease.
All of our coronavirus stories can be found here. All of our coronavirus videos can be found here.
FAQ
Some of the explanatory articles that we have done:
COVID-19 Face Mask Advice, Explained
Conflicting — and shifting — guidance on whether members of the public should wear face masks to combat COVID-19 has led to confusion about whether people should cover their faces when leaving their homes. We explain the evidence.
How Many COVID-19 Tests Are 'Needed' to Reopen?
The Trump administration has repeatedly claimed that there are enough COVID-19 tests for states to begin reopening their economies. While that may be true for select locations, experts say more tests are needed, even if they don't agree on a particular number.
Q&A on COVID-19 Antibody Tests
President Trump says antibody tests "will help us assess the number of cases that have been asymptomatic or mildly symptomatic, and support our efforts to get Americans back to work by showing us who might have developed the wonderful, beautiful immunity." But so far, the tests are not widely available — and many of those that are available do not work as advertised.
Q&A on the Coronavirus Pandemic
We answer some key questions about what is known so far about the outbreak and the virus.
The Facts on Coronavirus Testing
We explain how testing works, what happened with the CDC's coronavirus test and what's known about how many tests are available in the U.S.
No Evidence to Back COVID-19 Ibuprofen Concerns
There is no evidence that ibuprofen or other non-steroidal anti-inflammatory drugs can make COVID-19 cases more severe. You should consult your doctor before changing medications.
Does Vitamin D Protect Against COVID-19?
Some scientists have hypothesized vitamin D might be helpful, but there is no direct evidence that vitamin D can prevent COVID-19 or lessen disease severity. Nevertheless, it should be part of a healthy lifestyle.
No Evidence That Flu Shot Increases Risk of COVID-19
A claim being pushed on social media and by an organization skeptical of vaccines is using a military study to falsely suggest that the flu vaccine increases someone's risk of contracting COVID-19. The study does not say that, and the Military Health System advises people to get the flu shot.
Baseless Conspiracy Theories Claim New Coronavirus Was Bioengineered
Several online stories inaccurately claim that the new coronavirus contains HIV "insertions" and shows signs of being created in a lab. But there is no evidence that the new virus was bioengineered, and every indication it came from an animal.
Will the New Coronavirus 'Go Away' in April?
Trump suggested that the new coronavirus would "go away" in April, as temperatures warm. While some viruses are seasonal, it's not yet clear if the new virus will follow the same pattern — and experts caution against banking on the weather to resolve the outbreak.
Editor's Note: If you have a question about the coronavirus pandemic, send us an email at editor@factcheck.org and put "COVID-19" in the subject line.
Q&A on COVID-19 Antibody Tests

In this video, we answer questions about the antibody tests that President Trump says are needed to get the U.S. back to work. How accurate are COVID-19 antibody tests? What's the status of the tests in the U.S.? Will someone be protected from being infected again if they have antibodies to the virus? How long might someone be immune to COVID-19?

Posted by FactCheck.org on Wednesday, April 29, 2020
Political Claims
Some of our most popular stories on claims made by politicians include: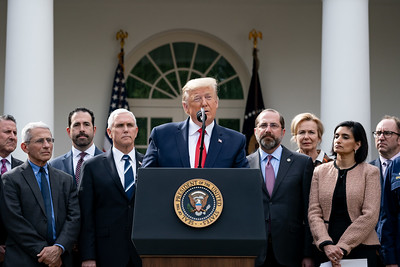 Trump's H1N1 Swine Flu Pandemic Spin
The president made false and misleading comparisons between his response to the new coronavirus and President Barack Obama's handling of the 2009 H1N1 influenza pandemic.
The Facts on Trump's Travel Restrictions
The president has made a number of misleading statements about his decision on Jan. 31 to impose travel restrictions related to the novel coronavirus epidemic.
Trump Falsely Claims He Inherited 'Empty' Stockpile
More than once, President Donald Trump has falsely claimed that the federal stockpile of emergency medicine and supplies he inherited from his predecessor was an "empty shelf."
Biden's False Claim on Trump's Response to Coronavirus
Former Vice President Joe Biden was wrong when he said that the Trump administration made no effort to get U.S. medical experts into China as the novel coronavirus epidemic spread there early this year.
Democrats' Misleading Coronavirus Claims
Democrats have criticized President Donald Trump for his administration's response to the new coronavirus, making claims about cuts to public health programs and the silencing of government experts. But they haven't always gotten their facts right.
Trump's Statements About the Coronavirus
President Donald Trump said on March 17, "I felt it was a pandemic long before it was called a pandemic." While it's not possible to know what Trump "felt," there's no doubt that Trump had minimized the threat of the new coronavirus for weeks in statement after statement.
False Claim About CDC's Global Anti-Pandemic Work
Democrats have said that the Trump administration cut the CDC's anti-pandemic work in over 40 countries to just 10. The CDC told us that's not true.
Trump's False Claims about Pelosi and Chinatown
President Donald Trump is making false and exaggerated claims about House Speaker Nancy Pelosi's Feb. 24 trip to San Francisco's Chinatown. Pelosi urged people to shop and eat there at a time when tourism was suffering because of the novel coronavirus, which originated in China late last year.
Trump's Misplaced Blame on Obama for Coronavirus Tests
Amid criticism over his administration's response to the coronavirus outbreak, President Donald Trump falsely claimed that he had to overcome an Obama-era Food and Drug Administration "rule" to more quickly provide diagnostic tests to the American people. Experts, however, told us no such formal regulation was ever implemented under the previous administration.
Dems Misconstrue Trump Budget Remarks
After President Donald Trump said, "I don't know anything about" the disbanding of a White House pandemic response office, the Democrats claimed that he "lied" and pointed to Trump's earlier remarks about "some of the people we cut" as evidence. But those remarks were in response to a question about proposed budget cuts — not the anti-pandemic team in question.
The White House Spins Trump's Disinfectant Remarks
President Donald Trump says he was being "sarcastic" when he mused about the possibility of injecting disinfectant into the body to kill COVID-19. You be the judge.
Trump Baselessly Claims Coronavirus Will 'Go Away' Without Vaccine
President Trump said, without evidence, that the coronavirus "is going to go away without a vaccine." While it's impossible to predict the future, experts say it's unlikely that the virus will simply go away. Our SciCheck writer explains why.
Trump Misleads on Hydroxychloroquine, Again
In announcing that he has been taking hydroxychloroquine to prevent COVID-19, President Donald Trump made a series of inaccurate, unsubstantiated or misleading statements related to the drug, which remains an unproven treatment against the coronavirus.
All of our coronavirus stories can be found here.
Videos
Some of our most popular videos, based on Facebook views:
Trump: Vaccine Being Developed 'Fairly Rapidly'

The president said that the U.S. is "rapidly developing a vaccine" for COVID-19 and "will essentially have a flu shot for this in a fairly quick manner." That's misleading. At best, it is a year to a year-and-a-half away.

Posted by FactCheck.org on Friday, February 28, 2020
Trump Hypes Potential COVID-19 Drugs

President Trump has repeatedly claimed that there is "very strong evidence" that two malaria drugs are effective in treating COVID-19. There isn't "very strong evidence." We look at the available research.

Posted by FactCheck.org on Friday, March 27, 2020
All of our coronavirus videos can be found here.
Viral Misinformation
We've published a significant number of articles on false and even dangerous information that has circulated on Facebook and other social media. Some of our most popular stories include: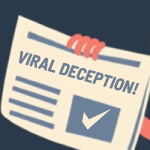 False Claims of Nationwide Lockdown for COVID-19
The National Security Council is warning Americans of a "FAKE" rumor circulating on social media that falsely claims President Donald Trump will impose a nationwide "mandatory quarantine." President Donald Trump said his administration "may look at certain areas," but it is not considering anything that would affect the whole country "at this time."
No Link Between Harvard Scientist Charles Lieber and Coronavirus
Charles Lieber, a nanoscientist, was charged for lying about his participation in a Chinese recruitment program and his affiliation with a Chinese university. He is not accused of being a spy and has no connection to the new coronavirus.
Hospital Payments and the COVID-19 Death Count
A Minnesota state senator's recent interview on Fox News about Medicare payments for COVID-19 hospitalizations has generated a frenzy of misleading headlines on social media suggesting that hospitals may have a financial motivation when it comes to classifying cases or deaths as related to COVID-19.
Wearing Face Mask During Pandemic Doesn't Affect Concealed Carry Permit
A meme making the bogus claim that wearing a face mask during the COVID-19 pandemic "REMOVES YOUR CONCEAL CARRY ability" is spreading widely online. Laws regulating concealed weapons vary by state, but sheriffs in many states have debunked the rumor.
Conspiracy Theory Misinterprets Goals of Gates Foundation
A conspiracy theory falsely claims Bill Gates is plotting to use COVID-19 testing and a future vaccine to track people with microchips. The Gates Foundation has advocated for expanded testing and has funded vaccine research, but neither of those involves implanted microchips.
The Falsehoods of the 'Plandemic' Video
The first installment of a documentary called "Plandemic" stormed through social media this week. But the viral video weaves a grand conspiracy theory by using a host of false and misleading claims about the novel coronavirus pandemic and its origins, vaccines, treatments for COVID-19, and more.
False Claim of Congressional Pay Raises in Stimulus Bill
Facebook posts falsely claim that House Democrats included $25 million to boost their own salaries in their proposal for the coronavirus-related stimulus package. That funding is not for legislators' pay increases; it's also in the bill being advanced by the Republican-controlled Senate.
False Claim That Pelosi Withheld Coronavirus Funds Over Abortion
A viral Facebook post falsely claims that House Speaker Nancy Pelosi "wouldn't release 8.5 billion for Coronavirus without abortion funding." A House bill providing $8.3 billion in relief was already signed into law. The "abortion funding" claim is a distortion of a separate debate over a different bill.
New Coronavirus Wasn't 'Predicted' In Simulation 
A conspiracy theory website distorted the facts about an emergency preparedness exercise to suggest that the "GATES FOUNDATION & OTHERS PREDICTED UP TO 65 MILLION DEATHS" from the coronavirus now spreading. The event dealt with a hypothetical scenario involving a fictional virus.
Viral Social Media Posts Offer False Coronavirus Tips
Posts are circulating false and misleading tips on social media — in some cases wrongly attributed to Stanford University — about how people can monitor and avoid the coronavirus.
COVID-19 Isn't Caused by Bacteria
False information that claims COVID-19 is caused by a bacteria and can be easily treated started spreading by text message, and is now viral on social media. Actually, COVID-19 is caused by a virus and there is no treatment for it.
Fake AOC Tweet Politicizes COVID-19 Business Restrictions
A fabricated tweet attributed to Rep. Alexandria Ocasio-Cortez advocates extending COVID-19 restrictions on businesses "until after the November Elections." There is no evidence Ocasio-Cortez sent the bogus tweet, which was shared — and later deleted — by a Florida congressional candidate and a Fox News host.
You can find all of our coverage of viral claims on the new coronavirus, and other topics, on our Facebook Initiative page. We work with Facebook to debunk misinformation on social media. Also, see our tips on how to spot false stories.
Coronavirus Resources
Centers for Disease Control and Prevention
The CDC provides daily updates of U.S. cases in each state, as well as information on how to protect yourself and what to do if you think you are sick. Information on COVID-19 cases and deaths in the United States can be found here and here. Data on testing in the U.S. can be found here.
National Institutes of Health
The NIH website provides information about clinical trials underway to develop a vaccine and antiviral treatments for COVID-19.
World Health Organization 
The WHO provides international travel advice and global situation reports, and answers questions.