In our work fact-checking political claims and debunking viral deceptions, we have found a tremendous amount of misinformation on the coronavirus pandemic.
Here's a guide to our coverage of the facts, including links to our latest stories, FAQs, political claims, videos and expert outside resources. Click on the headlines for the full stories and resources.
All of our coronavirus stories can be found here. Las versiones en español de nuestras historias se pueden ver aquí.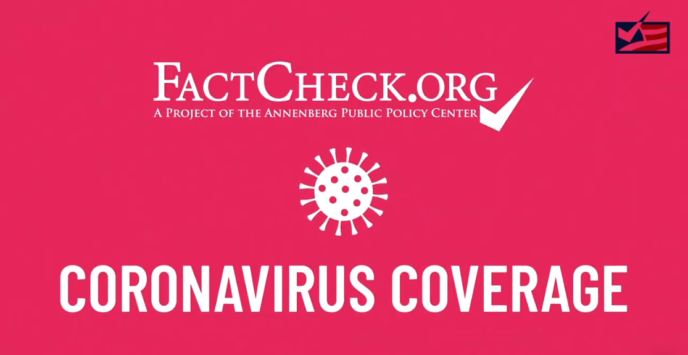 Our Latest Stories
These are the most recent stories we published on COVID-19:
Three Canadian Doctors Died of Long-Term Illnesses, Contrary to False Claims COVID-19 Vaccine Was Cause
It's estimated that COVID-19 vaccines have saved millions of lives, but false claims continue to cast doubt on their safety and efficacy. One such claim that has spread around the world falsely suggests that three Canadian doctors died from the shots. But they each died of a long-term illness unrelated to the vaccines. En español.
Misrepresentation of Germany's Data on Unverified COVID-19 Vaccine Side Effects
Viral claims have repeatedly misrepresented unverified data from a U.S. vaccine safety system that encourages reports of any potential side effects — whether they're likely to be caused by the vaccine or not. Now we're seeing the same phenomenon with a similar system in Germany. Some have wrongly claimed Germany found the COVID-19 vaccine caused "serious side effects" in a large number of people. En español.
COVID-19 Vaccination Increases Immunity, Contrary to Immune Suppression Claims
The mRNA COVID-19 vaccines teach the immune system to recognize and fight the coronavirus, greatly reducing the likelihood of severe disease if a person is infected. There is no evidence the vaccines impair immunity, as some, including Fox News' Tucker Carlson, have baselessly claimed. En español.
Posts Misleadingly Omit Critical Data Supporting COVID-19 Vaccines for Youngest Kids
In young children, the Pfizer/BioNTech and Moderna COVID-19 vaccines are expected to primarily protect against severe disease. Both shots successfully met the set benchmarks for vaccine effectiveness, which involved comparing antibody responses to those of adults. Online posts critical of government recommendations for the pediatric vaccines, however, fail to mention these essential data. En español.
Q&A on Financial Disclosures by Government Scientists
In this story, we'll explain what we know about the financial and conflict-of-interest disclosure requirements for Dr. Anthony Fauci, other National Institutes of Health higher-ups and members of two U.S. vaccine advisory committees. En español.
All of our coronavirus stories can be found here. Las versiones en español de nuestras historias se pueden ver aquí. 
FAQs
Some of the explanatory articles that we have done:
A Guide to COVID-19 Vaccines for the Youngest Kids
Children under 5, including those as young as 6 months of age, are now able to be vaccinated against COVID-19. Here, we explain what's known about the two coronavirus vaccines for the youngest children. En español.
Q&A On Paxlovid, Pfizer's COVID-19 Oral Antiviral
Once scarce, Paxlovid, an antiviral pill that is the preferred treatment for non-hospitalized high-risk COVID-19 patients, is no longer in such short supply. Here, we explain what the drug does, how well it works and what questions remain. En español.
Q&A on Second COVID-19 Boosters for Older People
At the end of March, the Food and Drug Administration authorized a second COVID-19 booster dose for people 50 years of age and older. But the data supporting the extra shot is limited. Here, we break down the available evidence and share what scientists recommend. En español.
Q&A on At-Home Rapid Test
The demand for at-home, rapid COVID-19 tests — sparked by the fast-spreading omicron variant in December — has continued in 2022. With that demand have come questions about the tests' efficacy, how to use them and where to get them. We answer those queries and more. En español.
Early Data on Omicron
As many Americans and others around the globe prepare for holiday travel and get-togethers, the omicron variant continues to be a concern. While the available data on transmission, vaccine effectiveness and severity of disease are still preliminary, here's what we've learned so far. En español.
Q&A on the Omicron Variant
On Nov. 24, South Africa told the World Health Organization that amid a recent increase in COVID-19 cases, it had identified a new variant — later named omicron — with a high number of mutations, raising concerns that it could spread more easily than other variants of the coronavirus. We'll go through what we know so far about omicron. En español.
A Guide to Pfizer/BioNTech's Pediatric COVID-19 Vaccine for Kids 5-11
How safe is Pfizer/BioNTech's COVID-19 vaccine for kids? How effective is it? Why is it different from the adult version? What are experts saying about who should get it? We have the answers. En español.
COVID-19: The Unvaccinated Pose a Risk to the Vaccinated
In this Ask SciCheck, we answer the question: How do people who have not been vaccinated against COVID-19 pose a risk to people who have been vaccinated? En español.
Ongoing Clinical Trials Will Decide Whether (or Not) Ivermectin Is Safe, Effective for COVID-19
Studies on whether ivermectin is beneficial in treating COVID-19 patients haven't been conclusive, and health officials have warned people not to self-medicate. But multiple large trials are continuing to assess the antiparasitic drug. Yet, Sen. Rand Paul reportedly said researchers were "unwilling to objectively study" it because of "hatred" for Donald Trump. He later acknowledged studies are being done. Here we review the research. En español.
CDC Data Thus Far Show COVID-19 Vaccination Safe During Pregnancy
Federal vaccine monitoring systems have identified no safety concerns with the COVID-19 vaccines for pregnant people. Preliminary Centers for Disease Control and Prevention data show that miscarriage is not more frequent than expected in vaccinated people. Online posts, however, falsely contend that such data, as reported in a CDC publication, show an 82% miscarriage rate. En español.
A Guide to the CDC's Updated Mask Recommendations
Citing new data on the delta variant, the Centers for Disease Control and Prevention recommended that fully vaccinated people wear face masks indoors in some parts of the country. En español.
The Facts – and Gaps – on the Origin of the Coronavirus
Despite increased media attention to the possibility that the novel coronavirus may have escaped from a lab, no credible evidence has emerged to support it and most scientists think the virus likely has a natural origin. En español.
The Wuhan Lab and the Gain-of-Function Disagreement
A disagreement between Republican Sen. Rand Paul and Dr. Anthony Fauci has put $600,000 of U.S. grant money to the Wuhan Institute of Virology back into the spotlight, while making "gain-of-function" research a household term — all amid calls for more investigation into the origins of SARS-CoV-2. En español.
Evidence Points to Safety of COVID-19 Vaccines for Pregnant People
Clinical trials and medical studies have indicated that the COVID-19 vaccines are safe for pregnant people. But online posts misrepresent unverified reports submitted to vaccine monitoring systems in the U.S. and Europe to misleadingly suggest "920 women" lost babies because they received COVID-19 vaccines. En español.
So Far, Vaccines Remain Effective Against Variants
So far, COVID-19 vaccines have been effective against variants of the coronavirus. Scientists are monitoring the situation carefully, with updated or new vaccines a possibility in the future, if need be. En español.
Exploring the Legality of COVID-19 Vaccine Mandates
Employers, colleges and universities generally may require immunizations. But there is some uncertainty about the legality of mandating vaccines authorized for emergency use by the U.S. Food and Drug Administration. En español.
Research Rebuts Claims Linking COVID-19 Vaccines to Male Infertility
A new study found there was no negative effect on sperm levels in men after receiving the COVID-19 vaccines, undercutting suggestions that the shots affect male fertility. But social media posts have made the baseless claim that vaccinated men "are effectively sterile." En español.
Q&A on the Rare Clotting Events That Caused the J&J Pause
We look at what is known about the rare clotting conditions associated with the Johnson & Johnson vaccine, their frequency and the risks of COVID-19. En español.
The Facts on the Recommended J&J Vaccine 'Pause'
So far, nearly 200 million doses of COVID-19 vaccines have been administered in the U.S., including 7.2 million doses of the Johnson & Johnson vaccine. In six cases there have been reports of "a rare and severe type of blood clot" in those who received the J&J vaccine, prompting the Food and Drug Administration and Centers for Disease Control and Prevention to recommend "a pause in the use" of the J&J vaccine "out of an abundance of caution." We review the facts of this rare condition that caused the pause. En español.
A Guide to Johnson & Johnson's COVID-19 Vaccine
The Johnson & Johnson vaccine is the third COVID-19 vaccine to be authorized by the Food and Drug Administration. Here, we give a rundown of basic facts about the vaccine and an overview of how it works. En español.
A Guide to Moderna's COVID-19 Vaccine
Moderna's mRNA vaccine is the second COVID-19 vaccine authorized for use in the U.S. Here, we give a rundown of basic facts about the vaccine and an overview of how it works. En español.
A Guide to Pfizer/BioNTech's COVID-19 Vaccine
The first COVID-19 vaccine to go into any American arms outside of a trial — and the first to be fully approved by the Food and Drug Administration — is Pfizer's mRNA vaccine, which was designed and developed by the German biotech company BioNTech. Here, we give a rundown of basic facts about the vaccine and an overview of how it works. En español.
Q&A on COVID-19 Vaccines
Three COVID-19 vaccines are now authorized in the U.S. In this story, we answer some common questions about the shots. En español.
No Evidence Vaccines Impact Fertility
Q: Do the COVID-19 vaccines cause infertility?
A: There's no evidence that approved vaccines cause fertility loss. Although clinical trials did not study the issue, loss of fertility has not been reported among thousands of trial participants nor confirmed as an adverse event among millions who have been vaccinated. En español.
The Evolving Science of Face Masks and COVID-19
Since the Centers for Disease Control and Prevention began recommending that members of the public mask up last spring, additional research has backed the use of face masks to combat the coronavirus. While knowledge gaps still remain, experts agree that masks should be used — and increasingly, they are emphasizing the use of better masks. En español.
Timeline of Trump's COVID-19 Comments
Since the outbreak of the coronavirus, Trump has questioned the effectiveness of masks, touted unproven treatments and criticized his own health experts. Here is the timeline of the president's comments on COVID-19.
Q&A on COVID-19 Antibody Tests
President Trump says antibody tests "will help us assess the number of cases that have been asymptomatic or mildly symptomatic, and support our efforts to get Americans back to work by showing us who might have developed the wonderful, beautiful immunity." But so far, the tests are not widely available — and many of those that are available do not work as advertised.
The Facts on Coronavirus Testing
We explain how testing works, what happened with the CDC's coronavirus test and what's known about how many tests are available in the U.S.
No Evidence to Back COVID-19 Ibuprofen Concerns
There is no evidence that ibuprofen or other non-steroidal anti-inflammatory drugs can make COVID-19 cases more severe. You should consult your doctor before changing medications.
Does Vitamin D Protect Against COVID-19?
Some scientists have hypothesized vitamin D might be helpful, but there is no direct evidence that vitamin D can prevent COVID-19 or lessen disease severity. Nevertheless, it should be part of a healthy lifestyle.
No Evidence That Flu Shot Increases Risk of COVID-19
A claim being pushed on social media and by an organization skeptical of vaccines is using a military study to falsely suggest that the flu vaccine increases someone's risk of contracting COVID-19. The study does not say that, and the Military Health System advises people to get the flu shot.
Baseless Conspiracy Theories Claim New Coronavirus Was Bioengineered
Several online stories inaccurately claim that the new coronavirus contains HIV "insertions" and shows signs of being created in a lab. But there is no evidence that the new virus was bioengineered, and every indication it came from an animal.
Editor's Note: If you have a question about the coronavirus pandemic, send us an email at editor@factcheck.org and put "COVID-19" in the subject line.
Political Claims
Some of our most popular stories on claims made by politicians include: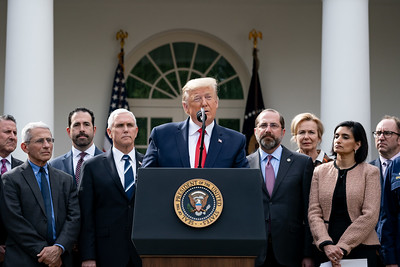 Biden's False Claim on Trump's Response to Coronavirus
Former Vice President Joe Biden was wrong when he said that the Trump administration made no effort to get U.S. medical experts into China as the novel coronavirus epidemic spread there early this year.
Trump's H1N1 Swine Flu Pandemic Spin
The president made false and misleading comparisons between his response to the new coronavirus and President Barack Obama's handling of the 2009 H1N1 influenza pandemic.
The Facts on Trump's Travel Restrictions
The president has made a number of misleading statements about his decision on Jan. 31 to impose travel restrictions related to the novel coronavirus epidemic.
False Claim About CDC's Global Anti-Pandemic Work
Democrats have said that the Trump administration cut the CDC's anti-pandemic work in over 40 countries to just 10. The CDC told us that's not true.
Trump Falsely Claims He Inherited 'Empty' Stockpile
More than once, President Donald Trump has falsely claimed that the federal stockpile of emergency medicine and supplies he inherited from his predecessor was an "empty shelf."
Democrats' Misleading Coronavirus Claims
Democrats have criticized President Donald Trump for his administration's response to the new coronavirus, making claims about cuts to public health programs and the silencing of government experts. But they haven't always gotten their facts right.
Trump's Statements About the Coronavirus
President Donald Trump said on March 17, "I felt it was a pandemic long before it was called a pandemic." While it's not possible to know what Trump "felt," there's no doubt that Trump had minimized the threat of the new coronavirus for weeks in statement after statement.
Trump and the 'New Hoax'
Democratic presidential candidates harshly criticized President Donald Trump for using the term "hoax" in connection with the coronavirus outbreak. There's no question that the president described the disease as the Democrats' "new hoax" at a political rally on Feb. 28 in South Carolina. But Trump said that when he used the word "hoax," he was referring to Democrats finding fault with his administration's response to coronavirus, not the virus itself.
All of our coronavirus stories can be found here.
Videos
All of our coronavirus videos can be found here.
Q&A on COVID-19 Antibody Tests

In this video, we answer questions about the antibody tests that President Trump says are needed to get the U.S. back to work. How accurate are COVID-19 antibody tests? What's the status of the tests in the U.S.? Will someone be protected from being infected again if they have antibodies to the virus? How long might someone be immune to COVID-19?

Posted by FactCheck.org on Wednesday, April 29, 2020
Coronavirus Resources
Centers for Disease Control and Prevention
The CDC provides daily updates of U.S. cases in each state, as well as information on how to protect yourself and what to do if you think you are sick. Data on COVID-19 cases and deaths in the United States can be found here. Data on vaccines here.
CDC: Variants
The agency provides information in multiple languages on variants in the U.S., including omicron.
Therapeutics Distribution Locations
A U.S. Department of Health and Human Services website that helps you find COVID-19 therapeutics near you.
World Health Organization 
The WHO provides international travel advice and global situation reports, and answers questions.