The International Academy of Digital Arts and Sciences has awarded FactCheck.org the 2018 Webby in the "News & Politics" category for websites.
This makes the ninth time that we have won the judges' award, and it extends our win streak to five consecutive years, dating back to 2014. We were previously recognized by the academy as the best political blog or website.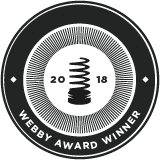 We also would like to thank the many readers who voted for our site to win the Webby People's Voice Award, which went to PBS NewsHour. We had won that prize for six straight years, from 2012 to 2017.
"The 22nd Annual Webby Awards received more than 13,000 entries from nearly all 50 states and 70 countries worldwide," according to the IADAS.
In addition to PBS NewsHour, the other nominees in the "News & Politics" category were the Washington Post, The Perspective and The Intercept.
This year's ceremony will be held on May 14 in New York City and will be hosted by comedian Amber Ruffin.