SciCheck Digest
Following the assassination of Haitian President Jovenel Moïse, social media posts baselessly suggest that he and other world leaders were killed or died because they opposed COVID-19 vaccination in their countries. All the leaders named in the posts, except Moïse, died of natural causes. At least one supported vaccination.  
---
Full Story
The president of Haiti, Jovenel Moïse, was assassinated on July 7 at his home in Port-au-Prince and first lady Martine Moïse was severely injured during the attack.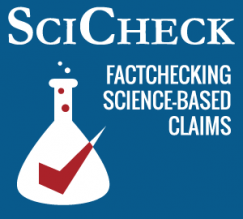 According to news reports, a group of mercenaries from Colombia and at least two Haitian Americans have been detained in connection with the attack.
Several nations are involved in the investigation — including the U.S., which sent officials from the FBI, Department of Justice and Department of Homeland Security to Haiti on July 12. 
Following Moïse's death, posts shared widely on social media have advanced the baseless conspiracy theory that he was among several national leaders who were killed — or died under "suspicious circumstances" — over the past 13 months because they opposed COVID-19 vaccinations in their countries.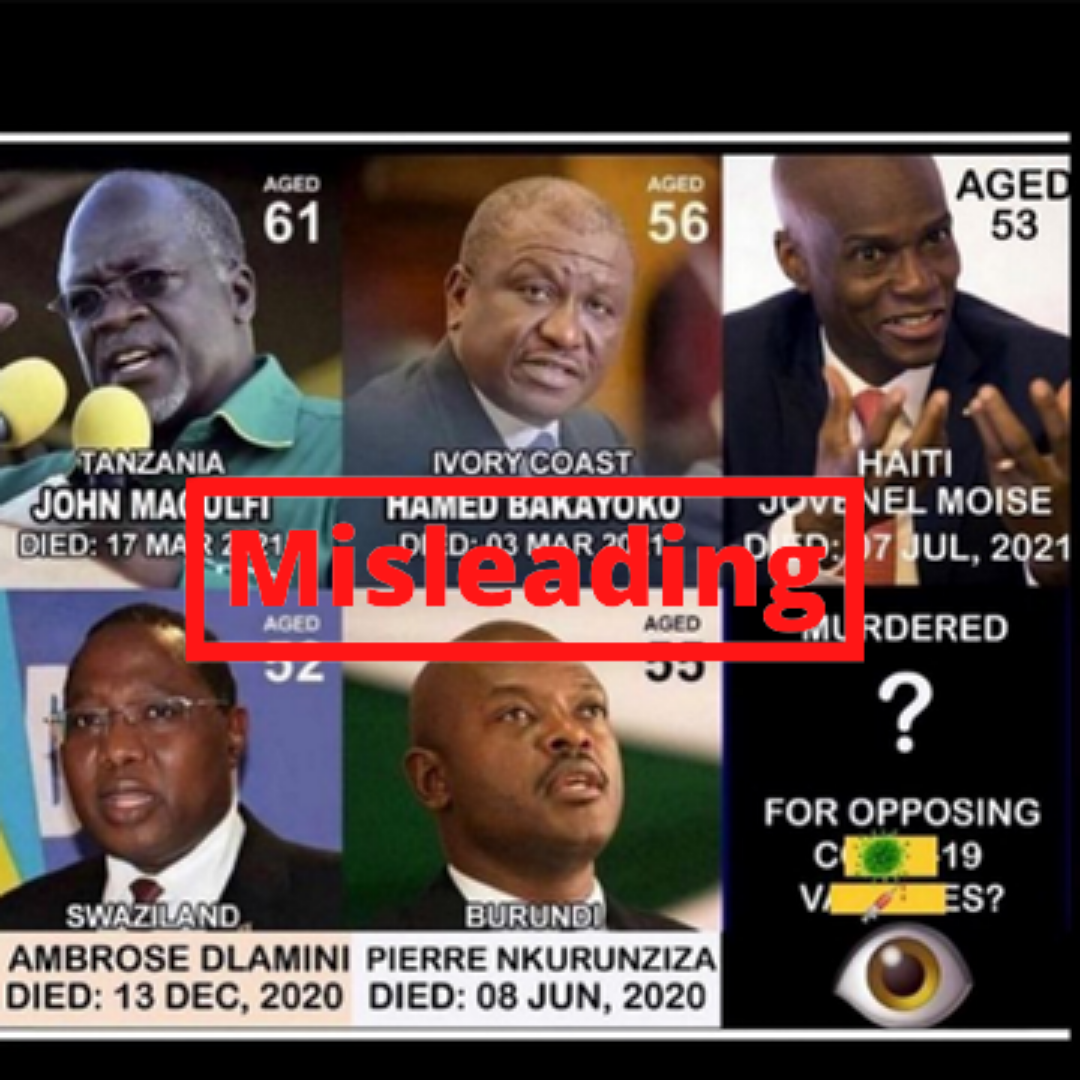 "What do all these world leaders have in common? They all opposed vaccination of the citizens of their countries. What else? They all were recently assassinated or died of very suspicious circumstances," reads an Instagram post listing the names of the five deceased leaders. 
Another Instagram post shows photos of the five leaders and reads: "MURDERED? FOR OPPOSING COVID-19 VACCINES?"
But the claims are false or unfounded on several points.
While the investigation is underway, no evidence has been surfaced suggesting that Moïse was assassinated because of opposition to the COVID-19 vaccination. 
Amid a surge in COVID-19 cases in Haiti, Moïse imposed a nightly curfew and mask mandate in May. But Haiti has been slow in initiating a vaccine program and refused an initial shipment of AstraZeneca vaccines, citing concerns over adverse side effects.
The Instagram posts get the facts wrong on the deaths of the other leaders.
The president of Tanzania, John Magufuli, died on March 17 of a heart condition, chronic atrial fibrillation, according to the East African country's former vice president, Samia Suluhu Hassan. Hassan said on national television that Magufuli "had this heart condition for the past 10 years," and the Guardian reported he wore a pacemaker. 
It is true that Magufuli was a COVID-19 skeptic. He suggested people "pray and inhale herb-infused steam" to fight COVID-19 instead of taking the vaccine. 
Before Magufuli's death, Tanzania hadn't published any statistics regarding COVID-19 since May 2020, despite requests from the World Health Organization. Three months after Magufuli's death, Tanzania began working to join the COVAX global vaccine-sharing program. 
Burundi President Pierre Nkurunziza died on June 8, 2020. He had been admitted to a hospital two days earlier. His condition improved, but he suffered cardiac arrest and efforts to revive him were unsuccessful, according to government officials.
Nkurunziza faced criticism for not taking serious measures to protect citizens from COVID-19. The former soccer player had not imposed pandemic restrictions in the country and allowed large sports events and political demonstrations to continue. 
Although Magufuli and Nkurunziza opposed COVID-19 vaccinations in their countries, they apparently died from heart conditions, not murder, as the posts suggest without evidence.
Hamed Bakayoko became prime minister of Ivory Coast, also known as Côte d'Ivoire, in July 2020. Bakayoko died of cancer at a hospital in Germany on March 10.
Bakayoko never denied the existence of COVID-19, having contracted the virus himself in recent months. He sought vaccines for his country, and on Feb. 26, Ivory Coast received 504,000 COVID-19 vaccine doses from COVAX, making it one of the first nations to receive vaccines through that program.
Ambrose Dlamini, the prime minister of the kingdom of Eswatini, formerly known as Swaziland, died on Dec. 13, 2020, four weeks after testing positive for COVID-19. We could find no evidence of Dlamini supporting or opposing vaccines.
In a statement posted July 8, 2020, on the government's website, Dlamini said his country had declared a national emergency in response to the pandemic and subsequently passed regulations to battle COVID-19. 
A partial lockdown was declared in Eswatini to restrict the movement of people and ensure maximum compliance with health protocols based on WHO and International Labour Organization recommendations. 
Authorities in Eswatini announced plans to vaccinate the entire population against COVID-19 using programs such as COVAX shortly after Dlamini's death from the virus.  
Editor's note: SciCheck's COVID-19/Vaccination Project is made possible by a grant from the Robert Wood Johnson Foundation. The foundation has no control over our editorial decisions, and the views expressed in our articles do not necessarily reflect the views of the foundation. The goal of the project is to increase exposure to accurate information about COVID-19 and vaccines, while decreasing the impact of misinformation.
Sources
Africanews. "Ivory Coast Prime Minister Hamed Bakayako dies from cancer in Germany." 10 Mar 2021.
BBC News. "Haiti president's assassination: What we know so far." 12 Jul 2021.
Berkley, Seth."COVAX explained." Gavi. 2 Sep 2020. 
Burke, Jason. "Burundi president dies of illness suspected to be coronavirus." The Guardian. 9 Jun 2020.
Burke, Jason. "Tanzania leader says prayer will cure Covid, as hospitals overflow." The Guardian. 28 Feb 2021. 
Burke, Jason. "Tanzania's Covid-denying president, John Magufuli, dies aged 61." The Guardian. 18 Mar 2021. 
"Burundi: Any COVID-19 Cover-Up Will Put Lives at Risk." Human Rights Watch. 31 Mar 2020. 
"Burundi COVID-19 Profile." Global Network of Women Peacebuilders. 21 Feb 2021.
"Burundi President Nkurunziza plays football amid protests." BBC. 21 May 2015.
"Burundi President Pierre Nkurunziza dies of 'cardiac arrest' at 55." BBC. 9 Jun 2020.
"Cote d'Ivoire among the first countries to receive the first wave of COVAX vaccines."  United Nations Children's Emergency Fund. 25 Feb 2021. 
"Eswatini's Ambrose Dlamini dies after contracting COVID-19." Aljazeera. 14 Dec 2020.
Government of The Kingdom of Eswatini. "PRIME MINISTER'S STATEMENT NATIONAL COVID-19 UPDATE." Press Statement. 11 Nov 2020. 
"Hamed Bakayoko: Ivory Coast's PM dies in Germany." BBC. 11 Mar 2020. 
Holland, Steve and Andre Paultre. "U.S rebuffs Haiti troops request after president's assassination." Reuters. Updated 10 Jul 2021. 
Hu, Caitlin et al. "Haiti police arrest suspect accused of orchestrating President's assassination." CNN. 12 Jul 2021.
"Ivory Coast's Prime Minister Amadou Gon Coulibaly dies." Aljazeera. 9 Jul 2020
"Jovenel Moïse: Foreign hit squad killed Haiti's president, police say." BBC. 10 Jul 2021. 
Masuku, Lunga."eSwatini aims to vaccinate entire population against COVID-19." Reuters. 4 Jan 2021. 
Materu, Beatrice. "The last days of president's life in public." The East African. 20 Mar 2021. 
Mwai, Peter. "Covid in Tanzania: What's changed after Magufuli's death?" BBC. 6 Jul 2020.
Obert, Jessica. "Haiti still awaiting first COVID vaccines, as cases surge." The New Humanitarian. 5 Jul 2021.
Oshin, Olafimihan. "Haiti imposes nightly curfew, mask mandate amid COVID-19 outbreak." Hill. 24 May 20121.
"PAHO Director calls for intensified health response in Haiti to reverse rapidly deteriorating COVID conditions." Pan American Health Organization. 2 Jun 2021.
Strickler, Laura. "Everyone is panicked': Even the doctors and nurses in Haiti have yet to be vaccinated for Covid." NBC News. 25 Jun 2021.
"Swaziland king renames country 'the Kingdom of eSwatini'." BBC. 19 Apr 2018.
U.S. Department of Justice. "Justice Department Statement on Law Enforcement Assistance to the Haitian Government." Press Release. 12 Jul 2021.
"U.S. Investigators Arrive in Haiti to Aid in Moïse Murder Case." New York Times." Updated 13 Jul 2021. 
"WHO seeking further details on staff expulsion from Burundi." United Nations. 14 May 2020.
World Health Organization. "WHO Director-General's statement on Tanzania and COVID-19." Press Release. 20 Feb 2021
Yahmed, Marwane Ben. "Côte d'Ivoire: Prime minister Hamed Bakayoko's final days." The Africa Report. 16 Mar 2021.