SciCheck Digest
Responding to a surge in COVID-19 hospitalizations, Colorado Gov. Jared Polis signed an executive order on Oct. 31 allowing hospitals that are at or near capacity to transfer or stop admitting patients. Social media posts falsely claimed the order says hospitals can "refuse to treat the unvaccinated." But the order doesn't mention vaccination status.
---
Full Story  
Since the emergence of the delta variant, Colorado has been experiencing a surge in COVID-19 cases, placing a strain on hospitals. Hospitalizations rose to more than 1,500 COVID-19 patients, and 95% of the state's intensive care unit beds were occupied on Nov. 18.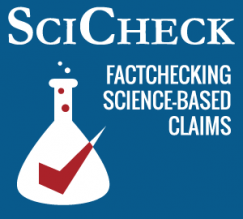 To ease the burden on the state's hospitals, Gov. Jared Polis signed an executive order on Oct. 31 allowing hospitals to transfer or stop admission of any patients when the medical facilities have "reached capacity or are reasonably anticipated to reach capacity" due to the rise in COVID-19 cases. 
But social media posts have falsely claimed that the governor's order allows hospitals to deny admission or treatment of unvaccinated patients. A screenshot of a tweet posted on Instagram reads, "Colorado Governor Signs Executive Order to TURN AWAY UNVACCINATED FROM HOSPITALS and Prioritize Treatment to Vaccinated Patients…" 
A similar claim posted on Twitter reads, "Colorado now says its ok for hospitals to refuse to treat the unvaccinated."
But that's not what the order says.
"The Executive Order doesn't even mention or have anything to do with vaccination status," Conor Cahill, press secretary for the Colorado governor's office, said in an email to FactCheck.org. He noted that a federal law, the Emergency Medical Treatment and Labor Act, or EMTALA, prohibits hospitals from refusing to provide emergency care to anyone, regardless of insurance status or ability to pay. 
The word "vaccine" does appear once in the executive order — when it says the recent surge in COVID-19 cases is "largely due to the highly contagious Delta variant and the 20% of Coloradans who have yet to get the highly effective, safe vaccine."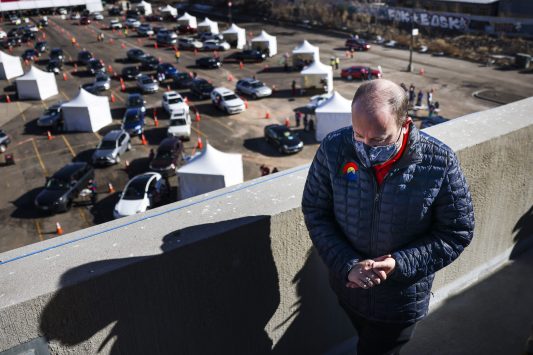 The order, which lasts 30 days unless it's extended by another executive order, is meant to relieve hospitals and help "ensure that Coloradans have adequate care." 
The order "authorizes the Colorado Department of Public Health & Environment (CDPHE) to determine whether a hospital or freestanding emergency department is at, or reasonably anticipated to reach, capacity. CDPHE is authorized to direct those facilities to transfer patients to prevent overwhelming the capacity of a facility and its staff," Cahill said. 
"The Executive Order states," Cahill continued, that "'a hospital must comply with the non-waived sections of the EMTALA, including the requirements to provide stabilizing treatment within the hospital's capabilities and capacity prior to the initiation of a transfer to another hospital, and to provide a medical screening examination to any individual who comes to the emergency department and requests examination or treatment.'"
Matthew Wynia, director of the Center for Bioethics and Humanities at the University of Colorado, told us in an email that the social media posts were "Pants on Fire false."  
"We are not using vaccination status in making triage decisions. We are treating everyone the same according to their medical needs," Wynia said.
"Bottom line: health care professionals don't punish people for making bad medical decisions, even when those decisions harm both themselves and others," he said. 
"Colorado is in as bad a situation as we've faced in the entire pandemic, with very few ICU beds open and many hospitals already operating under crisis standards of care," Wynia said. At the hospital where he works, UCHealth Internal Medicine – Anschutz Medical Campus, there would normally be one respiratory therapist managing no more than five people on ventilators. In the current situation, there is sometimes just one respiratory therapist monitoring as many as 15 people on ventilators, he said.
"We are bursting at the seams, and it just keeps getting worse," Wynia said. "We assume that over the next weeks … about 10% of people who are currently in hospitals will need to go home, even though they aren't really ready to go home yet – just to open up some staffed beds for really sick people who are liable to die if they don't get care in the hospital."
At a Nov. 10 meeting of the Governor's Expert Emergency Epidemic Response Committee, state epidemiologist Dr. Rachel Herlihy said COVID-19 cases in Colorado had increased rapidly in recent days and presented a chart showing how hospital bed capacity had reached an "all-time low."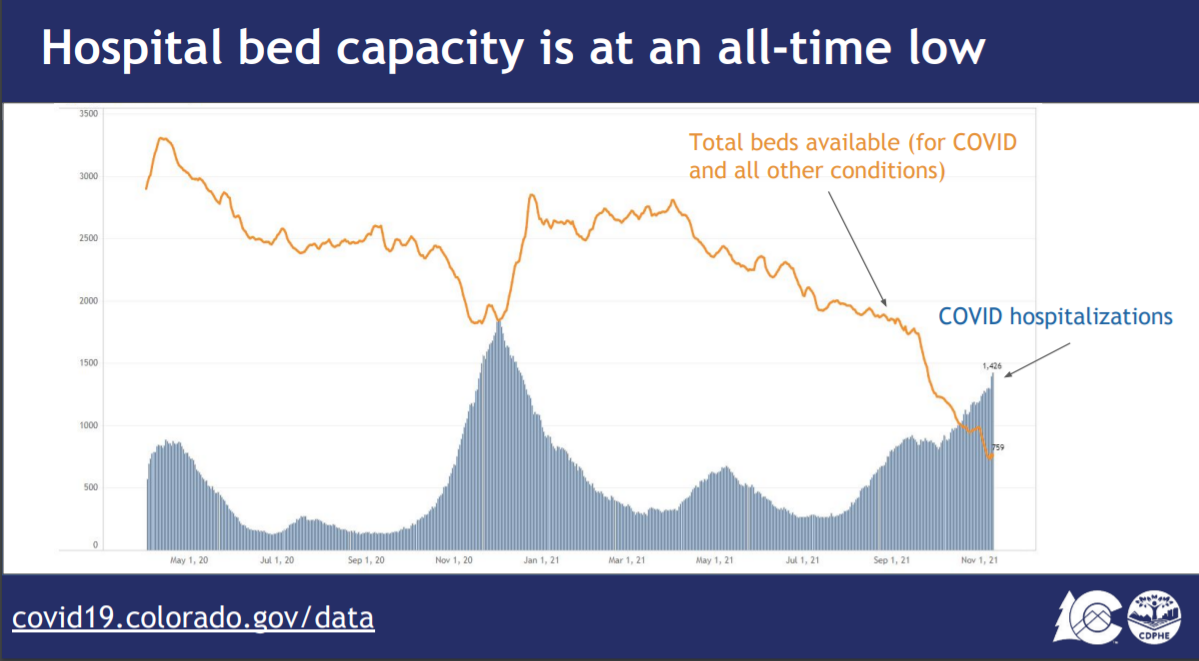 Herlihy also presented a model predicting that COVID-19 hospitalizations will peak higher than ever on Jan. 1 and "could exceed current hospital capacity" based on the current trajectory. But she said that an increase in the administration of vaccine boosters could decrease the number of cases. 
"I believe California and New York have now also opened up vaccination boosters to everyone, as we did recently," Wynia, of the University of Colorado, said.
"Idaho, Alaska and some other states have also authorized use of crisis standards of care, which allows hospitals to transfer patients to each other and to other facilities as a way of balancing the load, and many hospitals in those states are also using staffing models and nursing ratios that we all know aren't completely safe, but they're the best we can do under the circumstances," Wynia said. 
Currently, the Centers for Disease Control and Prevention recommends a booster dose for certain people who received Pfizer/BioNTech and Johnson & Johnson vaccines against COVID-19. The CDC and Food and Drug Administration are expected to soon approve a booster dose of the Pfizer/BioNTech vaccine for all adults.  
Update, Nov. 19: The CDC approved and the FDA authorized Pfizer/BioNTech and Moderna COVID-19 boosters for all adults on Nov. 19, which makes the boosters available to everyone ages 18 and older.
Editor's note: SciCheck's COVID-19/Vaccination Project is made possible by a grant from the Robert Wood Johnson Foundation. The foundation has no control over FactCheck.org's editorial decisions, and the views expressed in our articles do not necessarily reflect the views of the foundation. The goal of the project is to increase exposure to accurate information about COVID-19 and vaccines, while decreasing the impact of misinformation.
Sources
American College of Emergency Physicians. "EMTALA Fact Sheet." Accessed 15 Nov 2021.  
Cahill, Conor. Press secretary, Colorado Office of the Governor. Email sent to FactCheck.org. 15 Nov 2021. 
"Colorado committee discusses rapid increase in COVID cases, next steps." Video. YouTube. 10 Nov 2021.
Colorado Department of Public Health and Environment (@CDPHE). "1,526 currently hospitalized (confirmed COVID-19) 51% adult critical care ventilators in use 95% ICU beds in use 2,775 (7-day avg. cases) 9.53% (7-day positivity rate) COVID-19 data dashboard: https://covid19.colorado.gov/data." Twitter. 17 Nov 2021. 
Colorado COVID-19 Data. Colorado Department of Public Health & Environment. Assessed 15 Nov. 2021.
Edwards, Erika. "The delta variant is now the dominant Covid strain in the U.S." NBC News. 7 July 2021.
Manier, Miranda. "Walz putting National Guard on alert, expanding COVID testing options." KARE. 15 Oct 2021.
Neef, Todd. "Why are Colorado COVID-19 cases spiking?" UCHealth Today. 5 Nov. 2021.
Paul, Jesse and John Ingold. "Governor prepares to expand Colorado's COVID hospital capacity, push vaccine requirement for large indoor events." Colorado Sun. 10 Nov 2021. 
Paul, Jesse. "Colorado governor prepares to request federal medical surge teams, stop elective procedures as COVID hospitalizations spike." Colorado Sun. 28 Oct 2021. 
Polis, Jared. "D 2021 135 EXECUTIVE ORDER Authorizing the Colorado Department of Public Health and Environment to Order Hospitals and Freestanding Emergency Departments to Transfer or Cease the Admission of Patients to Respond to the Current COVID-19 Disaster Emergency in Colorado."  Colorado.gov. 31 Oct. 2021. 
Summers, DJ. "Colorado, Arizona ICU bed use rates reach levels exceeding neighboring states." Fox13. 9 Nov 2021.
Wynia, Matthew. Director, Center for Bioethics and Humanities at the University of Colorado. Email sent to FactCheck.org. 17 Nov 2021.

---
---