SciCheck Digest
TV actress Betty White passed away at age 99 on Dec. 31. Following her passing, various falsehoods appeared on social media about White, including claims that she died after getting a COVID-19 booster shot and that she was the sister of former first lady Barbara Bush. White died of natural causes, according to her agent, and she had no siblings.
---
Full Story 
Betty White, an award-winning actress, started her career in Hollywood in the 1940s as a personality on various radio shows before she regularly appeared on "Hollywood on Television" in 1949. She was the first woman in the U.S. to produce a national TV show, and she won five Emmy Awards during her career of more than 70 years.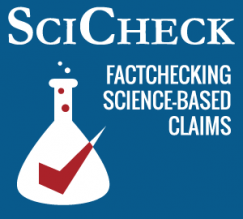 Known for her roles in the TV sitcoms "The Mary Tyler Moore Show," "The Golden Girls" and "Hot in Cleveland," White was expected to celebrate her 100th birthday on Jan. 17, before her passing on Dec. 31.
White's agent Jeff Witjas told People magazine that the actress passed away "peacefully in her sleep" of natural causes at her Brentwood home on New Year's Eve. 
Update, Jan. 11: White died from a stroke she had suffered six days before her Dec. 31 death, according to her death certificate.
But soon after her death, several rumors began spreading on social media about the cause of death and White's family relations. 
"Ok, I was just as shocked as the next person over Betty White..RIP. But must ask.. are we just gonna skip where she had the Booster on Dec. 28th," read a Facebook post on Jan. 3, baselessly claiming that White received a COVID-19 booster shot before her death.  
Witjas told the Associated Press that White didn't receive a booster shot on Dec. 28. He didn't clarify whether White had received a booster at all. 
Witjas said in a statement in People, "Betty died peacefully in her sleep at her home. People are saying her death was related to getting a booster shot three days earlier but that is not true. She died of natural causes. Her death should not be politicized — that is not the life she lived."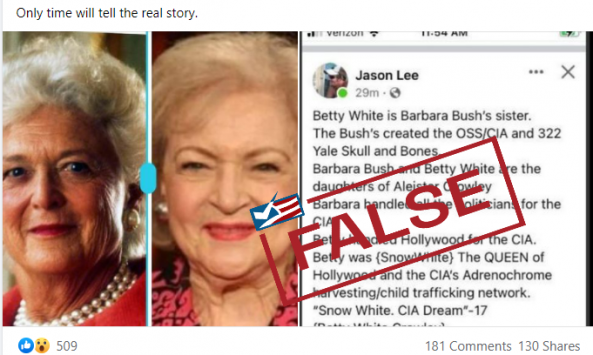 Meanwhile, another Facebook post on Jan. 3 spread a false conspiracy theory that White was the sister of former first lady Barbara Bush and that they were both daughters of Aleister Crowley, a British occultist and author.   
The post — which includes a screenshot of another Facebook post that begins "Betty White is Barbara Bush's sister" and shows photos of White and the former first lady — claims that Bush and White worked for the CIA.
But the three individuals named in the post aren't related.
Betty White was the child of Tess Cachikis and Horace Logan White, and she had no siblings.
Barbara Bush, whose maiden name was Pierce, was the third child of Pauline Robinson and Marvin Pierce. Bush had two older siblings, a sister and brother, Martha and James. Scott Pierce was the youngest of the four children.
Although Aleister Crowley did father at least two daughters, neither Barbara Bush nor Betty White was one of them. Crowley's first daughter died in 1906 at the age of two. He had at least one other daughter, Lola Zaza Crowley, who died in 1990 while she was in her early 80s.
This claim is apparently an updated version of a nearly 16-year-old rumor that started out as an April Fool's joke. According to USA Today, a blogger identified as Joseph Cannon posted the article that started the rumor back in 2006. The original story only focused on Barbara Bush being the daughter of Crowley. White was only recently added to the rumor.
"I wanted to test whether anyone would take the first, obvious step of contacting me and asking 'Is this real?'" Cannon said in an interview with USA Today.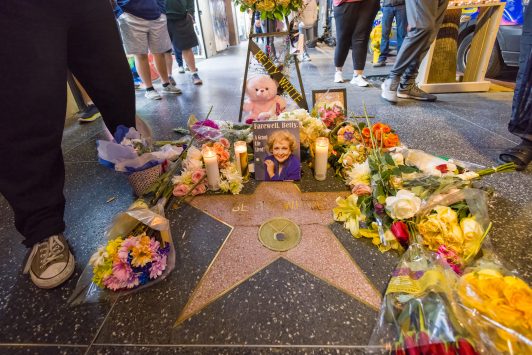 Editor's note: SciCheck's COVID-19/Vaccination Project is made possible by a grant from the Robert Wood Johnson Foundation. The foundation has no control over FactCheck.org's editorial decisions, and the views expressed in our articles do not necessarily reflect the views of the foundation. The goal of the project is to increase exposure to accurate information about COVID-19 and vaccines, while decreasing the impact of misinformation.
Sources
Adams, Abigail and Liz McNeil. "Betty White 'Died of Natural Causes' at Age 99, Her Agent Denies False COVID Booster-Related Rumors." People Magazine. 3 Jan 2022.
Carlson, Michael. "Betty White obituary." Guardian. 2 Jan 2022
Decker, Ronald. "Crowley, Aleister [formerly Edward Alexander]" webpage. Oxford Dictionary of National Biography. 23 Sep 2004. 
"First Lady Biography: Barbara Bush" webpage. National First Ladies Library. Accessed 5 Jan 2022.
The Editors of Encyclopedia Britannica. "Aleister Crowley" webpage. Britannica. Updated 27 Nov 2021.
"Tess Christine White" webpage. Geni. Updated 3 Jan 2022.
Tikkanen, Amy. "Betty White" webpage. Britannica. Updated 4 Jan 2022.
Murphy, Philip D. "EXECUTIVE ORDER NO. 22." New Jersey.gov. 18 Apr 2018.
Phan, Karena. "Fake vaccine quote circulates after Betty White's death." AP News. 2 Jan 2022.
"Pioneers of Television: Betty White – First Lady of Television." PBS International. Accessed 6 Jan 2022.
Schwartz, Ryan. "Betty White Remembered by Co-Stars, Hollywood Admirers: 'My God, How Bright Heaven Must Be Right Now.'" TV Line. 31 Dec 2021.
Severo, Richard, and Peter Keepnews. "Betty White, a Television Golden Girl From the Start, Is Dead at 99." New York Times. 31 Dec 2021.
Wagner, Bayliss. "Fact check: 15-year-old conspiracy theory about Barbara Bush originally an April Fool's joke." USA Today. 28 Feb 2021.
Wakeford, Dan, and Tom Gliatto. "Goodbye to a Golden Girl: A Tribute to Betty White's Incredible Life of Love and Laughter." People Magazine. 4 Jan 2022.
---
---