The Biden administration is not planning to ban gas stoves. But comments from a commissioner on the U.S. Consumer Product Safety Commission about gas stoves being a "hidden hazard" and that "products that can't be made safe can be banned" provided just enough fuel for some politicians to stoke fear and outrage.
"Our stoves are at risk!" reads a Jan. 11 fundraising appeal from Rep. Ronny Jackson, a Republican from Texas. "Biden and Democrats want to BAN gas stoves in EVERY home! INCLUDING YOURS!"
Never mind that two days earlier, the agency commissioner who made the statement that set off the firestorm, Richard Trumka Jr., issued a tweet clarifying, "To be clear, CPSC isn't coming for anyone's gas stoves. Regulations apply to new products."
On Jan. 11, the agency's chair, Alexander Hoehn-Saric, issued a statement saying the CPSC "is actively engaged in strengthening voluntary safety standards for gas stoves." (emphasis is ours)
"[T]o be clear, I am not looking to ban gas stoves and the CPSC has no proceeding to do so," Hoehn-Saric stated.
The same day, a White House spokesman told CNN, "The President does not support banning gas stoves – and the Consumer Product Safety Commission, which is independent, is not banning gas stoves."
So how did this tempest in a teapot get started?
Safety Concerns
Ongoing research into gas stoves has raised safety concerns, particularly for children with asthma.
"Indoor gas stove use for cooking is associated with an increased risk of current asthma among children and is prevalent in 35% of households in the United States," according to research published in the International Journal of Environmental Research and Public Health in December. "The population-level implications of gas cooking are largely unrecognized."
On Dec. 21, eight senators and a dozen members of Congress sent a letter to CPSC Chair Hoehn-Saric asking his commission to "take action" to address the risks posed by gas stoves.
"A range of studies have shown that, when used without adequate ventilation, cooking with a gas stove can raise indoor concentrations of these pollutants [nitrogen dioxide, carbon monoxide and fine particulate matter] to levels that the Environmental Protection Agency considers to be unsafe even outdoors," the elected officials, all Democrats plus an independent, wrote.
Here is one such study, published in Environmental Science and Technology, which found that "families who don't use their range hoods or who have poor ventilation can surpass" the national standard for nitrogen dioxide "within a few minutes of stove usage, particularly in smaller kitchens."
These pollutants can worsen asthma in children, and "have also been linked to cardiovascular impacts and a range of other adverse health issues," the legislators wrote. Low-income households are at increased risk due to living in smaller homes with poor ventilation.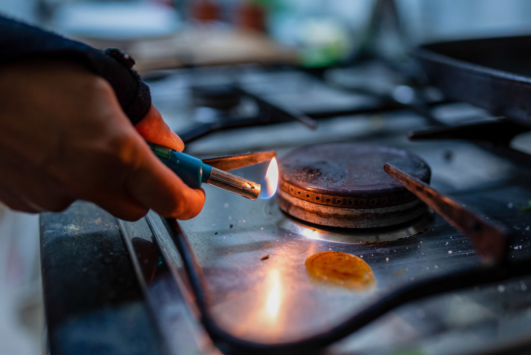 Methane gas leaks from indoor gas stoves also have significant negative climate impacts, they wrote.
The legislators asked the CPSC to take a handful of actions, including issuing performance standards for gas stoves, requiring they be sold with range hoods, creating a public education campaign on the exposure risks and requiring labeling that explains the risks.
Notably, none of the suggestions include banning gas stoves or even discontinuing future production and sale of them.
CPSC Response
And then came a Jan. 9 Bloomberg story that ran under the headline "US Safety Agency to Consider Ban on Gas Stoves Amid Health Fears."
In the article, Trumka, a Biden appointee who is the son of the late Richard Trumka, who was president of the AFL-CIO labor union, was quoted on the topic of safety concerns, saying, "This is a hidden hazard. Any option is on the table. Products that can't be made safe can be banned."
Republicans pounced.
"I'll NEVER give up my gas stove," Jackson tweeted on Jan. 10. "If the maniacs in the White House come for my stove, they can pry it from my cold dead hands. COME AND TAKE IT!!"
Sen. Ted Cruz retweeted a post that showed photos of Vice President Kamala Harris, First Lady Jill Biden, Sen. Elizabeth Warren and Rep. Alexandria Ocasio-Cortez all using gas stoves. The tweet was captioned, "Gas stoves for me but not for thee."
It wasn't just Republicans raising an alarm, either. Democratic Sen. Joe Manchin tweeted, "The federal government has no business telling American families how to cook their dinner. I can tell you the last thing that would ever leave my house is the gas stove that we cook on."
Social media also got in on the act. "63% of Americans live paycheck to paycheck. Joe Biden: Let's ban gas stoves," read one Facebook post, even though Biden himself never said anything of the sort.
And on Jan. 11, Republican Reps. Bill Huizenga and Alex Mooney introduced H.R. 263, the Stop Trying to Obsessively Vilify Energy (STOVE) Act. The bill seeks to "prohibit any rule or guidance that bans gas stoves in the United States."
But as we explained, the commission says it is not proposing a ban.
Here is the full statement from the commission's chair, Hoehn-Saric:
Hoehn-Saric, Jan. 11: Over the past several days, there has been a lot of attention paid to gas stove emissions and to the Consumer Product Safety Commission. Research indicates that emissions from gas stoves can be hazardous, and the CPSC is looking for ways to reduce related indoor air quality hazards. But to be clear, I am not looking to ban gas stoves and the CPSC has no proceeding to do so.

CPSC is researching gas emissions in stoves and exploring new ways to address health risks. CPSC also is actively engaged in strengthening voluntary safety standards for gas stoves. And later this spring, we will be asking the public to provide us with information about gas stove emissions and potential solutions for reducing any associated risks. This is part of our product safety mission – learning about hazards and working to make products safer.
In response to Jackson's tweet, Ocasio-Cortez tweeted, "Did you know that ongoing exposure to NO2 [nitrogen dioxide] from gas stoves is linked to reduced cognitive performance." She cited a Vox article that links to research published by the American Journal of Public Health in 2019 that says nitrogen dioxide is linked to "decreased cognitive function, including deficits in memory and attention" in children.
In another tweet, Ocasio-Cortez noted, "The way we are handling it in NYC isn't to force people to switch what they already have. Folks can keep their appliances, and new buildings in NYC will have gas-free stoves. As for federally, any proposal from the CPSC would go through a quite lengthy review and input process."
Some have pointed to comments from Trumka in mid-December as evidence that he would consider some kind of ban.
At that time, Trumka said during a U.S. Public Interest Research Group webinar, "That's why I think we need to be talking about regulating gas stoves, whether that's drastically improving emissions or banning gas stoves entirely. And I think we ought to keep that possibility of a ban in mind, as you follow along, because it's a powerful tool in our toolbox and it's a real possibility here."
As we said, Trumka has since tweeted that any new regulations would apply only to new products. In his tweet, he also noted, "For Americans who CHOOSE to switch from gas to electric, there is support available – Congress passed the Inflation Reduction Act which includes a $840 rebate."
As part of the High-Efficiency Electric Home Rebate Program included in the Inflation Reduction Act enacted last August (see section 50122), people who switch to "an electric stove, cooktop, range, or oven" can get an $840 rebate, enough to "cover the majority of the cost in some cases," E&E News reported.
And in any case, it appears the other members of the commission are not as keen as Trumka may be to regulating gas stoves, E&E News reported. Minutes from the CPSC's October meeting note that Trumka initially proposed an amendment to "direct staff to initiate rulemaking pertaining to gas stoves" but withdrew it because of a "lack of support." Trumka then proposed the commission "obtain public input on hazards associated with gas stoves," which the commission approved.
As Hoehn-Saric's statement noted, "And later this spring, we will be asking the public to provide us with information about gas stove emissions and potential solutions for reducing any associated risks."
---
Editor's note: FactCheck.org does not accept advertising. We rely on grants and individual donations from people like you. Please consider a donation. Credit card donations may be made through our "Donate" page. If you prefer to give by check, send to: FactCheck.org, Annenberg Public Policy Center, 202 S. 36th St., Philadelphia, PA 19104.