Quick Take
Former President Bill Clinton settled a sexual harassment lawsuit with Paula Jones in a case that was a matter of public record. Former President Donald Trump made a secret payment to porn actor Stormy Daniels, which may lead to criminal charges against him. Social media posts falsely claim the situations are similar and Trump is being treated differently by prosecutors.
---
Full Story
Former President Bill Clinton settled a lawsuit filed by Paula Jones — who had accused him of sexual harassment — for $850,000 in 1998.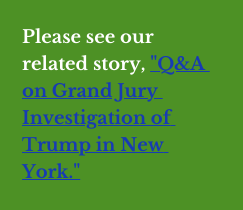 The circumstances of that payment are different from President Donald Trump's secret payment to Stormy Daniels — a porn actor whose real name is Stephanie Clifford — which may lead to his arrest on charges related to falsifying business records and campaign finance violations.
But claims circulating on social media are equating the two situations, suggesting that Trump is being treated unfairly since he's facing possible arrest and Clinton didn't.
"Democrat Bill Clinton, paid Paula Jones $850,000 in hush money… Why wasn't Clinton arrested?" one meme reads.
But, as we said, the circumstances are different for each.
Here's what happened in the Clinton case:
Jones filed a civil suit against Clinton in 1994, alleging that he had made sexual advances toward her three years earlier, when he was governor of Arkansas. The case went on for years and triggered Clinton's impeachment after he falsely claimed that he "did not have sexual relations" with White House intern Monica Lewinsky, who was subpoenaed to testify in the Jones case.
In December 1998, the House passed articles of impeachment for perjury and obstruction of justice against Clinton. In February 1999, the Senate acquitted him.
While the House was considering impeachment in the fall of 1998, Clinton and Jones agreed to a settlement in which Clinton admitted no wrongdoing and agreed to pay her $850,000.
The settlement was public record and was recognized by the appeals court that was handling the case at the time. So it wasn't "hush money," as a social media post claimed. Rather, the settlement didn't prohibit Jones from talking publicly about the alleged incident, at all.
According to press reports at the time, Clinton paid for the settlement with $375,000 of his personal funds and $475,000 from an insurance policy.
Here's what we know about the Trump case, some of which is in dispute:
In 2016 — three weeks before the presidential election — Trump's personal attorney at the time, Michael Cohen, paid Daniels $130,000 to sign a nondisclosure agreement that would bar her from talking publicly about an alleged affair between Trump and Daniels in 2006.
Details about that payment have emerged in the years since, and now the district attorney in Manhattan has been presenting the case to a grand jury.
Although no charges had been filed by March 24, there's been widespread speculation — including from Trump himself — that he will be indicted.
According to news accounts, the possible charges may involve a violation of state law if prosecutors allege Trump falsified business records in order to conceal the payment when he reimbursed Cohen, and a violation of federal or state campaign finance law, if they allege the payment was related to Trump's bid for office.
The important difference here is that Clinton's payment was done publicly in accordance with the rules of the court and was not an attempt to buy Jones' silence. Trump's payment, on the other hand, was private, was meant to buy Daniels' silence, and prosecutors are mulling whether the arrangement violated criminal law.
---
Editor's note: FactCheck.org is one of several organizations working with Facebook to debunk misinformation shared on social media. Our previous stories can be found here. Facebook has no control over our editorial content.
Sources
Jones v. Clinton. No. 98-2161. U.S. Court of Appeals for the Eighth Circuit. Settlement. 17 Nov 1998.
Farley, Robert and Eugene Kiely. "Q&A on Stormy Daniels' Payment." FactCheck.org. Updated 27 Feb 2019.
Jansen, Bart and Kevin Johnson. "Is Donald Trump being arrested? Here are the possible charges in the New York investigation." USA Today. Updated 21 Mar 2023.
Jones v. Clinton. No. LR-C-94-290. U.S. District Court for the Eastern District of Arkansas. Opinion and order. 12 Apr 1999.
Library of Congress. Federal Impeachment — William J. Clinton. Accessed 23 Mar 2023.
Baker, Peter. "Clinton Settles Paula Jones Lawsuit for $850,000." Washington Post. 14 Nov 1998.
Jones v. Clinton. No. 98-2161. U.S. Court of Appeals for the Eighth Circuit. Opinion. 2 Dec 1998.
Srinivasan, Kalpana. "Clinton pays Paula Jones $850,000." Associated Press. 13 Jan 1999.
Bragg, Alvin. District Attorney, New York County. Letter to Congress. 23 Mar 2023.
Trump, Donald (@realDonaldTrump). "Page 2: NOW ILLEGAL LEAKS FROM A CORRUPT & HIGHLY POLITICAL MANHATTAN DISTRICT ATTORNEYS OFFICE, WHICH HAS ALLOWED NEW RECORDS TO BE SET IN VIOLENT CRIME & WHOSE LEADER IS FUNDED BY GEORGE SOROS, INDICATE THAT, WITH NO CRIME BEING ABLE TO BE PROVEN, & BASED ON AN OLD & FULLY DEBUNKED (BY NUMEROUS OTHER PROSECUTORS!) FAIRYTALE, THE FAR & AWAY LEADING REPUBLICAN CANDIDATE & FORMER PRESIDENT OF THE UNITED STATES OF AMERICA, WILL BE ARRESTED ON TUESDAY OF NEXT WEEK. PROTEST, TAKE OUR NATION BACK!" Truth Social. 18 Mar 2023.
Desjardins, Lisa. "Trump faces 4 investigations. Here's where they stand." NewsHour. 22 Mar 2023.
Rothfeld, Michael. "Inside the Payoff to a Porn Star That Could Lead to Trump's Indictment." New York Times. 19 Mar 2023.