Quick Take
Pennsylvania Sen. John Fetterman has been hospitalized since Feb. 15 for treatment of depression, an aftereffect of a stroke. Social media posts use two photos of Fetterman — taken years apart — to falsely claim the Democrats are using a body double for Fetterman. Differences in the photos are due to camera focal lengths and lenses, experts said.
---
Full Story
Pennsylvania Sen. John Fetterman has been at the center of false claims on social media following his stroke in May and his hospitalization Feb. 15 for treatment of clinical depression.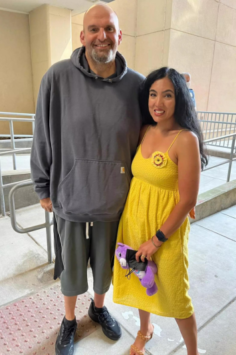 Fetterman suffered a stroke nearly a year ago due to a blood clot from his heart, which was beating at an irregular rhythm. After surgery to implant a pacemaker with a defibrillator to maintain two heart conditions that contributed to his stroke — atrial fibrillation and cardiomyopathy — Fetterman was released from the hospital on May 22.
That same day, 90.5 WESA, an NPR station based in Pittsburgh, published an article on Fetterman's release from the hospital.
The article included a photo (shown at left) — courtesy of Fetterman's campaign — of Fetterman with his wife, Gisele, leaving the hospital. The caption said, "Pennsylvania Lt. Gov. and U.S. Senate Democratic nominee John Fetterman, left, and his wife, Gisele, leave Penn Medicine Lancaster General Hospital following his discharge on Sunday. He had been treated at the hospital since May 13 after suffering a stroke while campaigning."
Posts on social media are now sharing cropped versions of that photo next to an older photo of Fetterman to falsely claim the Democrats are using a body double for Fetterman, which the social media posts describe as a "new Fetterman" or a "Fetterman 2.0."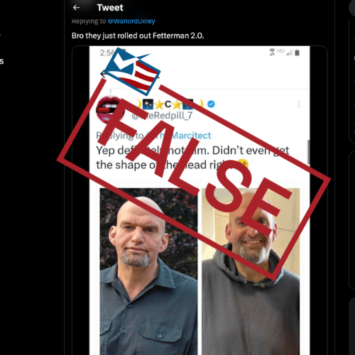 "New fetterman just dropped. … Let's see how retarded this all has to get before people realize that they're just replacing everyone with actors. There are still people that believe Joe Biden is actually Joe Biden lmao," said an Instagram post.
A Twitter user wrote, "Bro they just rolled out Fetterman 2.0," and shared a screenshot of another tweet with two photos of Fetterman — including the photo from last year's NPR article — that said, "Yep definitely not him. Didn't even get the shape of the head right."
False claims about political leaders having body doubles have appeared on social media for years. In 2021, Reuters reported on the false claim that President Joe Biden had a body double receive the COVID-19 booster in his place. The photos in those claims were digitally altered.
The claim in the posts about Fetterman is also false, but the photos are real.
As we said, one photo used in the social media posts is from news coverage of Fetterman leaving the hospital in 2022. Fetterman's wife posted a video on Twitter on May 22 that shows the couple in the same clothes Fetterman is wearing in the photo.
The older image shown in the social media posts is a cropped version of a photo published in two articles in the Philadelphia Inquirer in 2019 and 2020.
Heather Diack, an associate professor of art history and a global photography researcher at the University of Miami, told us in an email that a subject's appearance may be different in photos because of the person's distance from a camera and the equipment settings.
She said the "varying factor is the proportional relationship between the focal length (the magnification at which the camera lens images distant objects) and the distance between the camera and the subject photographed."
"A longer focal length will narrow the angle of vision and magnify the subject pictured. Depending on these ratios, a subject can appear very distorted from their actual appearance in everyday life," Diack said.
Diack also referred us to a 2018 article by photographer Lee Morris titled, "How Lens Compression and Perspective Distortion Work," which explains how the distance from a camera to the subject is what creates distortions.
"[I]f you shoot a portrait of someone's face up close with a wide angle lens, their face will be distorted and the background will appear extremely far behind them. This is called 'extension distortion.' If you back up and take a picture of the same person with a telephoto lens, the subject and background will become more 'compressed' meaning that the foreground and background will appear closer together. This is called 'compression distortion,'" the article said.
John Freeman, an associate professor of photojournalism at the University of Florida, told us in an email that different camera lenses affect how people look in photos. "The focal length of a camera lens, expressed in -mm (millimeter) can make people look different," Freeman explained.
"In the professional world, 50mm captures the same view that our eyes see. Everything is the same size, nothing is distorted, etc. But if using a lens less than 50mm, such as 35mm or 24mm, the results will show a bowing or stretching of the face top and bottom. Also, the nose may look bigger than reality, and the ears will look smaller and farther back," Freeman said. "Conversely, using a lens 'longer' than the normal 50mm will result in a flattening of the face (it's called compression), so that the eyes and nose both appear closer together to each other than they really are."
Referring to the photos in the tweet, Freeman said: "My guess is that the photo of Fetterman at left was taken with an 85mm or 100mm lenses, and the one on the right was taken with a 35mm lens. He's also serious in the left photo and smiling on the right, so his mouth and facial features look different in addition to whatever distortion the lenses are creating."
Fetterman will reportedly return to the Senate on April 17.
---
Editor's note: FactCheck.org is one of several organizations working with Facebook to debunk misinformation shared on social media. Our previous stories can be found here. Facebook has no control over our editorial content.
Sources
Biederman, Alyssa. "Pool's open – the Pa. lieutenant governor's, that is for the summer." Philadelphia Inquirer. 7 Jun 2019
Diack, Heather. Associate professor of art history and global photography, University of Miami. Email to FactCheck.org. 29 Mar 2023.
"Fact Check-Claims that a 'body double' got COVID-19 booster instead of Biden are false, use digitally altered photo." Reuters. 6 Oct 2021.
Fetterman, Gisele Barreto (@giselefetterman). "João is headed home ❤️ time to rest and recover (and annoy me)! I'm so grateful for the amazing staff at Lancaster General for taking such good care of him from start to finish. ❤️" Twitter. 22 May 2022.
Freeman, John. Associate professor of photojournalism, University of Florida. Email to FactCheck.org. 29 Mar 2023.
90.5 WESA. "John Fetterman leaves Lancaster hospital for Braddock to recover from stroke." 22 May 2022.
C-Span. "John Fetterman on Clean Energy & Jobs." 7 Jul 2009.
Jones, Brea. "Fetterman Working on Legislation While in Hospital, Contrary to Social Media Claims." 21 Mar 2023. FactCheck.org.
Morris, Lee. "How Lens Compression and Perspective Distortion Work." FStoppers. 22 May 2018.
Orso, Anna. "Police ID woman seen on video calling Pa. second lady the N-word." Philadelphia Inquirer. 14 Oct 2020.
C-Span. "Senator-Elect John Fetterman Election Night Remarks." 8 Nov 2022.