Quick Take
The White House declared the site of the Maui wildfires a disaster area, and the Department of Defense has provided more than 400 troops, air support and other resources in firefighting and recovery efforts. Yet posts on Instagram misrepresent the federal response and one falsely claimed "the military is standing down."
---
Full Story
The Maui wildfires that started on Aug. 8 caused widespread devastation in the historic Lahaina area, and the death toll had climbed to 111 by Aug. 17. Authorities have described it as the deadliest natural disaster in the state's history. Hawaii Gov. Josh Green said the damage was estimated at close to $6 billion.
While the cause of the fire is still being investigated, Hawaii had been on a red flag warning for fire risk due to abnormal drought conditions, overgrowth of invasive grass species, and high winds that fanned the flames.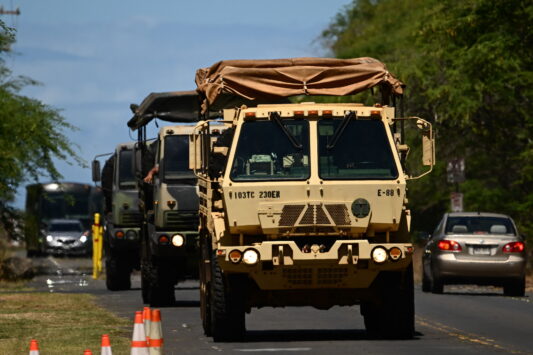 The Biden administration declared the fire a major disaster on Aug. 10 — freeing up federal funds to assist the local government and the victims — and mobilized federal agencies for rescue and recovery efforts. President Joe Biden approved Hawaii's request for a federal disaster declaration within six hours, the governor said.
A statement released by the White House on Aug. 15 detailed the coordinated response, highlighting the use of U.S. Coast Guard, Navy and Army support, as well as assistance from the U.S. Army Corps of Engineers.
But online posts misleadingly suggested that the military was not being used to aid Maui. An Instagram post on Aug. 13, which received 12,000 likes, asked, in part, "Where is the surge of support for Americans? Where are the military helos and planes?"
The caption of a video posted on Instagram on Aug. 13 says, "I'm dumbfounded as to why the military is standing down?"
Contrary to the posts' claims, the military has played an active role in the wildfire response.
The Department of Defense reported on Aug. 10 that the National Guard had activated "99 Army National Guard personnel and 35 Air National Guard personnel" to help in the wildfire response. Two National Guard CH-47 Chinook helicopters were "assigned to support wildfire response and search and recovery efforts" and "completed 58 aerial water drops of more than 100,000 gallons of water in a matter of five hours."
The Army's 25th Combat Aviation Brigade also "deployed two UH-60 Black Hawk helicopters and [a] CH-47 Chinook to assist in firefighting operations," according to the Department of Defense. In addition, a "Navy maritime strike squadron has deployed two MH-60R Seahawk helicopters to the region to assist with the U.S. Coast Guard's search and recovery efforts."
Military.com reported that by Aug. 15, more than 400 service members were involved in support efforts on Maui.
Chuck Little, a spokesperson for the U.S. Marine Corps Forces, Pacific, also told Military.com that MV-22 Ospreys, KC-130J Super Hercules aircraft and MQ-9 Reaper drones were available to assist in ongoing recovery efforts.
---
Editor's note: FactCheck.org is one of several organizations working with Facebook to debunk misinformation shared on social media. Our previous stories can be found here. Facebook has no control over our editorial content.
Sources
Salahieh, Nouran and Raja Razek. "Maui's death toll reaches 111 as searchers — many coping with their own losses — comb the wildfire zone." CNN. 17 Aug 2023.
Hutchinson, Bill. "Maui wildfire now ranks as the fifth-deadliest in US history." ABC News. 15 Aug 2023.
White House. Press release. "President Joseph R. Biden, Jr. Approves Hawaii Disaster Declaration." 10 Aug 2023.'
Green, Josh. (@govjoshgreenmd). "08/14/23 11:20am – Current Situation." X. 14 Aug 2023.
NBC News. "Lahaina blaze now the deadliest in modern U.S. history: Recap." Updated 14 Aug 2023.
NBC News. "Deaths in Maui rise to at least 99 as search goes on in Lahaina." 15 Aug 2023.
CBS News. "How dangerous climate conditions fueled Maui's devastating wildfires." 14 Aug 2023.
White House. "FACT SHEET: Biden-⁠Harris Administration's Response to the Maui Wildfires." Whitehouse.gov. 15 Aug 2023.
CNN. "What we know about the federal government's response to the Hawaii fires so far." 11 Aug 2023.
Clark, Joseph. "DOD Mobilizes Support in Response to Hawaii Wildfire." U.S. Department of Defense. 10 Aug 2023.
Toropin, Konstantin. "Military Now Has More Than 400 Troops Aiding Maui After Deadly Wildfires Devastated Island." Military.com. 15 Aug 2023.