Quick Take
After a fatal shooting at the University of North Carolina, Fox News displayed a photo of the suspect with this caption: "UNC Police Release Picture of Person of Interest." But an altered screenshot of the news report circulating online shows this caption under the photo: "Shooter Described as 'Mostly White Asian Male.'" A Fox News spokesperson called that caption a "fake."
---
Full Story
Zijie Yan, an associate professor of applied physical sciences at the University of North Carolina at Chapel Hill, was shot to death in a campus science lab on Aug. 28. Tailei Qi, a graduate student who was a member of Yan's research group, was arrested hours after the shooting and charged the following day with first-degree murder and possession of a weapon on school property.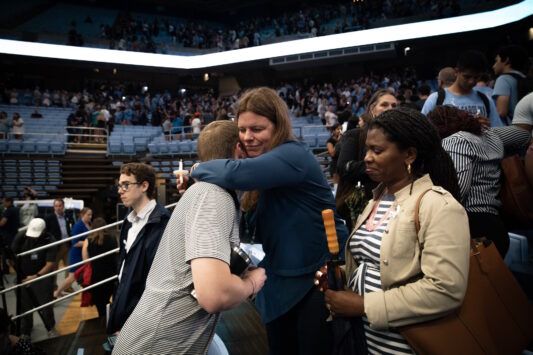 When the university police released a photo of Qi, a Fox News report described him as an "Asian male with close cropped hair… probably late teens, early 20s." The Fox News chyron — the caption below a televised image – read, "UNC Police Release Picture of Person of Interest," according to archived footage of the segment.
But social media posts have falsely claimed that Fox News injected a racial component into its reporting by showing a chyron that read: "SHOOTER DESCRIBED AS 'MOSTLY WHITE ASIAN MALE.'"
One of the posts read: "Congrats Asians you have now made your ascension into the ranks of white privilege along with every other poor immigrant group including 'white Hispanics.'"
Another user shared the phony screenshot on Instagram and said, "… lying ass propaganda media!"
The altered screenshot was also shared on Instagram by Jenna Ellis — a one-time member of former President Donald Trump's legal team and his co-defendant, in Fulton County, Georgia, in which she's charged with helping subvert that state's 2020 presidential election results. Ellis' post received more than 3,000 likes.
But Fox News never aired that chyron.
As we said, the Fox News chyron first read, "UNC Police Release Picture of Person of Interest." That quickly changed to, "Police: If You See This Person, Keep Your Distance."
Fox News confirmed that the chyron in the screenshot was altered in the social media posts.
"This is fake and did not air," Fox News spokesperson Irena Briganti told us in an email on Aug. 30.
---
Editor's note: FactCheck.org is one of several organizations working with Facebook to debunk misinformation shared on social media. Our previous stories can be found here. Facebook has no control over our editorial content.
Sources
"America Reports." Video. Internet Archive. 28 Aug 2023.
Briganti, Irena. Spokesperson, Fox News. Email sent to FactCheck.org. 30 Aug 2023.
Kiely, Eugene. "Trump's Co-Conspirators in Georgia." FactCheck.org. 15 Aug 2023.
Levenson, Michael. "UNC Graduate Student Is Charged in Fatal Shooting of Professor." New York Times. 29 Aug 2023.
Orange County Sheriff's Office. "Daily Custody Report." 30 Aug 2023.
Rosenbluth, Teddy and Josh Shaffer. "Dr. Zijie Yan, prolific, resilient and generous scientist, killed in UNC shooting." Raleigh News & Observer. 30 Aug 2023.
Schoenbaum, Hannah, et al. "Faculty Member Fatally Shot in University of North Carolina Building." Associated Press. 28 Aug 2023.
Schoenbaum, Hannah, et al. "University of North Carolina Graduate Student Left Building Right After Killing Advisor, Police Say." Associated Press. 29 Aug 2023.