Former President Donald Trump and one of his attorneys have invoked a First Amendment defense in response to the federal indictment charging Trump with trying to "subvert the legitimate election results." But legal experts note Trump's speech isn't constitutionally protected if he engaged in a criminal conspiracy, as the indictment alleges.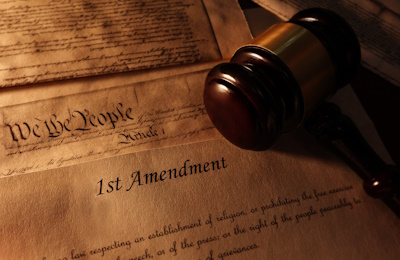 We've said it before — politicians can legally make false claims, or even lie to the American public. There's no law against it. But the "First Amendment does not protect speech in furtherance of a crime. The Supreme Court has made that clear over and over," Leslie Kendrick, a law professor and director of the Center for the First Amendment at the University of Virginia, told us in an email. "More importantly, every criminal docket in America demonstrates it every day. Soliciting a crime, planning a crime, and committing fraud are all activities that are made of words that subject people to criminal penalties all the time."
The Department of Justice filed a grand jury indictment against Trump on Aug. 1 concerning his attempts to remain in power despite losing the 2020 election, as we've explained. The four counts in the indictment are: conspiracy to defraud the United States, conspiracy to obstruct an official proceeding, obstruction of and attempt to obstruct an official proceeding, and conspiracy against rights.
The indictment charges that after the election, Trump used "the pretext of baseless fraud claims" to pressure officials in several states, which Joe Biden won, to dismiss the "legitimate electors," who would submit the electoral votes of their states for Biden, and substitute them with a slate of "illegitimate electors" who would switch the electoral votes to Trump — actions that would "disenfranchise millions of voters." The conspiracy, the indictment says, also involved pressuring then-Vice President Mike Pence to take "fraudulent actions" during the counting of the electoral votes in Congress on Jan. 6.
In one Truth Social post on Aug. 3 in response to the charges, Trump said: "The Radical Left wants to Criminalize Free Speech!" He also posted quotes from other Republicans making the same argument.
One of Trump's attorneys, John Lauro, has made that "free speech" defense in several media interviews. He told CNN on Aug. 1 that "this is an attack on free speech, and political advocacy. And there's nothing that's more protected, under the First Amendment, than political speech."
Lauro continued: "So, at the end, our defense is going to be focusing on the fact that what we have now is an administration that has criminalized the free speech, and advocacy, of a prior administration, during the time that there is a political election going on."
The indictment acknowledges that Trump "had a right, like every American, to speak publicly about the election and even to claim, falsely, that there had been outcome-determinative fraud during the election and that he had won." But it charges that Trump did more than simply make false claims — he "pursued unlawful means of discounting legitimate votes and subverting the election results. In so doing, the Defendant perpetrated three criminal conspiracies."
Bill Barr, a former attorney general during the Trump administration, said in an interview with CNN that he didn't think the First Amendment defense for Trump was "a valid argument, because, as the indictment says, they're not attacking his First Amendment right. He can say whatever he wants. He can even lie. He can even tell people that the election was stolen, when he knew better. But that does not protect you, from entering into a conspiracy. All conspiracies involve speech. And all fraud involves speech. So, free speech doesn't give you the right, to engage in a fraudulent conspiracy."
Several legal experts told us the same thing. We can't predict what will happen in court, where Trump's legal arguments ultimately will be tested. But there isn't a blanket protection on speech when used to plan or execute a crime.
No Protection for Speech in Service of a Crime
"Courts are and should be very careful about imposing any kind of legal liability for political speech," Gregory Magarian, a law professor at the Washington University in St. Louis and an expert in free speech and constitutional law, told us in a phone interview. But the indictment includes "very conventional" charges — conspiracy and obstruction charges. There's "no First Amendment question about the viability in general of those legal provisions."
Magarian said the First Amendment argument was "a phantom argument," against a charge that isn't in the indictment — namely, inciting the Jan. 6 attack on the Capitol. "That would be a hard First Amendment problem."
Much of the evidence for the charges in the indictment, Magarian said, "takes the form of speech of one kind or another." For instance, the indictment alleges Trump and his co-conspirators organized "fraudulent slates" of electors in several states and had them submit "false certifications" to Congress.
"It's all speech, but in a lot of criminal cases speech is always the form that the evidence takes," Magarian said. This would be evidence that the conspiracy formed or there was corrupt intent.
As an example of what's protected free speech and what's not, Magarian said the conversation he was having with FactCheck.org was protected speech — the government couldn't prosecute us for talking. But that protection is breached if the speech "is in service … of a criminal act or enterprise," like a conspiracy.
Similarly, Kendrick said, "Attempting to persuade other people to engage in fraud or illegality can also be illegal, regardless of the fact that the attempt is composed of language." For instance, "[p]assing off a stolen car as legitimate to a buyer amounts to fraud. Instructing others, 'Act like these cars were not stolen,' could amount to solicitation or conspiracy. It doesn't matter that these crimes are made of words. They are still crimes—crimes that regular people get convicted of every day."
"Trump, as I understand it, is charged with a series of conspiracies, in which he agreed with and encouraged others to take illegal actions to accomplish a series of unlawful ends," Seth Kreimer, a law professor at the University of Pennsylvania who teaches constitutional law and litigation, told us in an email. "It is settled law that a specific agreement to commit a crime, though accomplished by means of words is not protected 'freedom of speech.'"
Kreimer cited several Supreme Court cases that illustrated this. In United States v. Williams in 2008, for instance, Justice Antonin Scalia wrote, "Many long established criminal proscriptions—such as laws against conspiracy, incitement, and solicitation—criminalize speech (commercial or not) that is intended to induce or commence illegal activities. … Offers to provide or requests to obtain unlawful material, whether as part of a commercial exchange or not, are similarly undeserving of First Amendment protection."
Another case — United States v. Mosley, a 1915 case about suppressing people's right to vote — concerned county election board officials in Oklahoma who, it was alleged, "agreed that, irrespective of the precinct returns being lawful and regular, they would omit them from their count and from their returns to the state election board," the Supreme Court opinion, written by Justice Oliver Wendell Holmes, said. The two defendants also held "a secret meeting … for the purpose of carrying it out."
The court held that a conspiracy to block votes from being counted in a federal election "was a violation of 18 USC Section 241, which is one of the statutes under which Mr. Trump has been charged," Kreimer explained. "No one imagined that the defendants could claim that the conspiracy was protected by the First Amendment because their 'agreements' and 'secret meeting' involved speech."
Nadine Strossen, a professor of law emerita at New York Law School and senior fellow with the Foundation for Individual Rights and Expression, known as FIRE, referred us to a statement on the Trump indictment from that group. FIRE said it is "an unapologetic, nonpartisan defender of the right to free expression" that "vigorously opposes expanded application of criminal statutes to increase potential liability for speech protected by the First Amendment." Its statement said that exceptions to First Amendment protection — for speech related to criminal acts — "must remain narrow and well-defined in our laws and jurisprudence."
But the statement noted the indictment charges that Trump went beyond merely making political claims and took actions. The indictment says he used "knowingly false claims of election fraud" to try to convince others, including the vice president, "to subvert the legitimate election results" or "fraudulently alter" them.
Lauro, Trump's attorney, has said that Trump believed his false claims were actually true. "We're entitled to present our side of the story, which is, Mr. Trump, absolutely, unconditionally believed that he won the election," Lauro told PBS. "He took steps to advocate for that position. And that's all protected speech."
Strossen noted, "Intent is often an essential element of any category of constitutionally unprotected speech … as is famously true for defamation as well."
But Magarian said the First Amendment defense doesn't matter if the prosecution can't make the case that Trump had intent to commit these crimes. At that point, the First Amendment "is not what's getting him off the hook legally."
As we said, it remains to be seen how the case will play out in a court of law.
"It will be up to a jury, in its role as factfinder, to decide whether former President Trump violated federal law," the FIRE statement said. "To convict, a jury must hold DOJ to its burden of proving beyond a reasonable doubt that former President Trump (1) knew his election fraud claims were false but repeated them anyway — "corruptly" — in an attempt to (2) have others ignore their legal duties in order to (3) prevent certification of the electoral vote. The First Amendment's bar against criminalizing protected speech demands nothing less."
Correction, Aug. 8: We originally referred to FIRE as the Foundation for Individual Rights and Education. It's the Foundation for Individual Rights and Expression.
---
More coverage:
Q&A on Trump's Jan. 6 Indictment
Indictment Details Trump's Attempt to Overturn Swing State Election Outcomes
---
Editor's note: FactCheck.org does not accept advertising. We rely on grants and individual donations from people like you. Please consider a donation. Credit card donations may be made through our "Donate" page. If you prefer to give by check, send to: FactCheck.org, Annenberg Public Policy Center, 202 S. 36th St., Philadelphia, PA 19104.