Responding to news that the former national leader of the Proud Boys was sentenced to 22 years for his role in the Jan. 6 attack on the U.S. Capitol, Republican Rep. Marjorie Taylor Greene called it "despicable" and commented: "We are witnessing a communist takeover of our judicial system to target political enemies."
But Enrique Tarrio was found guilty by a jury, and the judge who sentenced him on Sept. 5 was appointed by former President Donald Trump.
"This is designed to send a loud and clear message from Joe Biden and his thugs in the DOJ: If you oppose us, you're going to jail. For a long time," Greene posted on X, formerly known as Twitter. "We are witnessing a communist takeover of our judicial system to target political enemies and destroy their lives. It's despicable."
Tarrio and three other Proud Boys were found guilty on May 4 of seditious conspiracy and other charges by a jury after a more than three-month trial. In order to convict the men in a criminal trial, the jury decision had to be unanimous.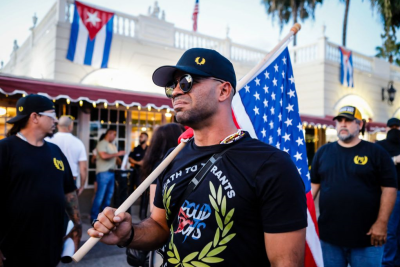 "The Justice Department proved in court that the Proud Boys played a central role in setting the January 6th attack on our Capitol into motion," Attorney General Merrick Garland said after the sentencing. "Over the past week, four members of the Proud Boys received sentences that reflect the danger their crimes pose to our democracy. Today, the leader of the Proud Boys, Enrique Tarrio, learned that the consequence of conspiring to oppose by force the lawful transfer of presidential power is 22 years in federal prison."
Although Tarrio was not present in Washington, D.C., on Jan. 6, 2021 — he had been arrested two days earlier for burning a "Black Lives Matter" banner stolen from a historic African American church in Washington, D.C., and was banned from the city — District Court Judge Timothy Kelly said Tarrio "was the ultimate leader, the ultimate person who organized, who was motivated by revolutionary zeal."
The prison sentence for Tarrio was shorter than the 33 years the Justice Department sought. But it was the longest sentence handed down yet for those involved in the Capitol attack.
"It is kind of hard to put into words how important that peaceful transfer of power is," Kelly said at the sentencing hearing. "Our country was founded as an experiment in self-government by the people, but it cannot long endure if the way we elect our leaders is threatened with force and violence. What happened that day didn't honor our founders. It was the kind of thing they wrote the Constitution to prevent."
Trump nominated Kelly to serve as a judge on the U.S. District Court for the District of Columbia on June 7, 2017.
Prior to his appointment, Kelly acted as chief counsel for national security and senior crime counsel to then Senate Judiciary Committee Chairman Charles Grassley, a Republican. Kelly also served as the Republican staff director for the Senate Caucus on International Narcotics Control.
Grassley was the only senator who spoke from the floor prior to the vote to confirm Kelly on Sept. 5, 2017, and Grassley provided a glowing endorsement.
"Tim's vast legal experiences and his thoughtful approach to his work will help him be an excellent federal judge," Grassley said that day. "I believe he has the temperament to hear any case that will come before him with a fair mind, seeking to do justice for all."
In a questionnaire for the Senate Judiciary Committee at the time, Kelly noted that he was a member of the Republican National Lawyers Association and, since 2009, had been a member of the Federalist Society, a conservative legal group. During the presidential campaign in 2016, Trump vowed that he would only appoint Supreme Court justices recommended by the Federalist Society.
Democratic Sen. Dick Durbin asked Kelly in a written questionnaire prior to the Senate vote about his membership in the Federalist Society. Kelly said he chose to join the group "because I appreciate its role in promoting open debate."
Saying it was "important for judicial nominees to demonstrate that they will be independent of President Trump," Durbin also asked Kelly whether he agreed "as a factual matter, with President Trump's claim that 3 to 5 million people voted illegally in the 2016 election." Kelly answered that the judicial code of conduct prohibited him "from commenting on political matters" and that it would be "inappropriate for me to comment on a matter that is the subject of pending litigation or that could come before me if I am fortunate enough to be confirmed as a district judge."
Kelly's nomination was confirmed by the Senate on Sept. 5, 2017, in a 94-2 vote. The two votes in opposition were both from Democrats.
Greene is free to opine on the merits of charges brought by the Department of Justice against participants in the Jan. 6, 2021, attack. But her claim that the sentencing of Tarrio amounted to a "communist takeover of our judicial system" by the Biden administration ignores that Tarrio was found guilty by a jury and was sentenced by a judge appointed by Trump. That judge said he needed to send the message, via his sentence: "It can't happen again. It can't happen again."
---
Editor's note: FactCheck.org does not accept advertising. We rely on grants and individual donations from people like you. Please consider a donation. Credit card donations may be made through our "Donate" page. If you prefer to give by check, send to: FactCheck.org, Annenberg Public Policy Center, 202 S. 36th St., Philadelphia, PA 19104.