After the Department of Homeland Security announced it would waive laws to enable miles of border wall construction in Texas, President Joe Biden said he "can't stop" the money being spent on border barriers because of the way it was appropriated by Congress. That's correct, experts told us.
When asked about the news on Oct. 5 that new border wall construction would indeed commence under his administration, Biden told reporters: "The border wall — the money was appropriated for the border wall. I tried to get to them to reappropriate it, to redirect that money. They didn't. They wouldn't. And in the meantime, there's nothing under the law other than they have to use the money for what it was appropriated. I can't stop that."
"Yes, the President's hands are tied," Gabe Murphy, policy analyst at the budget watchdog group Taxpayers for Common Sense, told us when we asked about Biden's claim. He pointed us to an appropriations bill that was signed into law on Dec. 20, 2019, during the Trump administration, that "explicitly appropriated funding 'for the construction of a barrier system along the southwest border.'"
Biden asked Congress to reprogram the money, but it didn't agree to that. "So, the money needs to go out the door," Murphy said. Under the 1974 Impoundment Control Act, "an administration can't substitute its own policy priorities for those that Congress has enacted into law."
Michelle Mittelstadt, director of communications for the Migration Policy Institute, also noted that the money had been appropriated in 2019 for border barrier construction, and "the Biden administration did not succeed in its asks to Congress to redirect that money for border spending it viewed as more effective."
However, Mittelstadt said in addition to that, the administration is in court defending its halting of border wall construction after Texas and Missouri sued. "The combined case is before a federal judge in Texas and a request for an injunction that would require the government to restart construction is expected soon given briefings in the legal case ended in mid-September."
The Oct. 5 announcement looked to some like a major flip-flop on Biden's campaign promise not to build "another foot of wall constructed on my administration." But some construction had already occurred, also with money that was appropriated before he became president.
The day Biden took office, he issued a proclamation ending a national emergency on the southern border, which had been declared by the Trump administration, and pausing both construction of border barriers and the obligation of border wall funds "to the extent permitted by law." The proclamation directed government agencies to "develop a plan for the redirection of funds concerning the southern border wall."
But it also said that agencies could make exceptions to the pause in construction "for urgent measures needed to avert immediate physical dangers or where an exception is required to ensure that funds appropriated by the Congress fulfill their intended purpose."
The Department of Homeland Security said later in 2021 that it would continue some work to "construct and/or remediate approximately 13.4 miles of compromised levee" in the Rio Grande Valley under that "physical dangers" exception.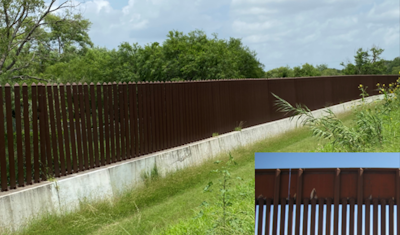 The DHS announcement this week said the agency would "install additional physical barriers and roads in the Rio Grande Valley Sector," an area of "high illegal entry," using "a fiscal year 2019 appropriation." The notice said "DHS is required to use those funds for their appropriated purpose," and that the project was consistent with Biden's January 2021 proclamation.
In order to allow that construction to proceed, DHS waived several federal laws, many related to environmental concerns. The Associated Press reported that a map posted by Customs and Border Protection in August indicated the project would total about 20 miles of new barriers in Starr County, Texas.
Money Was Appropriated in 2019
The appropriations law from 2019 stated that of the funds for Customs and Border Protection, $1.375 billion would "only" be available "for the construction of barrier system along the southwest border." The law stipulated that a little more than that figure would be available for CBP to spend until Sept. 30, 2024.
Tori Gorman, policy director of the Concord Coalition, a nonpartisan group that works on federal budget issues, told us that sometimes appropriations legislation will include language giving the executive branch the ability to redirect some funding. But this authority "has to be granted to them in the appropriations bill."
The 2019 law didn't do that. It went on to stipulate that the money had to be used to build barriers of certain designs, approved since 2017, or "operationally effective adaptations of such designs."
The Government Accountability Office reviewed Biden's 2021 proclamation to determine whether it violated the Congressional Budget and Impoundment Control Act. In its June 15, 2021, report, GAO said the proclamation, and its implementation, didn't violate the act, but rather, were "programmatic delays."
DHS said it wouldn't use its waiver authority, and it needed to comply with environmental and other requirements before spending the $1.375 billion appropriated for fiscal year 2021. "Delays associated with meeting statutory prerequisites and determining funding needs in light of changed circumstances constitute programmatic delays, not impoundments," GAO said.
The report also noted that Biden had asked Congress in his fiscal 2022 budget request to cancel any "unobligated" funding, meaning money that hadn't yet been contracted, for border barriers. "Cancellation of this funding can only be accomplished through a duly enacted law," GAO said, adding that Biden can't legally withhold the funding based only on his request.
"Nearly three years into a new administration, any further delay would pretty clearly be intentional disregard for following the appropriations statute as Congress drafted and the president signed," Murphy said.
What's the penalty if Biden violated the impoundment law? Murphy explained that GAO can sue to force compliance. "But the biggest consequence is political. Clearly and deliberately flaunting the will of Congress is generally not looked upon highly by Congress," he said.
GAO said the Trump administration violated the act in withholding security assistance to Ukraine in 2019, a decision Democrats used in Trump's first impeachment case.
As for Biden's action on border wall spending, he said he still doesn't think a wall is effective. Asked whether he thought a border wall "works," Biden responded: "No."
Mittelstadt told us the Migration Policy Institute believes that "in very limited cases," such as "high-density urban areas," barriers "can serve a purpose as part of a broader strategy."
"But as a tool deployed across the entire border, we do not see border walls as the solution to deter irregular crossings," she said. "There are endless reports of smugglers cutting through the metal bollards with a handsaw that can be purchased at any local hardware store. Fencing requires frequent repair and round-the-clock monitoring and as a result is not an effective strategy on its own. It pushes more people into the hands of smugglers, it increases the numbers of injuries and deaths, it sparks very real environmental and wildlife protection issues given the sensitive nature of the border terrain, and it soaks up resources that could be more effectively spent elsewhere."
---
Editor's note: FactCheck.org does not accept advertising. We rely on grants and individual donations from people like you. Please consider a donation. Credit card donations may be made through our "Donate" page. If you prefer to give by check, send to: FactCheck.org, Annenberg Public Policy Center, 202 S. 36th St., Philadelphia, PA 19104.