Stories by Eliza Keefe
Undergraduate Fellow, FactCheck.org
A hybrid PAC that says it supports "forward-looking" Republican candidates.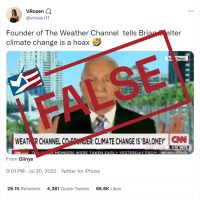 There is "unequivocal" evidence that humans are causing global warming, the U.N. climate change panel has said. But viral posts revive a 2014 video of Weather Channel co-founder John Coleman falsely claiming "climate change is not happening." The channel, which supports the scientific consensus that climate change is real, had distanced itself from Coleman.
A Democratic hybrid PAC backing candidates supporting pandemic prevention.