Q: Has Obama's birth certificate been disclosed?
A: Yes. His campaign made a copy public after speculation by conservative bloggers that he might not be a "natural-born citizen."
FULL QUESTION
Is Barack Obama a "natural-born citizen"? It is hard to believe he could get this far in the electoral process and not have a sufficient answer to this question, I admit, but has his birth certificate been disclosed?
FULL ANSWER
We asked for and received a copy from the Obama campaign. It is too large to display full size on this page, but you may click on this link to see a copy of the document just as we received it.
It indicates Obama was born at 7:24 p.m. Aug. 4, 1961, in Honolulu. That should be no surprise, as it merely documents what Obama and his biographers have always said. But the document should put to rest  groundless speculation raised on some conservative Web sites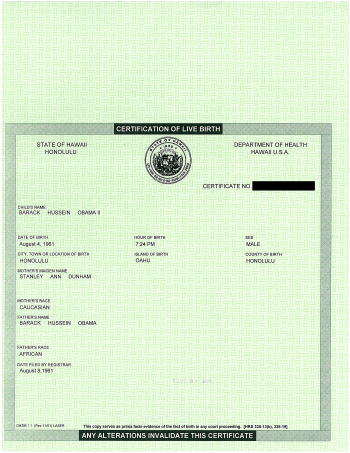 that Obama might not have been born in the U.S. and therefore might not qualify under the Constitution as a "natural-born citizen" to be president.
The speculation was not based on any evidence. Bloggers raised questions based on the absence of evidence, specifically the lack of a publicly available copy of a birth certificate and the supposed "secrecy" surrounding it. For example, the conservative World Net Daily posted a June 10 article with the headline, "Is Obama's candidacy constitutional?; Secrecy over birth certificate, demand for 'natural-born' citizenship cited." Soon after, some of our readers began asking us the same thing.
The "secrecy" ended when Tommy Vietor at the Obama campaign sent a message to us and other reporters saying, "I know there have been some rumors spreading about Obama's citizenship, so I wanted to make sure you all had a copy of his birth certificate." A digital image was attached.
Hawaii state law forbids the release of birth or marriage certificates to anyone but the persons named in the documents or their immediate relatives. This copy carries a date stamp of "Jun 6 – 2007" (which has bled through from the reverse side), and is, therefore, probably a copy obtained by Obama himself at that time.
Incidentally, John McCain has been the subject of similar speculation based on the fact that he was born in the Panama Canal Zone. But as we explained in an earlier Ask FactCheck, he's also a U.S. citizen under laws going back to 1790, even though he wasn't born in the country.
-Brooks Jackson