Quick Take
A statue commemorating Gen. Robert E. Lee was taken down in Richmond, Virginia, on Sept. 8. Days after the statue was removed, Facebook posts about Lee misleadingly claimed he freed his slaves, and a quote from Lee referring to slavery as a "moral evil" is taken out of context, misrepresenting his attitude toward slavery.
---
Full Story
Protests over the death of George Floyd, a Black man who was murdered by a white police officer in May 2020, sparked a reassessment and removal of monuments and statues to Confederate figures across the U.S.
In June 2020, Virginia Gov. Ralph Northam announced plans to take down a statue of Confederate General Robert E. Lee in the state capital, Richmond. Northam's proposal was met with opposition from those who revere Lee for his role during the Civil War. Some Virginians viewed the statue — which was erected in 1890 — as a historic landmark and an artistic focal point in Richmond. Supporters of Northam's decision, however, viewed Lee and the statue as a symbol of white supremacy and the South's defense of slavery.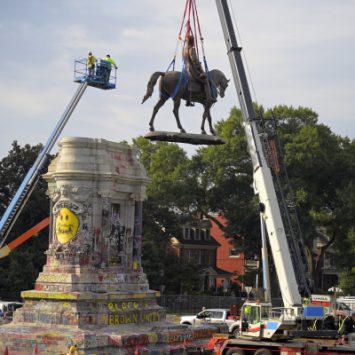 Two lawsuits aiming to block the statue's removal delayed progress on Northam's plan until Sept. 2, when the Virginia Supreme Court unanimously voted to allow the Northam administration to move forward. The monument was taken down on Sept. 8.
Days after the statue's removal, several nearly identical tributes to the Confederate general were published on Facebook. One version of the post was shared over 7,400 times, and another received 4,500 shares.
The tributes make some accurate statements about Lee's life. For example, the posts are correct that Lee graduated from the U.S. Military Academy without receiving any demerits (but he was one of several cadets in his class to do so, contrary to a claim made in one post). And the posts come close in quoting Gen. Winfield Scott's comments about Lee; several reports state that Scott called Lee "the very best soldier I ever saw in the field." It is also true that Lee declined an offer to lead the Union Army to fight for Virginia, his home state, as the posts suggest.
But the tributes on social media distort Robert E. Lee's views and actions on slavery. The posts misleadingly claim: "When he inherited slaves from his father in law, he educated them and set them free, and he referred to slavery as 'a political and moral evil.'" 
First, Lee had personally owned slaves prior to the death of his father-in-law, George Washington Parke Custis. Estimates vary as to the number of slaves that Lee previously owned.  Dr. James McPherson, an emeritus professor of American history at Princeton University, told us in an email that "Lee had earlier owned a slave or two on his own, which he may have sold."
An article on the website of The American Civil War Museum states that Lee previously inherited three or four families of slaves from his mother.
As for the slaves owned by Custis, McPherson said that (emphasis his) "Lee didn't inherit the slaves from his father-in law; he was made the executor of his father-in-law's estate."
The museum article reports, "Lee assumed command of 189 enslaved people, working the estates of Arlington, White House, and Romancoke." The will specified that the 189 slaves from Custis' estates should be freed within five years.
According to McPherson, Lee kept the slaves "under his control for nearly the whole of the five years."
Moreover, Lee was not the generous slaveholder depicted in the Facebook posts. McPherson told us, "To say that he educated [the slaves] is an exaggeration; they knew the terms of the will and some of them tried to free themselves early by running away."
Lee physically punished the slaves who were caught after escaping from Custis' plantations. Wesley Norris, a slave who was captured after running away with his sister and cousin, testified that Lee ordered that the three of them be stripped and beaten. Last year, historian John Reeves, author of "The Lost Indictment of Robert E. Lee," told the Associated Press that "every one of the facts in Wesley Norris' account has been shown to be true."
The Facebook tributes also take one of Lee's statements on slavery out of context.
While Lee did refer to slavery as a "moral & political evil" in a letter to his wife, he also wrote in his letter that slavery was "necessary for their instruction as a race," and that his "sympathies are more strong" for the "white man."
Lee, Dec. 27, 1856: In this enlightened age, there are few I believe, but what will acknowledge, that slavery as an institution, is a moral & political evil in any Country. It is useless to expatiate on its disadvantages. I think it however a greater evil to the white man than to the black race, & while my feelings are strongly enlisted in behalf of the latter, my sympathies are more strong for the former. The blacks are immeasurably better off here than in Africa, morally, socially & physically. The painful discipline they are undergoing, is necessary for their instruction as a race, & I hope will prepare & lead them to better things. How long their subjugation may be necessary is known & ordered by a wise Merciful Providence.
McPherson said that Lee "did once describe slavery as an evil, but he meant mainly that it was a social evil that impacted whites negatively."
McPherson also pointed out that "on other occasions Lee defended slavery as the best relationship between the races under the circumstances, while hoping that it would eventually disappear."
Editor's note: FactCheck.org is one of several organizations working with Facebook to debunk misinformation shared on social media. Our previous stories can be found here.
Sources
FactCheck.org. "Falsehoods Follow the Death of George Floyd." Updated 19 Jun 2020.
Yancey-Bragg, N'dea. "Nearly 100 Confederate statues were removed in 2020, but hundreds remain, new SPLC data shows." USA Today. 23 Feb 2021.
Governor.virginia.gov. Press release. "Governor Northam to Remove Robert E. Lee Statue in Richmond." 4 Jun 2020.
Rankin, Sarah and Denise Lavoie. "Gen. Lee statue comes down in former Confederate capital." Associated Press. 9 Sep 2021.
Schneider, Gregory S. "Virginia Supreme Court clears way for Lee statue in Richmond to come down." Washington Post. 2 Sep 2021.
Lavoie, Denise and Sarah Rankin. "Gen. Lee statue can be removed, Virginia Supreme Court rules." Associated Press. 2 Sep 2021.
Governor.virginia.gov. Press release. "Governor Northam Statement on Removal of Lee Monument." 8 Sep 2021.
"The Life of Robert E. Lee." PBS. Accessed 24 Sep 2021.
National Park Service. "Robert E. Lee Timeline." Accessed 24 Sep 2021.
"Biography: General Robert E. Lee." PBS. Accessed 24 Sep 2021.
History.com. "Robert E. Lee." Updated 10 Dec 2019.
Library of Congress. "The Civil War in America Biographies: Robert E. Lee." Accessed 24 Sep 2021.
Dr. James McPherson. Professor of American history, emeritus, Princeton University. Email sent to FactCheck.org. 19 Sept 2021.
Kane, Sean. "Myths & Misunderstandings | Lee as a slaveholder." The American Civil War Museum. 4 Oct 2017.
"Testimony of Wesley Norris." National Anti-Slavery Standard. 14 Apr 1866.
Lajka, Arijeta. "Gen. Robert E. Lee owned slaves." Associated Press. 12 Jun 2020.
Lee, Robert E. "Letter to his wife on slavery." Fair Use Repository. 27 Dec 1856.

---
---