When politicians say that the United States was "energy independent" under former President Donald Trump, some people may get the false impression that the U.S. was 100% self-sufficient. The country still relied on foreign sources of energy, including oil.
To help meet domestic demand, the U.S. has imported oil and other forms of energy from abroad, including from Russia, for many years. And to some energy analysts, a scenario in which the U.S. relies only on the energy it produces is not likely to happen anytime soon.

Instead, those who tout this so-called "energy independence" may be referring to the fact that, on net, the country either produced more energy than it consumed, exported more energy than it imported, or, more specifically, had a greater number of exports than imports of petroleum, which includes crude oil and refined products from crude oil, such as gasoline and various fuels.
However, by any of those definitions, the U.S. was still "energy independent" in 2021 under President Joe Biden — contrary to claims made by Republicans who have suggested otherwise.
Net Energy Exports
"We were energy independent one year ago," Trump said in a March 2 interview on Fox Business, in which he criticized Biden for not mentioning what is happening with oil in his State of the Union address, for example. 
He added, "We were exporting energy for the first time ever in the history of our country," falsely implying that that had never happened before and had ceased since he left office. (He made a related claim about energy in his keynote address at the Conservative Political Action Conference in February.)
Trump is one of several Republican politicians to claim or suggest that Biden ended the "energy independence" America needs to stop relying on Russia for oil, as well as to combat rising gasoline prices, which reached an average weekly price of $4.10 for a gallon of regular gas on March 7. 
Notably, the price of gasoline actually has been rising fairly consistently since the end of April 2020, when it was selling for $1.77 a gallon, the lowest weekly price under Trump. By the time he left office in January 2021, the price was already up to $2.38 a gallon.
Also, the U.S. was buying oil from Russia in 2020, and for many years before. For instance, Russia accounted for 7% of total U.S. imports of petroleum in 2020 and 7.9% of those imports in 2021.
In response to Russia's invasion of Ukraine, Biden signed an executive order on March 8 blocking new U.S. purchases of Russian oil, liquefied natural gas and coal. It allows for a "45-day wind-down period" for orders already under contract, according to a senior administration official.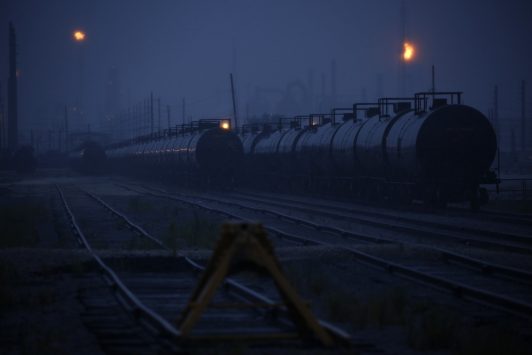 As for Trump's suggestion that the U.S. was "exporting energy for the first time ever in the history of our country" when he was president, that's false. The country has been supplying international markets with various forms of energy for decades. The former president presumably meant to refer to net energy exports during his administration.
U.S. exports of primary energy did exceed its energy imports from foreign sources under Trump in 2019 and 2020 — the first times that had happened since 1952, according to the U.S. Energy Information Administration. 
But through the first 11 months of 2021, the U.S. also was on its way to being a net exporter of energy last year — and, thus, by that definition, "energy independent."
All forms of energy combined, the country exported 23.0 quadrillion British thermal units of energy in that time span, which was more than the 19.6 quadrillion BTUs of energy it imported, according to the EIA's latest monthly figures. 
In those same 11 months, the U.S. also produced 89.0 quadrillion BTUs of energy, slightly more than the 88.5 quadrillion BTUs of energy it consumed.
The U.S. also produced more total energy than it consumed under Trump in 2019 and 2020.
Net Petroleum Exports
Trump also may have been thinking of net petroleum exports, since he mentioned oil multiple times in the Fox Business interview. 
In 2020, the U.S. exported about 635,000 barrels per day more than it imported from other countries, "making the United States a net annual petroleum exporter for the first time since at least 1949," the EIA has said. At the same time, the U.S. continued to be a net importer of crude oil, specifically, as it has been since the 1940s.

The trend line for the U.S. becoming a net exporter of petroleum began in 2006, under President George W. Bush, and continued under President Barack Obama and then Trump. The EIA said a decline in the global demand for oil during the COVID-19 pandemic finally pushed the U.S. into net exporter territory.
"International petroleum prices decreased in response to less consumption, which diminished incentives for key petroleum-exporting countries to increase production. This shift allowed the United States to export more petroleum in 2020 than it had in the past," the EIA wrote in a February post on its website.
More important, the EIA said the U.S. "continued to export more petroleum (which includes crude oil, refined petroleum products, and other liquids) than it imported in 2021."
Last year, the U.S. exported about 164,000 barrels per day more than it imported, according to annual EIA data.
The EIA does project in its March Short-Term Energy Outlook that the U.S. will import slightly more petroleum than it exports in 2022, making it a net importer for the year. But that is not a certainty.
In February 2021, the EIA also projected that the U.S. would be a net importer of petroleum for the year, which, based on the EIA's most recent data, turned out not to be the case.

However, if the EIA's most recent projections are accurate, the agency also estimates in the same report that the U.S., as soon as 2023, would once again be a net exporter of petroleum, or, based on that definition, "energy independent."
---
Editor's note: FactCheck.org does not accept advertising. We rely on grants and individual donations from people like you. Please consider a donation. Credit card donations may be made through our "Donate" page. If you prefer to give by check, send to: FactCheck.org, Annenberg Public Policy Center, 202 S. 36th St., Philadelphia, PA 19104.
---
---