Quick Take
The three-day National Rifle Association convention in Indianapolis allowed attendees to carry firearms, except for a two-hour period when former President Donald Trump and other leaders spoke in a hall secured by the Secret Service. Yet, social media posts from a Democratic advocacy group misleadingly claimed that "guns were BANNED at the NRA convention."
---
Full Story
There have been more than 160 mass shootings in the U.S. in 2023 as of April 21, according to the Gun Violence Archive, which defines "mass shooting" as any incident that involves at least four victims who were either shot or killed. Such shootings have led to calls for gun control from Democratic leaders, including President Joe Biden and Vice President Kamala Harris.
Many Republican leaders oppose restrictions on firearms and some attended the three-day National Rifle Association convention in mid-April in Indianapolis, Indiana, to speak against gun control.
While GOP leaders advocate for the right to bear arms, guns are not allowed at some political events involving former President Donald Trump and Florida Gov. Ron DeSantis, who is reportedly considering running for the 2024 Republican nomination for president.
But Occupy Democrats, an advocacy group that has previously posted false or misleading claims on social media, posted memes on Facebook misleadingly claiming that guns were not allowed at the NRA convention and an upcoming GOP event in Utah.
A post from Occupy Democrats shared on April 14 said, "Republicans want to turn schools into maximum security prisons, but meanwhile guns are BANNED from today's NRA conference, because spoiler alert, guns are … DANGEROUS."
A post from the same group on April 17 claimed: "Guns were just BANNED at the Utah Republican convention where DeSantis is speaking this month. Guns were BANNED at the NRA convention."
But guns were mostly allowed at the NRA convention held from April 14 to 16 — except at the NRA-ILA Leadership Forum on April 14, where Trump and other leaders spoke. The Secret Service did not permit guns during the forum.
Guidelines for the NRA convention state that "[d]uring the 152nd NRA Annual Meetings & Exhibits, personal firearms may be carried in the Indiana Convention Center. When carrying your firearm, always adhere to all federal, state, and local laws."
Indiana gun laws generally allow individuals 18 years or older to carry a handgun without a license.
"Special Note for those attending the NRA-ILA Leadership Forum (Friday April 14th 2:00pm): Please check the events page at NRAAM.org for a list of restricted items mandated by the United States Secret Service. This only applies to those attending the NRA-ILA Leadership Forum," the NRA guidelines added.
Trump, former Vice President Mike Pence and other elected officials — including Rep. Jim Jordan of Ohio and former Arkansas Gov. Asa Hutchinson — spoke at the NRA-ILA Leadership Forum on April 14 from 2 p.m. to 4 p.m. The Secret Service controlled security for the room during that time and did not allow guns at that location.
"U.S. Secret Service will control security within Hall A of the Indiana Convention Center and require attendees of the forum to be screened through magnetometers before entry. You will be subject to a search of your person and belongings," the NRA noted on its website.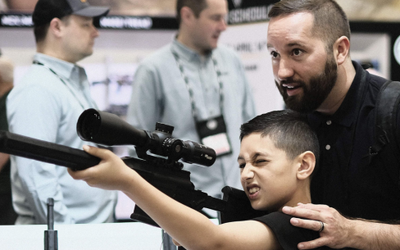 "Per the U.S. SECRET SERVICE, firearms, firearm accessories, knives, and other items WILL NOT BE PERMITTED in Hall A. For a full list of prohibited items, please click here. Read the list of prohibited items carefully before traveling to the event. You will not be allowed in Hall A with any of the items on this list," the NRA added.
Guns were allowed in the other areas of the convention. In addition, an exhibit hall featured a variety of weapons at the convention, which was expected to attract more than 70,000 people.
Guns were also not allowed during Trump's speech at the 2022 NRA Convention in Houston — which was held just days after the May 24 shooting of 19 children and two adults at a school in Uvalde, Texas. Guns were permitted at other events during the convention.
Utah GOP Convention Will Allow Guns
The Utah Republican Party's 2023 Organizing Convention on April 22 is scheduled to feature DeSantis as the keynote speaker — as noted in the post by Occupy Democrats.
While it is true that some rallies and events with scheduled appearances by DeSantis have not allowed guns, the Occupy Democrats post wrongly said that guns are banned at the Utah convention.
The Utah Republican Party said in an April 4 Facebook post that the convention will follow state law, which permits guns at such events.
Utah gun laws allow anyone 21 and older who can lawfully possess a firearm to carry a loaded firearm in public — whether it is concealed or not. Individuals 18 and up are allowed to open carry a "statutorily 'unloaded' (two mechanisms to fire)" firearm if they don't have a concealed weapons license.
"We wish to clarify some rumors floating around. We will have some increased security for [the] convention, no doubt. As far as firearms are concerned, all state laws will be followed. Utah is an amazing second amendment state and we will keep it that way!! So anyone claiming firearms will not be allowed at the UTGOP convention is either lying to you or they are misinformed," the Utah GOP said.
---
Editor's note: FactCheck.org is one of several organizations working with Facebook to debunk misinformation shared on social media. Our previous stories can be found here. Facebook has no control over our editorial content.
Sources
Allen, Greg. "Eyeing a run for president, Ron DeSantis wants to 'Make America Florida'." NPR. 6 Mar 2023.
Allen, Jonathan. "Trump says mass shootings are not 'a gun problem' as 2024 GOP hopefuls pledge loyalty to the NRA." NBC News. 14 Apr 2023.
Cathey, Libby. "After Nashville shooting, Republican lawmakers again call gun action 'premature'." ABC News. 28 Mar 2023.
Davis, Charles R. "Firearms banned at events with Florida Gov. Ron DeSantis, who has argued 'gun-free' zones are less safe." Business Insider. 8 Aug 2022.
Gaudiano, Nicole. "NRA says it plans to 'showcase over 14 acres of the latest guns and gear' at its convention days after the Uvalde, Texas, mass shooting." Business Insider. 27 May 2022.
Gregorian, Dareh. "Gun owners, protesters and Donald Trump converge on Houston for NRA event." NBC News. 27 May 2022.
Hernandez, Joe. "Guns are banned during Trump's upcoming speech at the NRA conference." NPR. 25 May 2022.
National Rifle Association. "Frequently Asked Questions." Accessed 18 Apr 2023.
National Rifle Association. "JOIN US FOR THE 152ND NRA ANNUAL MEETINGS & EXHIBITS IN INDIANAPOLIS, IN!." Accessed 18 Apr 2023.
Joshi, Saumya. "US President Joe Biden Urges Congress To Pass Stricter Gun Control Laws." Republic World. 17 Apr 2023.
Magdaleno, Johnny. "Not everyone can carry a firearm starting July 1 in Indiana. Here's what remains illegal." IndyStar. Updated 18 Jul 2022.
National Rifle Association. "NRA-ILA Leadership Forum." Accessed 18 Apr 2023.
National Constitution Center. "Right to Bear Arms." Accessed 18 Apr 2022.
FactCheck.org. "Tag: Occupy Democrats." Accessed 18 Apr 2023.
ABC News. "Trump, Pence speak at NRA convention." 14 Apr 2023.
U.S. Concealed Carry Association. "Indiana Concealed Carry Reciprocity Map & Gun Laws." Updated 22 Mar 2022.
Utah Carry Laws. "Utah Firearm Laws." Accessed 18 Apr 2023.
Ward, Myah. "'We need you all': Harris takes White House message on guns to Nashville." Politico. 7 Apr 2023.
Wolfe, Elizabeth and Raja Razek. "Tennessee House GOP expels 2 Democrats in retaliation over gun control protest, on 'sad day for democracy'." CNN. 7 Apr 2023.