Quick Take
Two Missouri state senators participated in a fundraising event that included a demonstration of flamethrowers that were up for auction. Videos shared on Instagram falsely claimed to show the senators engaged in a "book burning." But only empty boxes, not books, were being torched.
---
Full Story
Efforts to ban or censor books are intensifying in the U.S., targeting titles on school shelves and in public libraries, according to data released in September by the American Library Association and PEN America.
The ALA said that between Jan. 1 and Aug. 31, the association's Office for Intellectual Freedom found "695 attempts to censor library materials and services and documented challenges to 1,915 unique titles. The number of unique titles challenged has increased by 20 percent from the same reporting period in 2022."
"Most of the challenges were to books written by or about a person of color or a member of the LGBTQIA+ community," the ALA report also said.
PEN America, which advocates free expression for writers, reported that during the 2022–23 school year, the organization "recorded 3,362 instances of books banned [in schools], an increase of 33 percent from the 2021–22 school year."
"Over 40 percent of all book bans occurred in school districts in Florida. Across 33 school districts, PEN America recorded 1,406 book ban cases in Florida, followed by 625 bans in Texas, 333 bans in Missouri, 281 bans in Utah, and 186 bans in Pennsylvania," the organization reported.
Amid increased censorship and book bans in those states, some social media posts are sharing a video that enflames those concerns in the state of Missouri. The posts show two men using flamethrowers on a large bonfire, but the posts falsely report what is being burned.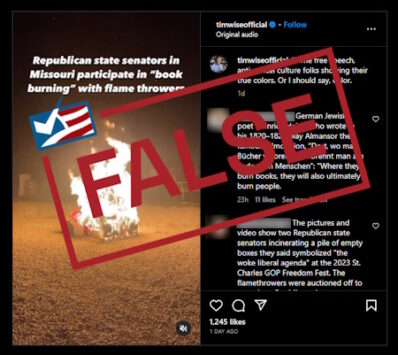 The headline on one of the posts inaccurately claims, "Republican state senators in Missouri participate in 'book burning' with flame throwers."
The caption on another post falsely claims, "Republican Missouri Gubernatorial Candidate and State Senator Bill Eigel along with Missouri State Senator Nick Schroer participated in a book burning this weekend using flame throwers at an event called the St. Charles County Freedom Fest."
It is true that State Sens. William Eigel and Nick Schroer are shown enthusiastically using flamethrowers on a growing blaze, while other people cheer and record the event on their phones.
But the senators were burning empty cardboard boxes.
The flamethrowers were being auctioned off at a Republican fundraising event called Freedom Fest in St. Charles County, Missouri, and the senators were demonstrating their use, festival planner Debbie McFarland told the Associated Press. The claim that books were being burned at the event is "an absolute fabrication," McFarland said.
Schroer responded to the claims of book burning with a post on X on Sept. 17, which said, in part, "these were two items being raffled off and myself and @BillEigel burned a stack of empty boxes to help increase the funds being raised."
Eigel posted on X on Sept. 18 a video taken from another angle that more clearly shows they were burning empty boxes. "In the video, I am taking a flame thrower to cardboard boxes representing what I am going to do to the leftist policies and RINO corruption of the Jeff City swamp," Eigel wrote on the post, referring to the state capital in Jefferson City.
However, Eigel, who is running for governor in 2024, also wrote on X on Sept. 18, "But let's be clear, you bring those woke pornographic books to Missouri schools to try to brainwash our kids, and I'll burn those too — on the front lawn of the governor's mansion."
We tried to reach Schroer and Eigel for comment about the claims on social media, but we didn't hear back.
It's worth noting that in August 2022, Missouri passed a law, SB 775, that bans school libraries from providing students with books that contain "explicit sexual material," though it has exceptions for books of "serious artistic significance, or works of anthropological significance, or materials used in science courses." Librarians and school officials face up to a year in jail or a $2,000 fine for violating the law.
School districts have removed hundreds of titles, temporarily or permanently, as a result of the state law, Education Week reported.
In February, the American Civil Liberties Union of Missouri, representing the Missouri Association of School Librarians and the Missouri Library Association, filed a suit in circuit court in Kansas City challenging the law as unconstitutional.
---
Editor's note: FactCheck.org is one of several organizations working with Facebook to debunk misinformation shared on social media. Our previous stories can be found here. Facebook has no control over our editorial content.
Sources
"American Library Association Releases Preliminary Data on 2023 Book Challenges." ALA.org. 19 Sep 2023.
Fortino, Jodi and Kate Grumke. "ACLU sues Missouri over book ban law that pushed school libraries to remove hundreds of titles." KCUR. 23 Feb 2023.
Harris, Elizabeth A. and Alexandra Alter. "Book Bans Are Rising Sharply in Public Libraries." New York Times. 21 Sep 2023.
Missouri General Assembly. Senate Bills Nos. 775, 771 & 640. Accessed 21 Sep 2023.
PEN America. "Banned in the USA: The Mounting Pressure to Censor." Sep 2023.
Pendharkar, Eesha. "Nearly 300 Books Removed From Schools Under Missouri's 'Sexually Explicit Materials' Law." Education Week. 18 Nov 2022.
Phan, Karena. "Viral video shows flamethrower-wielding Missouri state senators burning empty boxes, not books." Associated Press. 18 Sep 2023.