The federal government is heading to a shutdown, if Congress doesn't pass funding legislation by the time the clock strikes midnight on Sept. 30. We'll explain what that means and what government services could be affected.
Update, Oct. 2: Shortly before the midnight deadline on Sept. 30, President Joe Biden signed a bill that would temporarily fund the government until Nov. 17. The House passed the bill 335-91, and the Senate approved it 88 to 9.
What is a government shutdown?
Each year, Congress must pass 12 appropriations bills or a temporary funding bill — known as a continuing resolution, or CR — to fund the federal government. The federal fiscal year ends Sept. 30, so Congress has until midnight on that date to pass the spending bills or a CR.
As of Sept. 26, Congress hasn't passed any appropriations bills for fiscal year 2024, which starts on Oct. 1, and it hasn't been able to agree on a stop-gap funding bill to buy itself some time.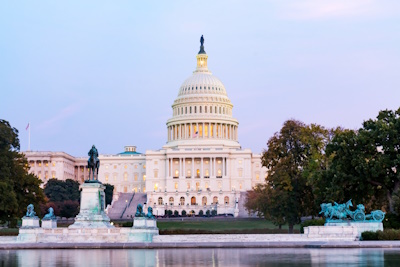 The U.S. Constitution — Article 1, Section 9, clause 7 — states: "No Money shall be drawn from the Treasury, but in Consequence of Appropriations made by Law." If no law is passed, a government shutdown or partial shutdown will occur on Oct. 1. (A partial shutdown happens when some, but not all, of the appropriations bills become law, as explained by the Congressional Research Service.)
Without approved funding, federal agencies must enact contingency plans to operate on a limited basis — such as requiring some essential employees to work without pay for the duration of the shutdown. (More on that later.)
There have been 20 "funding gaps" of at least one day since 1977, with the last and longest one occurring for 34 days in 2019, according to the Office of the Historian in the U.S. House.
Why might there be a government shutdown?
In the spring, House Speaker Kevin McCarthy and President Joe Biden agreed on compromise legislation — the Fiscal Responsibility Act — that raised the debt limit and imposed caps on spending for fiscal years 2024 and 2025. The House approved the bill 314 to 117 on May 31, and the Senate approved it a day later 63 to 36. Biden signed it into law on June 3. (See our article "Debt Limit Agreement Breakdown.")
Although the legislation received broad support in both chambers, a group of House conservatives strongly opposed the deal and criticized McCarthy for agreeing to it. Some of those same Republicans are now blocking McCarthy's attempts to pass appropriations bills and threatening to remove him as speaker if he moves spending bills through the House without their support.
In order to pass spending bills, McCarthy cannot afford to lose more than four Republicans because the Republicans have such a narrow majority — 221 to 212 — in the House. Last week, a small band of conservatives forced McCarthy to pull a stop-gap spending bill and blocked two attempts to pass a defense spending bill by votes of 212-214 and 212-216. In both cases, no Democrats voted for the bill, leaving McCarthy to rely only on Republican votes. Democrats voted against the GOP-crafted defense bill because it includes spending cuts and language they oppose on such issues as climate change, reproductive rights and health care for transgender service members.
McCarthy is scheduled to take up four spending bills (defense, homeland security, state and agriculture) before Oct. 1, but the outcome again is uncertain.
Any spending bill that passes the House with only Republican support would likely fail in the Democratic-controlled Senate, where Senate Majority Leader Chuck Schumer and Republican leaders are working on a bipartisan short-term continuing resolution that would temporarily fund the government.
The Senate is scheduled on Sept. 26 to begin debate on a Federal Aviation Administration reauthorization bill that Schumer plans to use as the vehicle for a continuing resolution that would prevent a government shutdown and give Congress more time to negotiate a compromise.
But whether McCarthy would put the Senate bill up for a floor vote in the House is uncertain, and, if he does, he likely will need Democratic support to pass it.
Former President Donald Trump, the presumed front-runner for the Republican presidential nomination, has urged Republicans to "SHUT IT DOWN" if they don't "GET EVERYTHING" they want.
What impact does a shutdown have on federal workers?
During a shutdown, most federal workers are divided into two categories: furloughed, meaning they do not report to work; and excepted, which includes workers who are deemed to be essential and must continue working even during a shutdown. Excepted workers include those whose jobs involve the safety of human life or protection of property, such as air traffic controllers and law enforcement officers.
Federal agencies create contingency plans that spell out which workers fall into the two categories.
During a shutdown in 2013, about 850,000 federal workers were furloughed. In a 2019 shutdown, about 800,000 of the 2.1 million civilian federal employees were furloughed, the Federal News Network reported.
All of those workers will be paid, eventually, but not during the shutdown. According to the Government Employee Fair Treatment Act which became law in 2019, whether an employee is furloughed or required to work during a shutdown, the employees must be compensated "at the earliest date possible after the lapse in appropriations ends."
Congress is paid during a shutdown. On Sept. 20, Democratic Rep. Angie Craig introduced legislation — the My Constituents Cannot Afford Rebellious Tantrums, Handle Your Shutdown Act, or MCCARTHY Shutdown Act — that seeks to temporarily block pay for members of Congress commensurate with the number of days a shutdown lasts. But the bill is unlikely to pass.
What government services would be affected by a shutdown?
A lot of government services will continue uninterrupted, but other services, particularly nonessential ones, will cease completely or will only be offered in a limited capacity.
For specifics, visit the Office of Management and Budget's page with each agency's most recent contingency plan, which department heads are supposed to submit for review by Aug. 1 in odd-numbered years. Some of the plans include a summary of federal agency activities or services that would stop during a funding lapse.
For example, the Social Security Administration's 2023 plan says the agency "will cease activities not directly related to the accurate and timely payment of benefits or not critical to our direct-service operations." Affected services would include benefit verification, which is documentation provided to show an individual receives, has never received, or has applied for Social Security, Supplemental Security Income or Medicare.
In addition, Medicare beneficiaries would not be able to get replacement cards through the Social Security Administration, the contingency plan states.
Also, District of Columbia courts would not issue marriage licenses or perform ceremonies, according to this year's shutdown plan. And the U.S. Commission on Civil Rights advises that "the public will be unable to submit complaints alleging denial of civil rights because of color, race, religion, sex, age, disability, national origin, or in the administrative of justice."
It's unclear, for now, what would happen at the hundreds of U.S. national parks, which were affected in prior shutdowns. An updated plan from the National Park Service is not yet available, at least not publicly.
According to a Congressional Research Service report updated on Sept. 22, during the 2018-2019 shutdown, "The majority of parks — including units such as Yellowstone National Park, Grand Canyon National Park, Yosemite National Park, the Statue of Liberty National Memorial, and the National Mall in Washington, DC — remained at least partially accessible to visitors throughout the shutdown, with varying levels of services and law enforcement." The report noted that the NPS contingency plan from January 2019 said "no visitor services" would be available during a shutdown, although "park roads, lookouts, trails, and open-air memorials will generally remain accessible to visitors."
The National Zoo and other Smithsonian Institution museums would be closed to the public during a shutdown, according to the Smithsonian's guidance.
Update, Sept. 29: The Smithsonian announced on Sept. 29 that it would use prior-year funds to keep all Smithsonian museums and the National Zoo open through Oct. 7, at least, if the government shuts down.
What about Social Security checks and other direct benefits?
Social Security checks will continue to be issued during a government shutdown. That's because Social Security benefits are part of mandatory spending, which, unlike discretionary spending, doesn't need to be appropriated annually, as the nonprofit Committee for a Responsible Federal Budget explained in a Sept. 5 article.
But some aspects of mandatory programs could be subject to discretionary spending and therefore affected. As we noted above, benefit verification services will cease.
Mandatory programs also include Medicare, Medicaid, unemployment compensation, some nutrition programs, veterans' benefits, retirement benefits for government employees, Supplemental Security Income (for people with disabilities and seniors), and student loans.
Supplemental Nutrition Assistance Program, or SNAP, benefits — formerly known as food stamps — are part of mandatory spending. However, CRFB noted that a shutdown could affect the issuance of benefits over time, "since continuing resolutions have generally only authorized the Agriculture Department (USDA) to send out benefits for 30 days after a shutdown begins." And "stores are not able to renew their Electronic Benefit Transfer (EBT) card licenses, so those whose licenses expire would not be able to accept SNAP benefits during a shutdown," CRFB said.
Also potentially at risk during a shutdown: Special Supplemental Nutrition Program for Women, Infants, and Children, or WIC, which is considered a permanent program but has been funded by discretionary spending since fiscal 2016. The program provides food, breastfeeding support and nutritional services to low-income pregnant, breastfeeding and postpartum women, as well as kids up to age 5 who are at nutritional risk.
Secretary of Agriculture Tom Vilsack said on Sept. 25 that there is a USDA contingency fund that could continue WIC "for a day or two," and some states might have unspent funds that "could extend it for a week or so in that state." But after that, he said, the nutritional assistance would cease. The program provided benefits to a monthly average of 6.3 million people in 2022.
However, the USDA's 2021 contingency plan said that WIC, and other core nutrition programs, would "continue operations during a lapse in appropriations" using money such as "multi-year carry over funds," "contingency reserves" and funds "apportioned by OMB to support program operations during the period of the lapse."
What other government services would not be affected?
As we said, federal workers who are deemed to be essential must continue working, so the services they provide will continue. While those employees won't be paid for their work during the shutdown until it's over, CRFB said that "border protection, in-hospital medical care, air traffic control, law enforcement, and power grid maintenance have been among the services classified as essential" and "some legislative and judicial staff have also been largely protected."
Still, the fact that employees aren't getting a paycheck during the shutdown could have some effect. In the 2018-2019 shutdown, some Transportation Security Administration agents didn't work, leading to long lines at airport security, and 10 air traffic controllers didn't report to work, halting travel at LaGuardia Airport and causing delays elsewhere, CRFB noted.
Some government services that get income from fees can also continue during a shutdown. The State Department said in its contingency plan that "[c]onsular operations domestically and abroad will remain 100% operational as long as there are sufficient fees to support operations. This includes passports, visas, and assisting U.S. citizens abroad."
The U.S. Postal Service, because it is self-funded, will remain open.
---
Editor's note: FactCheck.org does not accept advertising. We rely on grants and individual donations from people like you. Please consider a donation. Credit card donations may be made through our "Donate" page. If you prefer to give by check, send to: FactCheck.org, Annenberg Public Policy Center, 202 S. 36th St., Philadelphia, PA 19104.