Quick Take
The wildfires in Maui caused widespread destruction on the island and claimed the lives of 97 people. The Maui Police Department and the FBI have released the list of 31 individuals still unaccounted for following the fires. Yet an Instagram post falsely claims "over 1,000 children are missing."
---
Full Story
The wildfires in Maui started on Aug. 8 and burned for days. They consumed more than 2,000 homes and other structures and largely destroyed Lahaina, a historic community that was hit the hardest by the fires.
Following weeks of difficult work using DNA and other methods to confirm and identify the victims of the Maui wildfires, officials announced on Sept. 15 that the death toll was 97, a lower figure than previously reported.
Dr. Jeremy Stuelpnagel, the Maui medical examiner, said at a press conference that day, "because of the fire, because of the heat, because of the situation of this being a mass disaster, many of them are down to the bones — some are fragmented." Stuelpnagel also said, "We're trying every single modality we have to make sure that we identify these people. It does take a lot of time. This is a mass disaster."
The county of Maui has released reports on those still unaccounted for following the fires. As of Sept. 15, 31 individuals were reported missing from an initial list of more than 3,200 people. A list identifying the missing was released by the Maui Police Department and the FBI, with one person identified as a minor.
But an online video, titled "Over 1,000 Missing Children in Maui," falsely claims that 1,050 kids are "gone without a trace." The video goes on to say, "They have absolutely no clue where these children are."
The numbers given in the video may be misleadingly based on the number of children who have not returned to schools or responded to outreach efforts in the Lahaina community of Maui.
The wildfires damaged an elementary school beyond repair, and some schools in the Lahaina area remain closed due to environmental concerns, NPR reported.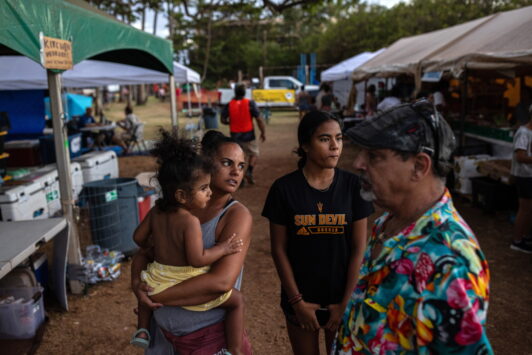 The Hawaii Department of Education released a report on Sept. 7 about the impact of the wildfires on Maui schools and student enrollment.
Derek Inoshita, a spokesperson for the Education Department provided updated numbers on student enrollment in an email to FactCheck.org on Sep. 15.
Before the fire, 3,001 children had been pre-registered in the Lahaina area public schools. Since the fire, 782 students have reenrolled in 44 public schools; 907 have enrolled or been waitlisted in distance learning programs; and about 330 have enrolled in charter or independent schools.
Inoshita said "982 students have not transferred elsewhere or applied for distance learning."
"DOE staff have called more than 1,100 families and have had live conversations with more than 60% of families so far that have been contacted," Inoshita said.
The Education Department "is actively reaching out to contact families for the remainder of students who have not yet enrolled in an option, knowing that some may have moved out of state or paused their child's education for the time being," Nanea Kalani, a department spokesperson, told USA Today. She said the department's "community liaisons on the ground have been connecting with families in shelters, at family resource centers, resource fairs and the like to check in with families and help support their overall and educational needs."
The 74, a nonprofit news site that covers education, reported on Sept. 11 that the Education Department has not heard back from 463 families that it has tried to contact. The site quoted Kalani as saying that the department cannot release the number of students who died or remain missing because the numbers are "so small" that "we'd be in effect identifying them," and that would violate the privacy of the families.
The Maui wildfires have sparked the spread of baseless conspiracy theories about the cause and the response to the disaster, as we've written.
---
Editor's note: FactCheck.org is one of several organizations working with Facebook to debunk misinformation shared on social media. Our previous stories can be found here. Facebook has no control over our editorial content.
Sources
Williams, Ashley, et al. "'Everything was on fire': The hours that brought Lahaina to ruins." CNN. 18 Aug 2023.
Schuppe, John. "Fighting 'the beast': Inside the desperate quest to save Lahaina." NBC News. 19 Sep 2023.
Knoll, Corina. "Maui Fire Death Toll Drops to 97 After Weeks of DNA Review." New York Times. 15 Sep 2023.
Osher, Wendy. "Maui police revise Lahaina wildfire death toll to 97; list of unaccounted for drops to 31." Maui Now. 15 Sep 2023.
County of Maui. "Maui Wildfire Disaster Unaccounted For." 15 Sep 2023.
"Lahaina Wildfires Unaccounted for Persons." Maui Police Department and FBI. 15 Sep 2023.
"Report of the Superintendent Maui Wildfire Impacts." Hawaii State Department of Education. 7 Sep 2023.
Huang, Pien and Marisa Peñaloza. "Some parents in Lahaina fight to keep their school — and kids — together." NPR. 14 Sep 2023.
Hawaii Department of Education. Email to Factcheck.org. 15 Sep 2023.
Hudnall, Hannah. "Thousands of kids missing in Maui? Officials say only 1 is confirmed | Fact check." USA Today. 16 Sep 2023.
List, Madeleine. "Hawaii Officials: Number of Students Missing, Killed In Maui Fires Is 'Too Small' To Release." The 74. 11 Sep 2023.
Hawaii Emergency Management Agency. "August 2023 Wildfires." Accessed 15 Sep 2023.
McDonald, Jessica. "High Winds, Drought Conditions Led to Maui Fires, No Evidence Intentionally Set." FactCheck.org. 18 Aug 2023.
Izevbigie, Blossom. "Posts Misrepresent Military's Response to Maui Wildfires." FactCheck.org. 17 Aug 2023.
Jaffe, Alan. "Online Videos Share Fabricated Story About FEMA and Marines on Maui." 25 Aug 2023.