Para leer en español, vea esta traducción de Google Translate.
While touting investments in semiconductor factories in the U.S., President Joe Biden has repeatedly left the misleading impression that new jobs at the facilities would pay well more than $100,000 a year for those without a college degree. But Intel has said $135,000 is the average salary for thousands of jobs, including those requiring advanced degrees.
Biden most recently made this claim on Oct. 14 when talking about union jobs in a speech at a cargo port facility in Philadelphia. As a result of a law he signed, Biden said, "semiconductor companies all over the world are investing hundreds of billions of dollars to bring chip production back home."
"For example, you know, just outside of Ohio — outside of Columbus, Ohio, there was a thousand acres," Biden said. "We had Intel come along and say, 'Look, we're going to invest there. We're going to invest over $20 billion. We're going to build these new fabs' — these factories, they call them. They're, like, twice the size of football fields. And guess what the average pay is? About 100- to 110,000 bucks a year. And you don't need a college degree to have the job."
You probably do need a college degree to have "the job" that pays that much.
The president was referring to Intel building two new semiconductor factories in New Albany, Ohio, near Columbus. The company announced the $20 billion investment in January 2022, saying the project would create 3,000 jobs at Intel and 7,000 construction jobs. Intel also said it would spend $100 million over 10 years to partner with universities and community colleges in Ohio, as well as the National Science Foundation, to help develop the skilled workforce needed for the semiconductor industry.
Several times since that announcement, Biden has lauded the project and referred to the amount of money people can make at the factories, even without a college degree. Sometimes the president has indicated those without a college education can't necessarily expect to earn the average salary. For instance, at the groundbreaking for the project in September 2022, Biden mentioned "3,000 full-time jobs that will pay an average of $135,000 a year, and not all of them require college degrees once these facilities are built."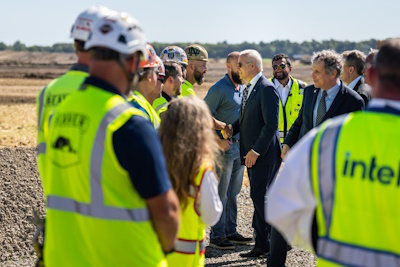 But other times, as he did in October, Biden linked the average salary to no-degree jobs. In November 2022, he said that Intel employs "thousands of people" and "the average salary where you don't need a college degree for is $124,000." In January, he said of the Ohio factories: "3,000 full-time jobs, paying an average of $135,000 a year — those full-time jobs — and you do not need a college degree."
Intel has said the 3,000 new jobs would pay an average of $135,000, according to several news organizations and the Ohio governor's office. The company didn't respond to our inquiries about that figure. However, Time reported in June that Intel representatives said a figure of $130,000 (which Biden used in his State of the Union address this year) was an average that is affected by salaries for workers with advanced degrees.
A Biden administration official also told Time, "It doesn't mean that every job is going to pay six figures." Instead, the $135,000 average is for "a mix of jobs" requiring different levels of education or training.
We asked the White House about Biden's claims, but we didn't get a response.
Promoting growth in the semiconductor industry in the United States has been a priority for the Biden administration. In August 2022, Biden signed the CHIPS Act, which includes $39 billion to fund manufacturing facilities in the U.S. and $11 billion for semiconductor research and development.
Semiconductors — or chips — are used in electronic devices. "They are fundamental to nearly all modern industrial and national security activities, and they are essential building blocks of other emerging technologies, such as artificial intelligence, autonomous systems, 5G communications, and quantum computing," the Congressional Research Service explains in a 2020 report.
There is political concern that the U.S. needs to increase its share of global production, particularly as China also aims to do so and in the wake of semiconductor supply shortages due to the COVID-19 pandemic.
Salaries in the Semiconductor Industry
The Semiconductor Industry Association, a trade group, and Oxford Economics published a report on the U.S. industry in 2021, finding that 277,000 people worked in the industry with an average salary of $170,000 in 2020.
CRS put the U.S. semiconductor workforce at nearly 185,000 people in 2019, earning an average of $166,400, "more than twice the average for all U.S. manufacturing workers," based on an analysis of Bureau of Labor Statistics data.
The SIA report, which also used BLS as a source, noted that the industry "employs a higher share of workers with college degrees compared to manufacturing and all other industries," but 20% of workers haven't attended college. Another 15% have some college experience, and 9% have an associate's degree.
The report said that "workers consistently earn more than the U.S. average at all education attainment levels" and included a chart showing the "wage premium" workers could expect based on their level of education. Those with a high school education or less could expect to earn a little more than $40,000. Those with some college attendance could earn $60,000, while an associate's degree could increase that to $70,000.
The wages only topped six figures for those with a bachelor's degree ($120,000) or a graduate degree (a little more than $160,000).
The semiconductor jobs Biden has touted may pay well, but those without a college degree can't expect to make the $100,000-plus average, as the president has sometimes indicated.
---
Editor's note: FactCheck.org does not accept advertising. We rely on grants and individual donations from people like you. Please consider a donation. Credit card donations may be made through our "Donate" page. If you prefer to give by check, send to: FactCheck.org, Annenberg Public Policy Center, 202 S. 36th St., Philadelphia, PA 19104.