Para leer en español, vea esta traducción de Google Translate.
Quick Take
At least 29 children have been identified by international authorities as having died in the Oct. 7 attack on Israel by Hamas. But a video, citing a post deleted by the World Jewish Congress, has been circulating online falsely suggesting that children didn't die in the attack in Israel.
---
Full Story
Thousands of children have reportedly died amid the fighting between Israel and Hamas, which began with the Palestinian militant group's attack on Israel on Oct. 7.
More than 3,000 children died in Gaza, the West Bank and Israel between the start of the conflict and Oct. 29, according to the international aid organization Save the Children, based on reporting from the Hamas-run Gaza health ministry and Israeli authorities.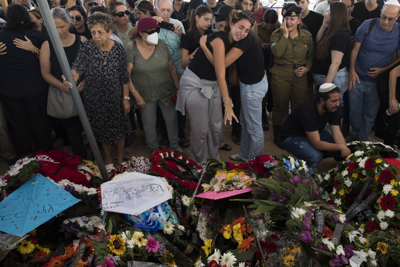 At least 29 children were killed when Hamas attacked Israel on Oct. 7, according to the United Nations Office for the Coordination of Humanitarian Affairs. In addition, about 30 children were taken hostage by Hamas, the Associated Press reported.
But a video has been circulating on Instagram falsely suggesting that there may have been no deaths of children in Israel.
The video shows a since-deleted post from the World Jewish Congress' Instagram page, which the video calls "A list of the children who were allegedly massacred on Oct. 7." The video concludes with large red text at the end: "EXPOSED: Israel's named victims of 'October 7th massacre' are copied from an article that was written in 2014."
One user left a comment that said: "One has to start doubting if anyone really was killed." Another said, "This is all planned and fake to excuse their actions and they thought the world would let them get away with it."
It appears that the Instagram post by the World Jewish Congress — an organization representing Jewish communities globally — shown in the video does repeat some of the names included in a list from 2014 of children who had been killed in Israel over the preceding years.
Although the post is no longer available, a reverse-image search shows that the organization did post a graphic on its Instagram page with the title "Israel's children murdered in the Hamas massacre" and a list of names.
We emailed and called the World Jewish Congress about the Instagram post, but we didn't hear back.
Regardless, though, just because an advocacy organization posted an image with a list of wrong names for the children who were recently killed in Israel isn't proof that children weren't killed in the Oct. 7 attack.
As we said, the U.N. has reported that at least 29 of the roughly 1,200 people who were killed in Israel were children. Haaretz, an Israeli newspaper, maintains an ongoing list of officially confirmed casualties that includes 29 children.
There has been extensive news coverage of the Oct. 7 attack and the war, including stories on video footage from that day showing "Hamas gunmen cheering with apparent joy as they shot civilians on the road, and later stalking the pathways of kibbutzim and killing parents and children in their homes," as BBC reported.
As we have written, Israel's National Center of Forensic Medicine has been working to identify the remains of those killed on Oct. 7. Forensic pathologist Chen Kugel, the head of the center, said the ages of those killed ranged from 3 months to 80 or 90 years, according to The Media Line, an American news outlet that covers the Middle East.
Kugel also told the Los Angeles Times that initially most of the bodies could be identified through DNA. Now, the staff's work involves "reassembling and reconnecting pieces" of remains found in the landscapes where the killings occurred.
For example, what initially appeared to be a piece of charcoal was examined through a CT scan, Kugel said. The scan revealed, "These were people who were hugging one another and burned while they were tied together. It might be a parent and a child."
Editor's note: FactCheck.org is one of several organizations working with Facebook to debunk misinformation shared on social media. Our previous stories can be found here. Facebook has no control over our editorial content.
Sources
Congressional Research Service. "Israel and Hamas October 2023 Conflict: Frequently Asked Questions (FAQs)." 20 Oct 2023.
Save the Children. Press release. "GAZA: 3,195 CHILDREN KILLED IN THREE WEEKS SURPASSES ANNUAL NUMBER OF CHILDREN KILLED IN CONFLICT ZONES SINCE 2019." 29 Oct 2023.
United Nations Office for the Coordination of Humanitarian Affairs. Hostilities in the Gaza Strip and Israel | Flash Update #19. 25 Oct 2023.
Kellman, Laurie. "About 30 children were taken hostage by Hamas militants. Their families wait in agony." Associated Press. 27 Oct 2023.
Holland's Heroes. "Where were the 'Humanitarians' while this List grew?" 30 Aug 2014.
"Israel's Dead: The Names of Those Killed in Hamas Attacks, Massacres and the Israel-Hamas War." Haaretz. 19 Oct 2023.
Fleishman, Jeffrey. "Inside the Israeli lab 'reassembling and reconnecting' the mangled bodies of the dead." Los Angeles Times. 16 Nov 2023.