Para leer en español, vea esta traducción de Google Translate.
Quick Take
Since fighting broke out between Israel and Hamas militants on Oct. 7, misinformation about the war has circulated online. But a widely viewed and shared video supposedly correcting what the video calls "three lies about Palestine" and "atrocity propaganda" also gets some of the facts wrong.
---
Full Story
Social media platforms have hosted a flood of questionable information — some of it unverified and some of it intentionally misleading — since war broke out between Hamas and Israel on Oct. 7.
As of Oct. 12, according to the United Nations, more than 1,200 Israelis and foreign nationals had died and at least 1,100 Palestinians had died in the fighting — many of them civilians on both sides.
We've written about some claims related to the war already. Below we'll lay out what we know about three major issues that have been the subject of many false, misleading or unsubstantiated social media posts: Claims that Hamas beheaded babies, raped women, and killed hundreds of people at a music festival.
One video that's been shared on Facebook and Instagram includes claims about all three issues, so we'll use that as our example. The video is presented as though it is fact-checking the claims, but it gets some things wrong, and it presents assumptions as fact.
In this particular video, the narrator tries to make the case that there is no evidence of mass shootings by Hamas "resistance fighters," or atrocities like rape or beheading babies, and Israel and its supporters are spreading propaganda to justify Israeli plans to commit atrocities against Palestinians.
The events in Israel and the Gaza Strip are still unfolding, and the facts underlying many claims remain unclear. We'll update this report if more information becomes available.
More Than 200 Killed at a Concert in Israel
At least 260 people were killed at an outdoor concert in southern Israel on Oct. 7, but the video falsely claims that it didn't happen. This is a claim that the video gets completely wrong.
The narrator says: "250 people were killed at a concert. False."
But there's plenty of evidence. There is video of the aftermath, news reports about the attack, interviews with survivors, and reports about the number of victims from an Israeli rescue organization.
"Saturday's attack on the open-air Tribe of Nova music festival is believed to be the worst civilian massacre in Israeli history, with at least 260 dead and a still undetermined number taken hostage," the Associated Press reported.
Update, Oct. 24: The Israel Defense Forces held a screening for foreign journalists on Oct. 23 during which it showed about 40 minutes of previously unreleased footage of Hamas' attack from bodycams, surveillance cameras, dashboard cameras and cell phones. "The videos show pure, predatory sadism; no effort to spare those who pose no threat; and an eagerness to kill nearly matched by eagerness to disfigure the bodies of the victims," the Atlantic reported. "In several clips, the Hamas killers fire shots into the heads of people who are already dead." Another report by the BBC said, "The footage, some taken from mobile phones of victims, also showed the abject fear of those who hid in safe rooms and shelters as the sounds of gunfire and explosions came closer."
Unsupported Claim of 40 Beheaded Babies
The narrator of the video says that "no evidence has been provided" for the viral claim that "40 babies" were "beheaded" by Hamas. That is true.
The Israeli government has posted graphic photos that purportedly show babies who were killed and/or burned by the militant group, but there were no photos showing decapitations.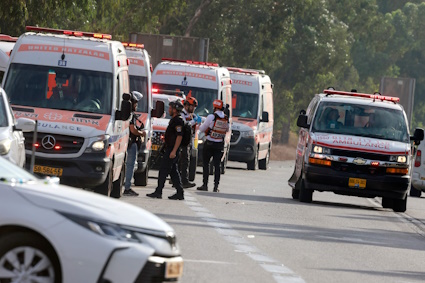 The unsupported claim about dozens of child beheadings gained traction after live news reports from Nicole Zedeck, a correspondent for Israel-based i24NEWS, who was reporting from the scene of an attack near the Israel-Gaza border. In videos the news service posted to X on Oct. 10, Zedeck said Israeli soldiers told her what they witnessed.
In one clip, she said "about 40 babies at least," who were dead, according to a commander, "were taken out on gurneys." In another clip, she said babies had "their heads cut off, they said" – but she never mentioned a number.
The claim about "40 babies beheaded" appears to be a combination of those two separate details that Zedeck relayed during the live broadcasts. She did not make that claim herself, as the social media video wrongly asserts.
In fact, CNN reported on Oct. 12 that an unnamed Israeli official told the news outlet that the Israeli government had not confirmed claims, including from Israeli Prime Minister Benjamin Netanyahu's spokesperson, that babies were beheaded.
"There have been cases of Hamas militants carrying out beheadings and other ISIS-style atrocities. However, we cannot confirm if the victims were men or women, soldiers or civilians, adults or children," the unnamed official was quoted as saying.
The White House also has walked back President Joe Biden's false suggestion that he saw photographic evidence of children with their heads cut off.
"I never really thought that I would see and have confirmed pictures of terrorists beheading children," Biden said in an Oct. 11 meeting with Jewish community leaders.
Biden administration officials later told reporters he was referring to unconfirmed reports from news outlets and Israeli officials about alleged child decapitations.
Update, Nov. 14: Israeli officials invited journalists to see some of the remains of victims of Hamas' Oct. 7 attack and speak with the forensic pathologists working with the bodies. Dr. Chen Kugel, who is in charge of Israel's National Center of Forensic Medicine, told those reporters that the ages of victims ranged from 3 months to 80 or 90 years, according to a Nov. 6 article published by The Media Line, an American outlet that covers the Middle East. "Many bodies, including those of babies, are without heads," the article said. "Asked if they were decapitated, Kugel answered yes. Although he admits that, given the circumstances, it's difficult to ascertain whether they were decapitated before or after death, as well as how they were beheaded, 'whether cut off by knife or blown off by RPG,' he explained."
Claims of Suspected Rapes
The video says that allegations of rape by Hamas militants are "false," adding, "There is no evidence of this whatsoever."
Initially, there was limited evidence of specific cases of rape during the attack by Hamas. The Los Angeles Times, for example, removed a reference to rape from an Oct. 9 opinion piece because the reports hadn't been substantiated.
However, more evidence has emerged since then (see the updates below), and some elected officials have referred to rape in their remarks about Hamas militants in Israel. Biden, for example, listed rape among the war atrocities suffered by Israelis after he'd been advised about it on a phone call with Netanyahu.
There has also been at least one news article, from the Times of Israel, reporting that two videos "have raised concerns of sexual assault against women." One video shows a woman who has blood on her pants being taken out of a vehicle in Gaza, according to the article, and the other shows a woman in her underwear lying face down in a truck. The article did not link to the videos.
Rape is often used as a tactic of war and has a long history as such.
Update, Nov. 14: Israeli police are collecting testimony from those who witnessed sexual assault and abuse during Hamas' Oct. 7 attack so that they can charge offenders who are already in custody, according to an article in the Israeli newspaper Haaretz. The Nov. 9 article said, "An eyewitness told police in the past few days that she had seen the gang rape and murder of a young woman hiding from Hamas terrorists who were wearing military uniforms."
Update, Oct. 24: The Israeli Security Agency, commonly called Shin Bet, and the IDF released video footage showing the interrogation of some Hamas terrorists captured after the attack, the Times of Israel reported on Oct. 24. One of the videos shows a man who says that Hamas ordered fighters to "kill everyone," including women and children. "He said they were given permission to rape the corpse of a girl," the Times of Israel wrote. Also, the Israeli military released two instruction manuals that it said had been recovered from dead Hamas fighters. "Orders were there for how many to kill, how many to take as hostages. Orders were there to rape, all was written and ordered," Maj. Gen. Michael Edelstein told reporters at the screening, the BBC reported.
Update, Oct. 20: A day after we published our story, Reuters reported that "Rabbi Israel Weiss, former army chief rabbi, one of the officials overseeing the identification of the dead … said many bodies showed signs of torture as well as rape." The article also said that "military personnel overseeing the identification process didn't present any forensic evidence in the form of pictures or medical records."
Clarification, Nov. 14: We have revised our Quick Take to be clear that the quote "atrocity propaganda" is a quote from the viral video.
---
Editor's note: FactCheck.org is one of several organizations working with Facebook to debunk misinformation shared on social media. Our previous stories can be found here. Facebook has no control over our editorial content.
Sources
Ohlheiser, A.W. "Don't believe everything you see and hear about Israel and Palestine." Vox. 12 Oct 2023.
Reuters. "What's the Israel-Palestinian conflict about and how did it start?" 11 Oct 2023.
United Nations. Press release. "Israel/occupied Palestinian territory: UN experts deplore attacks on civilians, call for truce and urge international community to address root causes of violence." 12 Oct 2023.
Zinsner, Hadleigh. "Viral Video Clip Misrepresents Trump Remarks on Israel." FactCheck.org. 10 Oct 2023.
Farley, Robert and Lori Robertson. "Republican Claims on Hamas Attack and Iran Funds Distort the Facts." FactCheck.org. Updated 12 Oct 2023.
Farley, Robert. "Post Paints Misleading Picture of Biden's Financial Support for Israel and Palestinians." FactCheck.org. 11 Oct 2023.
Hale Spencer, Saranac. "Posts Share Bogus Memo to Falsely Claim U.S. Is Sending Additional $8 Billion to Israel." FactCheck.org. 12 Oct 2023.
Nicole Zedeck (@Nicole_Zedek). "Soldiers told me they believe 40 babies/children were killed. The exact death toll is still unknown as the military continues to go house to house and find more Israeli casualties." X. 10 Oct 2023.
i24NEWS English (@i24NEWS_EN). "i24NEWS Correspondent @Nicole_Zedek reports from Kibbutz Kfar Aza, a quarter-mile from the Gaza border, and recounts the atrocities that were committed in the small community which remains an active scene as soldiers clear booby traps and recover the bodies of dozens of victims." X. 10 Oct 2023.
Israel (@Israel). "Trigger warning. Those who deny these events are supporting the barbaric animals who are responsible for them. Babies. Toddlers. Infants." X. 12 Oct 2023.
Tenbarge, Kat and Melissa Chan. "Unverified reports of '40 babies beheaded' in Israel-Hamas war inflame social media." NBC News. 12 Oct 2023.
Chance, Matthew, et al. "Israeli official says government cannot confirm babies were beheaded in Hamas attack." CNN. 12 Oct 2023.
Izso, Laurena and Mostafa Salem. "Babies and toddlers were found with 'heads decapitated' in Kfar Aza, Netanyahu spokesperson says." CNN. 11 Oct 2023.
White House. "Remarks by President Biden and Second Gentleman Douglas Emhoff at Roundtable with Jewish Community Leaders." Transcript. 11 Oct 2023.
Alexander, Peter, et al. "White House clarifies Biden's claim he saw photos of terrorists beheading children in Israel-Hamas war." NBC News. 11 Oct 2023.
Liptak, Kevin. "White House says Biden's remark on photos of children was intended to 'underscore the utter depravity' of Hamas attack." CNN. 12 Oct 2023.
Goldberg, Jonah. "Column: Who's to blame for the Hamas attack on Israel? That debate is already going off the rails." Los Angeles Times. 9 Oct 2023.
Biden, Joe. "President Biden Delivers Remarks on the Terrorist Attacks in Israel." YouTube. 10 Oct 2023.
Sharon, Jeremy. "Footage of Hamas assault on civilians shows likely war crimes, experts say." Times of Israel. 8 Oct 2023.
U.N. Women. "Rape as a Tactic of War." Accessed 13 Oct 2023.
Gillet, Francesca and Alice Cuddy. "Israeli music festival: 260 bodies recovered from site where people fled in hail of bullets." BBC. 9 Oct 2023.
Debre, Isabel and Michael Biesecker. "Israeli survivors recount terror at music festival, where Hamas militants killed at least 260." Associated Press. 9 Oct 2023.
Media Line (@themedialine). "Survivors From the South: Victims of Hamas' Terror Speak From Hadassah Ein Kerem Hospital." YouTube. 9 Oct 2023.