Q: Did Sen. Chuck Schumer say "it's racist to only allow citizens to vote"?

A: No. A Facebook meme and viral stories continue to incorrectly quote the Senate Democratic leader.

FULL ANSWER
In an August 2017 column on the website Medium, Democratic Sen. Chuck Schumer railed against what he called an "assault" on voting rights.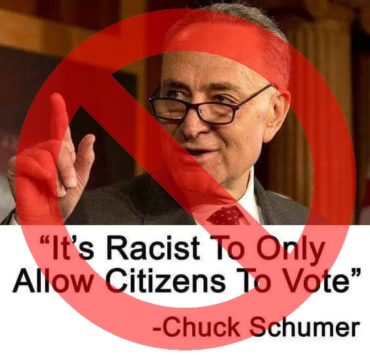 Schumer — writing in the aftermath of the deadly Charlottesville, Virginia, protests — condemned President Donald Trump's then-fledgling Presidential Advisory Commission on Election Integrity.
The Senate minority leader argued that the commission, which was created to examine "fraudulent voting" and other issues, was part of an "effort to intimidate voters" — namely minorities — "and purge them from the rolls through a national voter database of personal information."
In the year since that post was published, online headlines have continued to take liberty in interpreting Schumer's opinion piece, saying that the senator was making the case that non-citizens should be able to vote — including by using a direct, incorrect quote.
"It's racist to only allow citizens to vote," reads the supposed quote attributed to Schumer, repeated on a meme posted on Facebook this week.
But Schumer never said that, in his Medium piece or elsewhere.
The spread of the fictional quote has seemed to surpass the distribution of the Medium column. For example, the Sept. 29 Facebook post of the meme alone was shared nearly 10,000 times. The Medium post, by contrast, has been shared on the platform less than 300 times, according to CrowdTangle data.
The erroneous quote even made its way into a July letter to the editor of a local newspaper in Rocky Mount, North Carolina.
The federal election integrity commission was eventually disbanded, as Schumer had hoped. Facing resistance from states in gathering data, Trump dissolved the panel in January 2018.
Editor's note: FactCheck.org is one of several organizations working with Facebook to debunk misinformation shared on the social media network.
Sources
"Executive Order on the Termination of Presidential Advisory Commission on Election Integrity." WhiteHouse.gov. 3 Jan 2018.
"Presidential Advisory Commission on Election Integrity." WhiteHouse.gov. Accessed 1 Oct 2018.
"Responses to the 'Voter Fraud' Commission's Voter File Data Request." Brennan Center for Justice. 5 Oct 2017.
Schumer, Chuck. "After Charlottesville, It's Time to End the Assault on Voting Rights." Medium.com. 24 Aug 2017.