The Justice Department is reviewing the circumstances surrounding the discovery of classified documents by personal lawyers for President Joe Biden inside his former office in November. The White House publicly acknowledged the federal review this week.
In this story, we will review what we currently know about the documents, as well as how this situation compares to the FBI's recovery of highly classified documents at former President Donald Trump's private club and residence in Palm Beach, Florida. We also address Trump's unsupported claims that China "saw" Biden's documents and funded the Penn Biden Center for Diplomacy and Global Engagement, where Biden's office was located.
The Biden Documents
In a statement issued to reporters, Richard Sauber, special counsel to the president, said Biden's attorneys found "a small number" of documents with classified markings "in a locked closet" on Nov. 2, when the lawyers were packing up the office that Biden "periodically used" at the Penn Biden Center in Washington, D.C. The University of Pennsylvania-affiliated think tank was established in 2017, after Biden was no longer vice president, and its offices opened in February 2018, about a year before Biden took a leave of absence to run for president.
The "roughly 10 documents" were in a folder that was in a box with other unclassified papers, CBS News first reported on Jan. 9, citing unnamed sources. CBS News said its sources "revealed neither what the documents contain nor their level of classification," only offering that the documents "did not contain nuclear secrets."
Biden himself said in a Jan. 10 press conference from Mexico City that he does not know what is in the documents and that he "was surprised to learn there were any government records that were taken there to that office."
Earlier that day, CNN, citing "a source familiar with the matter," reported that the documents included "US intelligence memos and briefing materials that covered topics including Ukraine, Iran and the United Kingdom." The source also told CNN that the documents were dated between 2013 and 2016, during Biden's second term as vice president.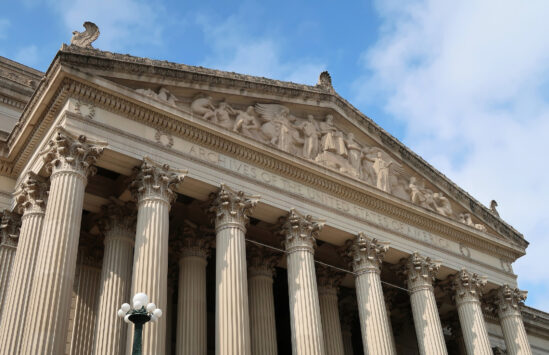 Sauber's statement said that after discovering the documents, Biden's attorneys immediately notified the National Archives and Records Administration, which took possession of the documents the next morning. After being contacted about the documents, NARA notified the Justice Department, news reports said.
Under the Presidential Records Act, which has governed presidential and vice presidential records since 1981, all presidential and vice presidential documents are required to be turned over to NARA for secure storage at the end of each president's administration. (Personal records are not subject to the federal law.)
"The documents were not the subject of any previous request or inquiry by the Archives," Sauber said in his statement. "Since that discovery, the president's personal attorneys have cooperated with the Archives and the Department of Justice in a process to ensure that any Obama-Biden administration documents are appropriately in the possession of the Archives."
NARA has not yet released a statement about the documents, and the agency told FactCheck.org that it has no comment at this time.
Attorney General Merrick Garland has tapped U.S. Attorney for the Northern District of Illinois John Lausch to review the documents and investigate how they ended up at the Penn Biden Center, sources told the New York Times. The Times said it was told that Lausch, who became a U.S. attorney during the Trump administration in 2017, was chosen because his work was more likely to be viewed as "impartial."
Garland will determine whether to launch a criminal investigation and appoint a special counsel to oversee the review.
NBC News reported on Jan. 11 that Biden aides found "at least one additional batch of classified documents" in a different location when doing a search for any other such materials. This is a developing story, and we'll update this article when more information is available.
Update, Jan. 12: In a statement released Jan. 12, Sauber said that after finding classified documents at the Penn Biden Center last fall, Biden's lawyers also searched his homes in Wilmington and Rehoboth Beach, Delaware, for additional records.
"During the review, the lawyers discovered among personal and political papers a small number of additional Obama-Biden Administration records with classified markings," Sauber wrote. "All but one of these documents were found in storage space in the President's Wilmington residence garage. One document consisting of one page was discovered among stored materials in an adjacent room. No documents were found in the Rehoboth Beach residence."
Sauber said Biden's lawyers "immediately notified" the Justice Department and arranged for the materials to be returned.
In a Jan. 12 press conference, Garland said Biden's legal team notified Lausch on Dec. 20 about the classified documents found at Biden's private residence. He said Lausch was notified on Jan. 12 about the discovery of another classified document found at Biden's home in Wilmington.
Garland announced that he has appointed Robert Hur, a former U.S. attorney for the district of Maryland, to serve as special counsel of the investigation of Biden's documents.
Update, Jan. 17: On Jan. 14, the White House said that five additional pages of classified material were found at Biden's Wilmington residence on Jan. 12. CBS News, citing an anonymous source, reported that, in all, "roughly 20" classified documents have been found at Biden's home and office.
Update, Jan. 23: In a statement released Jan. 21, Biden's personal attorney, Bob Bauer, said that Biden's legal team offered to allow the DOJ to conduct a "thorough search" of Biden's Wilmington home on Jan. 20. During that search, "DOJ took possession of materials it deemed within the scope of its inquiry, including six items consisting of documents with classification markings and surrounding materials," the statement reads. Some of the documents were from Biden's time as vice president and others were from when he was a U.S. senator. For a more complete chronology, read our "Timeline of Biden's Classified Documents."
How Biden's Case Differs from Trump's
After CBS News published its story, Trump and several Republican lawmakers seized on the news — questioning whether Biden would receive the same federal scrutiny as Trump, who is already under criminal investigation for his handling of presidential records after leaving office in January 2021.
"When is the FBI going to raid the many homes of Joe Biden, perhaps even the White House?" Trump wrote on his Truth Social platform on Jan. 9, referring to the FBI's execution of a court-ordered search warrant at Trump's Mar-a-Lago property on Aug. 8. "These documents were definitely not declassified."
But based on what we know so far, there are some key differences between Biden's and Trump's situations, including the number of documents involved and how they were returned to NARA.
To start, hundreds of documents with various classified markings were found in unsecured areas at Mar-a-Lago. Some of the documents were labeled "Top Secret," which is the highest level of classification because, as the National Archives explains, the classified information, if released, could cause "exceptionally grave damage to the national security."
As we said, news outlets have reported that about 10 documents with classified markings were found in Biden's old office, including some that were "sensitive compartmented information," or SCI, which also are highly sensitive files. But the Washington Post, citing "a person familiar with both inquiries," reported that some of the materials recovered from Trump were categorized as "Special Access Programs," or SAP, records the paper said only a small group of high-level military and intelligence officials can access.
"Some SCI programs have hundreds and thousands of people who have access, but SAP programs are much more limited," the Post quoted the person with knowledge of the investigations as saying.
Again, NBC News reported that Biden aides have since found additional classified documents at a separate location. But the story did not say how many documents were discovered.
Trump has made the dubious claim that, as president, he issued a "standing order" declassifying all of the documents that were taken to his Florida estate. As we wrote in August, numerous experts on national security and the law surrounding classified documents say that is not plausible. Also, Trump's former national security adviser, John Bolton, told the New York Times he never heard of Trump's alleged standing order and that it is "almost certainly a lie."
Furthermore, in his statement, Sauber, Biden's special counsel, indicated that Biden's attorneys voluntarily turned over the documents found at the Penn Biden Center and then notified NARA of their existence. As we also have written, in Trump's case, federal officials contacted his team about the missing presidential records and then had to negotiate the return of the materials over a series of months before the FBI obtained a court-authorized search warrant for Mar-a-Lago because Trump wasn't fully cooperating.
In January 2022, Trump representatives initially transported 15 boxes containing presidential records to the National Archives and said they were searching for any additional records, according to a NARA statement. That was after NARA made multiple requests between May and December 2021 for the missing documents, according to the Justice Department. (For more, read "Timeline of FBI Investigation of Trump's Handling of Highly Classified Documents.")
Then, in June, in response to a May grand jury subpoena seeking more documents, Trump's lawyers gave the FBI an envelope containing dozens of additional classified papers. At that time, Trump's lawyers assured FBI agents in writing that, to their knowledge, all of the presidential records, including all classified material, had been returned.
But when the FBI searched Mar-a-Lago in August, after obtaining the search warrant, agents recovered thousands of additional documents from Trump's office and a storage room, including more than 100 documents with classified markings, according to a DOJ court filing.
In the court-approved search warrant, the DOJ cited potential violations of three statutes that involve "[o]bstruction of federal investigation," "[w]illful retention of national defense information" and "[c]oncealment or removal of government records," the DOJ court filing said.
Garland has named Jack Smith, a former federal prosecutor, as special counsel for the investigation of Trump's handling of highly classified documents.
The Penn Biden Center and China
On Truth Social, Trump also made the unsupported claim that the Penn Biden Center was funded with tens of millions of dollars from Chinese donors who had been given access to the documents found in Biden's old office.
"The amount was 54 Million Dollars that the Biden Think Tank received from China," Trump wrote in a Jan. 9 post. "That's a lot of money. They saw the Classified Documents!"
But there is no evidence that China directly funded the center that bears Biden's name or that China reviewed the classified documents now under federal review.
Prior to his post linking Biden and China, Trump shared a hyperlink to an April New York Post story that said the University of Pennsylvania – not the Penn Biden Center – "raked in a total of $54.6 million from 2014 through June 2019 in donations from China," with most of the money being donated after the creation of the Penn Biden Center was announced in early 2017.
In response to our questions about Trump's claims, a spokesperson for the university sent us the following statement: "The Penn Biden Center has never solicited or received any gifts from any Chinese or other foreign entity. In fact, the University has never solicited any gifts for the Center. Since its inception in 2017 there have been three unsolicited gifts (from two donors) which combined total $1,100. Both donors are Americans. One hundred percent of the budget for the Penn Biden Center comes from university funds."
FactCheck.org has been a project of the Annenberg Public Policy Center of the University of Pennsylvania since 2003. We disclose all donations of $1,000 or more on our website.
---
Editor's note: FactCheck.org does not accept advertising. We rely on grants and individual donations from people like you. Please consider a donation. Credit card donations may be made through our "Donate" page. If you prefer to give by check, send to: FactCheck.org, Annenberg Public Policy Center, 202 S. 36th St., Philadelphia, PA 19104.