During a "60 Minutes" interview back on Sept. 18, CBS' Scott Pelley asked President Joe Biden what he thought about the recently released image of top-secret documents that FBI agents had discovered during a search of former President Donald Trump's home at Mar-a-Lago.
"How that could possibly happen," Biden responded. "How one — anyone could be that irresponsible. And I thought, 'What data was in there that may compromise sources and methods?' … Totally irresponsible."
Fast forward four months and Biden now finds himself ensnared in his own classified documents investigation, after attorneys working for him found several small batches of documents marked as classified from Biden's time as vice president, in both his office at the Penn Biden Center in Washington, D.C., and at his home in Delaware.
There are significant differences between Biden's situation and Trump's, as we detailed in our story "Classified Documents Found at Former Biden Office, Drawing Comparisons to Trump." Here, we present a timeline of what we know about Biden's situation so far, as events continue to unfold.
2022
Nov. 2 — While packing files in preparation for vacating office space used by the former vice president at the Penn Biden Center for Diplomacy and Global Engagement in Washington, D.C., personal attorneys for Biden come across "what appear to be Obama-Biden Administration records, including a small number of documents with classified markings," according to a Jan. 9, 2023, statement released by Richard Sauber, special counsel to Biden. The University of Pennsylvania-affiliated think tank was established in 2017, after Biden was no longer vice president, and its offices opened in February 2018, about a year before Biden took a leave of absence to run for president.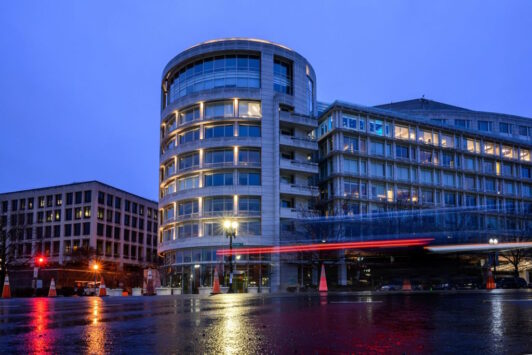 The documents, found in a locked closet, "were not the subject of any previous request or inquiry by the Archives," Sauber says. The White House Counsel's Office notifies the National Archives, which takes possession of the documents the following morning. The discovery comes six days before the midterm elections, but would not be made public for more than two months.
Nov. 4 — The National Archives Office of Inspector General contacts a prosecutor at the Department of Justice and informs him about the documents — which bear classified markings and are now secured in a National Archives facility. The office of the Penn Biden Center "was not authorized for storage of classified documents," Attorney General Merrick Garland says in remarks on Jan. 12.
Nov. 9 — The FBI begins "an assessment, consistent with standard protocols, to understand whether classified information had been mishandled in violation of federal law," Garland says.
Nov. 14 — Garland taps U.S. Attorney for the Northern District of Illinois John R. Lausch Jr. to conduct an initial review related to "the possible unauthorized removal and retention of classified documents or other records" at the Penn Biden Center. The New York Times, citing "a person familiar with the situation," later reports that Lausch, who was nominated to be a U.S. attorney by Trump in 2017, was chosen because his work was more likely to be viewed as "impartial."
Also in "mid-November," the FBI searches the Penn Biden Center offices, according to CBS News' reporting. The FBI did not seek or need a search warrant, because Biden's representatives cooperated with the search.
Dec. 20 — Biden's personal counsel informs Lausch that additional documents from Biden's time as vice president bearing classification markings have been found in the garage of Biden's home in Wilmington, Delaware. The FBI takes possession of the documents, Garland revealed at a Jan. 12 press conference.
2023
Jan. 5 — Lausch briefs Garland on the results of his investigation and recommends a special counsel be appointed to investigate further. As we wrote in our story "What to Know About the Special Counsels Investigating Trump and Biden," a special counsel is someone appointed by the attorney general when "investigation or prosecution of that person or matter by a United States Attorney's Office or litigating Division of the Department of Justice would present a conflict of interest for the Department or other extraordinary circumstances," according to Justice Department regulations.
Jan. 9 — CBS News breaks the story about classified documents being found in early November at the Penn Biden Center and Garland assigning Lausch to do a preliminary investigation. Several hours later, Sauber, special counsel to the president, releases a statement that for the first time publicly acknowledges the discovery of classified documents at the Penn Biden Center.
Jan. 10 — During a press conference in Mexico City, Biden acknowledges his lawyers came across "several classified documents" in a box in a locked closet at the Penn Biden Center and says that "they did what they should have done: They immediately called the Archives" and turned them over. Biden says he was "surprised to learn that there were any government records that were taken there to that office" and that he didn't know what is in them. He says his team is "cooperating fully" with the National Archives and the Department of Justice review.
House Committee on Oversight and Accountability Chairman James Comer, a Republican, sends a letter to Debra Steidel Wall, the acting U.S. archivist, raising "concerns about inconsistent policy and procedures at the agency that creates the appearance of political bias." Comer requests all documents between National Archives and the White House, the Department of Justice, and anyone inside or outside the agency regarding the classified documents discovered at the Penn Biden Center. Comer also announces his intent to interview at least two NARA officials about the matter.
Jan. 11 — Biden's personal attorneys search his Delaware homes in Wilmington and Rehoboth Beach. In the Wilmington home, Sauber later says, the attorneys come across a document with classified markings. The attorneys do not have active security clearances and immediately stop searching and contact the Department of Justice, Sauber says.
Jan. 12 — Referencing the lawyers' searches, Sauber says in a statement, "During the review, the lawyers discovered among personal and political papers a small number of additional Obama-Biden Administration records with classified markings. All but one of these documents were found in storage space in the President's Wilmington residence garage. One document consisting of one page was discovered among stored materials in an adjacent room." No presidential documents were found in the Rehoboth Beach home.
Garland announces the appointment of Robert Hur as a special counsel "to investigate whether any person or entity violated the law in connection with this matter." Garland says the appointment "underscores for the public the department's commitment to both independence and accountability in particularly sensitive matters, and to making decisions indisputably guided only by the facts and the law."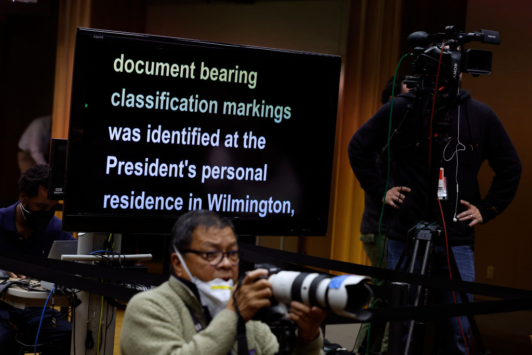 White House Press Secretary Karine Jean-Pierre releases a statement from Sauber saying that Biden's team has "cooperated from the moment we informed the Archives that a small number of documents were found, and we will continue to cooperate," including with the new special counsel. Sauber says, "We are confident that a thorough review will show that these documents were inadvertently misplaced and the president and his lawyers acted promptly upon discovering of this mistake."
Jan. 14 — Sauber releases a statement saying that the evening after lawyers completed their Jan. 11 search, he accompanied DOJ officials to the Wilmington residence. Sauber, who has a security clearance, says he went to assist in transferring the documents to the DOJ. During the transfer of the document found in the room adjacent to the garage, Sauber says, "five additional pages with classification markings were discovered among the material with it, for a total of six pages." DOJ took possession of the documents.
CBS News, citing an anonymous source, reports that, in all, "roughly 20" classified documents have been found at Biden's home and office.
Jan. 19 — During a tour of storm damage in California, a reporter asks Biden if he has any regret about not revealing the existence of the documents in November, before the midterm elections. Biden responds, "We found a handful of documents that … were filed in the wrong place. We immediately turned them over to the Archives and the Justice Department. We're fully cooperating and looking forward to getting this resolved quickly. I think you're going to find there's nothing there. I have no regrets. I'm following what the lawyers have told me they want me to do. It's exactly what we're doing. There is no there there."
Jan. 20 — Investigators with the Department of Justice – with the cooperation of the Biden team – conduct a "thorough search" of Biden's Wilmington home and take "possession of materials it [the department] deemed within the scope of its inquiry, including six items consisting of documents with classification markings and surrounding materials," according to a statement released the next day by Bob Bauer, a personal attorney for Biden.
According to Bauer, the search is conducted after Biden's legal team offered to make the home available to DOJ for a search. "[H]aving previously identified and reported to DOJ a small number of documents with classification markings at the President's Wilmington home, and in the interest of moving the process forward as expeditiously as possible, we offered to provide prompt access to his home to allow DOJ to conduct a search of the entire premises for potential vice-presidential records and potential classified material," Bauer writes.
Bauer says that during the nearly 13-hour search, investigators "had full access to the President's home, including personally handwritten notes, files, papers, binders, memorabilia, to-do lists, schedules, and reminders going back decades." Some of the documents with classified markings "were from the President's service in the Senate and some of which were from his tenure as Vice President. DOJ also took for further review personally handwritten notes from the vice-presidential years."
Sauber, from the White House Counsel's office also releases a statement on Jan. 21 saying that DOJ officials conducted a "comprehensive search" of Biden's Wilmington home, and that "The President's lawyers and White House Counsel's Office will continue to cooperate with DOJ and the Special Counsel to help ensure this process is conducted swiftly and efficiently."
Feb. 1: The FBI searches Biden's house in Rehoboth Beach, Delaware, "with the President's full support and cooperation," Bauer, his personal attorney, says in a statement. "Under DOJ's standard procedures, in the interests of operational security and integrity, it sought to do this work without advance public notice, and we agreed to cooperate," Bauer says.
"No documents with classified markings were found" in the three-and-a-half-hour search, Bauer says in a second statement. The Justice Department "took for further review some materials and handwritten notes that appear to relate to his [Biden's] time as Vice President."
---
Editor's note: FactCheck.org does not accept advertising. We rely on grants and individual donations from people like you. Please consider a donation. Credit card donations may be made through our "Donate" page. If you prefer to give by check, send to: FactCheck.org, Annenberg Public Policy Center, 202 S. 36th St., Philadelphia, PA 19104.