SciCheck Digest
Since his diagnosis in 1991, NBA player Magic Johnson has repeatedly said he contracted HIV through sexual transmission. But a viral social media post by a spreader of vaccine misinformation falsely claims that Johnson was exposed to the virus from a hepatitis B vaccine.
---
Full Story
In 1991, NBA superstar Earvin "Magic" Johnson retired from the basketball league following his diagnosis earlier that year with the human immunodeficiency virus, or HIV, the virus that can lead to AIDS.
In his retirement press conference, Johnson announced he would become a public figure for those diagnosed with HIV, "because I want people, young people, to realize that they can practice safe sex."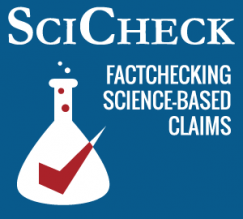 Less than a week later, Johnson wrote in Sports Illustrated that he "was infected by having unprotected sex with a woman who has the virus."
In the over 30 years since his diagnosis, Johnson and his wife, Cookie, have repeatedly affirmed that he contracted HIV through sexual intercourse.
Yet an Instagram post on Jan. 12 falsely claimed that Johnson contracted HIV through a hepatitis B vaccine program allegedly conducted by the NBA in 1991. The post has received more than 21,000 views and 3,000 likes.
The 37-second video was posted by Judy Mikovits, a former chronic fatigue researcher who has claimed that the COVID-19 pandemic is a conspiracy. The video splices together highlights of her interview with Stew Peters, a conservative radio host who frequently spreads COVID-19 misinformation.
In the video, Mikovits claims that the medical community "knew who was susceptible, just as they did with Magic Johnson and the NBA in 1991. They gave those men HIV, they did not give them AIDS, in a contaminated hepatitis B vaccine program. They drove an industry through the gain-of-function studies of Tony Fauci, and he knew it since 1983."
In the post's caption, she said, "Why did Magic Johnson test positive for HIV? Because Fauci's gain of function study used a contaminated Hepatitis B vaccine. Targeting the susceptible then & now!"
The false claim that hepatitis B vaccines were once contaminated with HIV is not new. The first commercially available hepatitis B vaccine used an antigen derived from plasma from individuals with chronic hepatitis B infection, and gay men — who were also at high risk of HIV infection — were known to have donated plasma for the effort. This raised theoretical concerns that even with purification, people might contract HIV from the vaccine.
But in fact, investigations showed that each of the three inactivation steps used to make the hepatitis vaccine would inactivate HIV and the vaccine did not have detectable HIV in it. Vaccine recipients also lacked any evidence of HIV infection. Today, the hepatitis B vaccine contains no blood products and is made from proteins produced in yeast.
Similar to Mikovits, some people have incorrectly claimed that HIV originated in a hepatitis B vaccine trial that enrolled gay men and began in 1978, since some of the first AIDS cases were participants in the trials. But evidence contradicts that idea. Among the gay men in the trial, there was no association between when they were given a vaccine and when they developed antibodies to HIV. Also, by analyzing viral genomes, scientists have demonstrated that HIV was already circulating in the U.S. by 1971.
As we said, Johnson contracted HIV through sexual intercourse, not from a hepatitis B vaccination program.
In response to Mikovits' claims, Alexia Grevious Henderson, vice president at Magic Johnson Enterprises, told the Associated Press that Johnson has never suggested that any vaccine contributed to him contracting HIV. Johnson has also noted the positive role Fauci — a former HIV researcher who recently retired from his role as director of the National Institute of Allergy and Infectious Diseases — had in the basketball star's life, helping him accept the implications of his diagnosis.
We did not find any support for the claim that the NBA ran a hepatitis B vaccination program in 1991, or that any hepatitis B vaccine was a part of gain-of-function research conducted by Fauci.
We have reached out to the NBA for comment on whether any such vaccination program occurred and to the National Institutes of Health on whether there was any gain-of-function research behind the development of a hepatitis B vaccine, but we did not hear back.
Mikovits did not respond to a request for comment on the evidence behind her claim.
This isn't the first time Johnson's status as an HIV-positive patient has led to viral misinformation about him. As we've written before, social media posts falsely claimed Johnson has donated blood for people with COVID-19. He hasn't donated HIV-infected blood for any medical reason.
---
Editor's note: SciCheck's articles correcting health misinformation are made possible by a grant from the Robert Wood Johnson Foundation. The foundation has no control over FactCheck.org's editorial decisions, and the views expressed in our articles do not necessarily reflect the views of the foundation.
Sources
Akpan, Nsikan. "America's HIV outbreak started in this city, 10 years before anyone noticed." PBS. 26 Oct 2016.
Cannon, Lou and Anthony Cotton. "Johnson's HIV caused by sex." Washington Post. 9 Nov 1991.
Chicago Tribune. "Nov. 6, 1992: Magic discusses how he got HIV." 6 Nov 1992.
"CNN – Magic Johnson HIV Announcement (1991)." Video. YouTube. 31 Jul 2021.
drjudyamikovits. "Thank you Stew Peters for another great interview. Why did Magic Johnson test positive for HIV? Because Fauci's gain of function study used a contaminated Hepatitis B vaccine. Targeting the susceptible then & now! Watch the full interview here, link also available on my website:." Instagram. 12 Jan 2023.
Fichera, Angelo, et al. "The Falsehoods of the 'Plandemic' Video." FactCheck.org. Updated 29 Jun 2021.
Francis, Donald P., et al. "The Safety of the Hepatitis B Vaccine: Inactivation of the AIDS Virus During Routine Vaccine Manufacture." Journal of the American Medical Association. 15 Aug 1986.
Frontline. "Endgame: AIDS in Black America." PBS. 10 Jul 2012.
Hale Spencer, Saranac. "COVID-19 Is Caused by a Virus, Not Snake Venom." FactCheck.org. 18 Apr 2022.
Hale Spencer, Saranac. "Social Media Posts Misrepresent FDA's COVID-19 Vaccine Safety Research." FactCheck.org. 23 Dec 2022.
Hale Spencer, Saranac, et al. "'Died Suddenly' Pushes Bogus Depopulation Theory." FactCheck.org. 1 Dec 2022.
Jones, Brea. "Social Media Posts Falsely Claim Magic Johnson Donated Blood for People with COVID-19." FactCheck.org. 23 Aug 2022.
Los Angeles Times. "Magic Blames Weakness in Numbers : HIV: He says he can't pinpoint when he was infected because there were many women. He says he had no homosexual experiences." 13 Nov 1991.
Marcelo, Philip. "False claims circulate about Magic Johnson's HIV diagnosis." Associated Press. 13 Jan 2023.
NBA.com. "NBA History: Magic Johnson retires from basketball in 1991." 6 Nov 2018.
National Institutes of Health. "Anthony S. Fauci, M.D." Accessed 18 Jan 2023.
Offit, Paul A. "A Look at Each Vaccine: Hepatitis B Vaccine." Children's Hospital of Philadelphia. 13 May 2022.
Oliveira, Nelson. "Magic Johnson opens up about his health, career 30 years after HIV diagnosis: 'You just sit there and say, what does this mean? Am I gonna die?'" CBS Mornings. 4 Nov 2021.
World Health Organization. "Hepatitis B" webpage. Accessed 19 Jan 2023.
Worobey, Michael, et al. "1970s and 'Patient 0' HIV-1 genomes illuminate early HIV/AIDS history in North America." Nature. 26 Oct 2016.