President Joe Biden and Vice President Kamala Harris said in April 2021 that they do not believe America is a racist nation — although both have said America has a history of racism and racism does exist in the country today.
However, former South Carolina Gov. Nikki Haley, at a rally officially launching her 2024 campaign to become the GOP nominee for president, claimed that both the president and vice president have called the United States racist.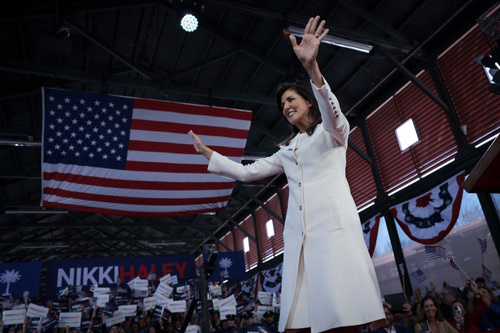 "On Biden and Harris' watch, a self-loathing has swept our country. It's in the classroom, the boardroom and the back rooms of government," the former U.S. ambassador to the United Nations said in a Feb. 15 speech from her home state. "Every day we're told America is flawed, rotten and full of hate. Joe and Kamala even say America's racist. Nothing could be further from the truth."
Haley, who is Indian American, continued: "The American people know better. My immigrant parents know better. And take it from me, the first minority female governor in history, America is not a racist country."
We asked Haley's campaign when Biden and Harris labeled the U.S. racist, but we have not received a response.
In fact, the president and vice president said the opposite in nationally televised interviews nearly two years ago.
"I don't think the American people are racist," Biden said on April 29, 2021, before adding, "but I think after 400 years, African Americans have been left in a position where they are so far behind the eight ball in terms of education and health, in terms of opportunity." In the interview on NBC's "Today" show, Biden went on to say: "I don't think America is racist, but I think the overhang from all of the Jim Crow and before that, slavery, have had a cost and we have to deal with it."
Biden had been asked if he agreed with Sen. Tim Scott of South Carolina, the one Black Republican in the Senate, who declared that "America is not a racist country" in his rebuttal to Biden's first address to a joint session of Congress on April 28, 2021.
The same day Biden gave his answer, Harris, America's first Black and first South Asian American vice president, was asked the same question in an interview on ABC's "Good Morning America."
"Well, first of all, no, I don't think America is a racist country," she said. "But we also do have to speak truth about the history of racism in our country and its existence today."
Harris said in the interview that she applauded Biden for broaching the subject of race in that year's address to Congress. In the speech, he talked about rooting out "systemic racism," such as in the criminal justice system, "that plagues America and American lives," as well as addressing "the most lethal terrorist threat" of white supremacy.
"He spoke what we know from the intelligence community," Harris said of Biden. "One of the greatest threats to our national security is domestic terrorism manifested by white supremacists. And so these are issues that we must confront, and it does not help to heal our country, to unify us as a people, to ignore the realities of that. And I think the president has been outstanding and a real national leader on the issue of saying let's confront the realities and let's deal with it knowing we all have so much more in common than what separates us. And the idea is that we want to unify the country but not without speaking truth and requiring accountability as appropriate."
And like Biden, Harris more than once has talked about America needing to confront its history of systemic or structural racism "that has led to racial disparities across all lines."
But acknowledging existing or historical racism in the country is not the same as saying America is wholly "racist," as Haley alleged Biden and Harris had done.
---
Editor's note: FactCheck.org does not accept advertising. We rely on grants and individual donations from people like you. Please consider a donation. Credit card donations may be made through our "Donate" page. If you prefer to give by check, send to: FactCheck.org, Annenberg Public Policy Center, 202 S. 36th St., Philadelphia, PA 19104.