Former President Donald Trump's latest defense for having classified documents found by FBI agents at his Mar-a-Lago home is that many of them were simply "empty folders" stamped "classified" on the outside that Trump kept as mementos. The FBI says it did find dozens of empty folders, but it also found 103 classified documents.
In the latest developments of the unfolding classified documents saga, it was reported by CNN that on Friday, Feb. 10, Trump's legal team turned over additional "pages with classified markings," an aide's laptop and one empty folder marked "Classified Evening Briefing." Two days later, Trump attorney Timothy Parlatore gave details about how Trump used the empty folder.
Parlatore told CNN that the manila folder, which had been subpoenaed by investigators, was found in Trump's bedroom and that Trump used it to block a blue light on a telephone landline that was keeping him up at night.
The Associated Press reported that the additional documents with classified markings amounted to "a handful of pages" found in December by Trump's legal team at the Mar-a-Lago property and that the aide's laptop contained an electronic copy of the folder with classified markings on it.
Two days after Parlatore's appearance on CNN, Trump claimed on Truth Social that "[m]any of the so-called 'documents'" seized by federal agents from Mar-a-Lago in August were merely empty folders labeled with classified markings. The former president said he kept them as mementos, which he spelled as "momentous."
Trump, Feb. 14: Many of the so-called "documents" that the "Gestapo" took in the Raid of Mar-a-Lago, unlike the"No Raids of Biden," were merely inexpensive and very common folders with words such as "Presidential Reading," "Confidential," "Classified," or other words stamped on the front cover. There was nothing inside of the folders because, during meetings where information was passed out, say at the Oval Office, when finished the papers inside were taken back, but the empty folders were left behind…..

Page Two: I would put them in a pile and keep them as momentous. Nothing wrong with that, but sounds to me that the Injustice Department views these as DOCUMENTS – They are not! These people are just out looking for trouble! Should be checking Biden's unsecured classified docs instead. How about the 1,850 Boxes sent to Delaware. That's the mother load!
It's true that in a court-approved search of Mar-a-Lago on Aug. 8, FBI agents seized several dozen empty folders marked as having once contained "classified" material. According to an inventory of items the FBI seized that day, which the Department of Justice released on Sept. 2, there were 48 "empty" folders marked as having once contained "classified" material, including 43 from Trump's office. The search also turned up 42 empty folders marked as "Return to Staff Secretary/Military Aide," including 28 in Trump's office.
However, the Department of Justice noted that it also took possession of 18 government documents marked as top secret, 53 marked as secret and 30 marked as confidential. That's a total of 101 classified documents. The DOJ didn't say how many pages were in each document.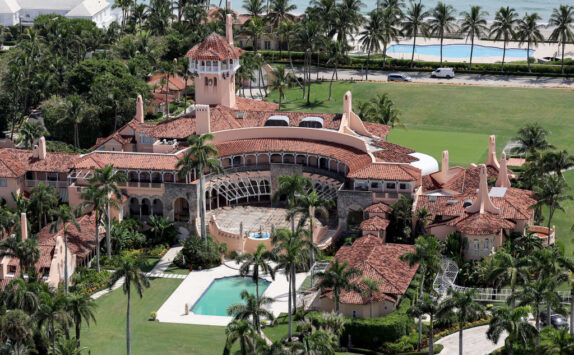 Those are just the classified documents that were seized by government agents during the search of Mar-a-Lago in August. Trump's legal team has turned over classified documents on at least three other occasions.
In addition to the latest report of Trump's legal team finding a handful of pages marked classified at Trump's Florida residence, there were at least two previous times when Trump's lawyers returned hundreds of other classified materials to government officials:
On June 3, in response to a subpoena, a Trump attorney gave government agents an envelope containing classified documents during a meeting at Mar-a-Lago. A "preliminary review" of that envelope "revealed the following: 38 unique documents bearing classification markings, including 5 documents marked as CONFIDENTIAL, 16 documents marked as SECRET, and 17 documents marked as TOP SECRET," the Department of Justice said in a court filing.
In all, that comes to more than 300 separate classified documents, totaling an unknown number of pages. Some of those documents were turned over voluntarily by Trump's team; others were turned over in response to a subpoena, and still others were seized by the FBI while executing a search warrant.
As for Trump's characterization of the search of his property as a "raid" performed by FBI agents he likened to "Gestapo," it should be noted that FBI agents were executing a legal search warrant approved by a judge in the U.S. Southern District Court of Florida. And that search came after the National Archives for months requested Trump's representatives return government documents that had not been transferred to it, as required by law, at the end of the Trump administration. And it came after a subpoena failed to result in the return of all classified documents being stored at Mar-a-Lago.
Trump suggested in his Truth Social post that instead of "looking for trouble" with him, the FBI "[s]hould be checking Biden's unsecured classified docs instead."
As we have detailed in an ongoing timeline, Biden has been under scrutiny for failing to return classified documents as well. In early November, personal attorneys for Biden were vacating office space used by the former vice president at the Penn Biden Center for Diplomacy and Global Engagement in Washington, D.C., when they came across several records with classified markings. The White House Counsel's Office immediately notified the National Archives, which took possession of the documents the following morning. But the discovery was not made public for more than two months.
The FBI in mid-November conducted a search of Biden's Penn Center offices, but the FBI did not seek or need a search warrant, because Biden's representatives cooperated with the search.
On Jan. 11, attorneys searching Biden's home in Delaware discovered even more classified documents. On Jan. 20, investigators with the Department of Justice — with the cooperation of the Biden team — conducted a "thorough search" of Biden's Wilmington home and took possession of a handful of documents with classified markings. On Feb. 1, the FBI also searched Biden's house in Rehoboth Beach, Delaware, but found no classified documents.
All of those FBI searches were done with the cooperation of Biden's team.
The White House isn't saying exactly how many classified documents have been found in Biden's possession, but CBS News has reported it is about 20, citing anonymous sources.
Trump suggests more may be among documents donated by Biden to his alma mater, the University of Delaware. "How about the 1,850 Boxes sent to Delaware," Trump wrote. "That's the mother load!"
In 2012, Biden donated 1,850 boxes of archival records from his 36-year career in the U.S. Senate to the University of Delaware. Although there has been some social media speculation that those senatorial papers might include a trove of classified documents, there is no evidence of that. The university has said it will abide by an agreement with Biden at the time of the donation not to provide public access to any of the materials until "two years after the donor [Biden] retires from public life." In October, a Delaware Superior Court judge upheld the University of Delaware's refusal to provide access to the documents after the nonprofit Judicial Watch sought them through a Freedom of Information Act request.
Update, Feb. 16: CNN reported that the FBI conducted two searches in recent weeks of Biden documents stored at the University of Delaware. The searches were conducted "with the consent and cooperation of the president's legal team." An unnamed source told CNN investigators retrieved some materials from two university locations. "The material did not appear to have classified markings, according to the source, but they are now being reviewed by the FBI," CNN said.
---
Editor's note: FactCheck.org does not accept advertising. We rely on grants and individual donations from people like you. Please consider a donation. Credit card donations may be made through our "Donate" page. If you prefer to give by check, send to: FactCheck.org, Annenberg Public Policy Center, 202 S. 36th St., Philadelphia, PA 19104.