The nearly 50 migrants Florida Gov. Ron DeSantis flew from San Antonio to Martha's Vineyard in September were later moved to a shelter at a military base several miles away in Massachusetts. After that, most of them found housing in other parts of the state.
The migrants were not immediately "deported" after arriving at the popular vacation island off the Massachusetts coast, as DeSantis wrongly claimed this month.
DeSantis, a Republican who may run for president in 2024, made the claim during a speech in Iowa on March 10. While discussing his state's approach to border security, DeSantis said to cheers and applause: "We even were able to deliver 50 illegal aliens to beautiful Martha's Vineyard. They said they were a sanctuary area. They had signs saying nobody is illegal. They said all the refugees and the illegals are welcome and then they deported them the next day. Are you kidding me?"
His statement could have given his audience the false impression that the migrants, most of whom had traveled from Venezuela, were expelled from the United States. That did not happen.
In fact, because individuals working on behalf of the DeSantis administration allegedly coerced the migrants to fly from Texas to Martha's Vineyard under "false pretenses," according to a Texas county sheriff, the migrants may qualify for a special immigration status for victims of certain crimes.
If approved, the migrants could stay in the U.S. to assist in a criminal investigation of the flights launched by the county sheriff's department. After several years, they could eventually apply to become legal permanent residents.
From San Antonio to Martha's Vineyard
DeSantis took credit for using Florida funds to charter the two private planes that flew the migrants from San Antonio to Martha's Vineyard on Sept. 14. Days earlier, in a speech to GOP donors, DeSantis teased potentially sending people who cross the U.S. border illegally to the island, where about 20,000 people live year-round. He said he might do so to help relieve southern border states dealing with a huge spike in unauthorized crossings into the country.
At a December 2021 press conference, DeSantis said the Biden administration would secure the border "the next day," if migrants started showing up in President Joe Biden's home state of Delaware, or in Martha's Vineyard, where many Democrats, including former President Barack Obama, have homes.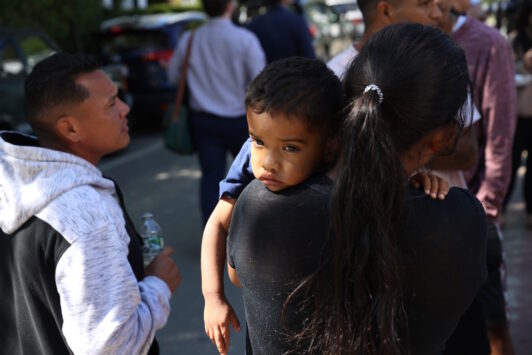 But local authorities on the island were given no notice prior to the migrants being dropped off at the Martha's Vineyard airport on Sept. 14. Two days later, after local officials, organizations and residents had scrambled to provide aid to the new arrivals, then-Massachusetts Gov. Charlie Baker, also a Republican, announced that the migrants would be given the option to move about 30 miles away to a more suitable emergency shelter at the state's Joint Base Cape Cod in Barnstable County.
"Shortly after the arrival of these individuals, Martha's Vineyard residents joined with local and state officials to create temporary shelter and provide necessities in a moment of urgent need," Baker said in a released statement. "However, the island communities are not equipped to provide sustainable accommodation, and state officials developed a plan to deliver a comprehensive humanitarian response. On Friday, September 16, the Commonwealth will offer transportation to a new temporary shelter on JBCC. This move will be voluntary."
But relocating is not the same as being "deported," as DeSantis claimed had happened.
Deportation refers to removing citizens of other countries from the U.S. for violating immigration law. The removals are carried out by U.S. Immigration and Customs Enforcement, and deportees are usually returned to their home country or another nation that will take them in.
"None of the 49 have been deported from the United States," Rachel Self, an immigration and criminal defense attorney, told FactCheck.org by phone. Self, whose office is in Boston, has been working with several of the migrants since they were taken to the island last year.
A spokesperson for the American Civil Liberties Union of Massachusetts, which is representing nine of the migrants, told us its organization is also unaware of any migrants on those flights being deported.
We asked DeSantis' office to clarify his deportation claim, but we did not receive a response.
As of early October, all of the migrants had left the emergency shelter at Joint Base Cape Cod and transitioned to more long-term housing, Baker's office announced. Two of the migrants reportedly traveled to New York, while the vast majority moved to other cities or towns in Massachusetts, including four migrants — all related — who went back to Martha's Vineyard to live temporarily with a local family.
Because of the methods used to get the migrants from Texas to Massachusetts, DeSantis may have helped protect them from deportation. That's because lawyers representing the migrants, and Javier Salazar, the Democratic sheriff of the Texas county where at least some of them had been staying pending their immigration hearings, have argued that the migrants were manipulated into flying to Martha's Vineyard with false promises of jobs and housing — making them victims of a crime.
For example, according to a class-action lawsuit filed against DeSantis and Florida Transportation Secretary Jared Perdue in September, some of the migrants said they were told by a woman organizing their travel from San Antonio that they would be flying to either Boston or Washington, D.C. Another person told reporters that he thought he was going to Philadelphia, where he planned to stay with a family friend and was scheduled to meet with U.S. immigration officials.
It was not until they were in the air that the migrants learned of their true destination, some of them said.
Salazar's office in Bexar County, Texas, launched a criminal investigation on Sept. 19, and he later signed certificates attesting that the migrants, whom members of his staff interviewed, had assisted in the investigation. The certifications made them eligible to apply for a special "U visa" that is meant for victims of "certain crimes who have suffered mental or physical abuse and are helpful to law enforcement or government officials" investigating criminal activity.
The migrants, who Self said also have applied for asylum, are unlikely to be deported while their U visa applications are being processed. And due to a backlog of more than 300,000 such petitions, it could be a while before their applications even come up for review.
If their U visa applications are approved, the migrants would be able to lawfully stay in the U.S. for at least four years, get work authorization and eventually apply for legal permanent resident status.
---
Editor's note: FactCheck.org does not accept advertising. We rely on grants and individual donations from people like you. Please consider a donation. Credit card donations may be made through our "Donate" page. If you prefer to give by check, send to: FactCheck.org, Annenberg Public Policy Center, 202 S. 36th St., Philadelphia, PA 19104.