House Republicans narrowly passed a bill late last month that would temporarily suspend or raise the federal debt limit while significantly reducing caps on discretionary spending for the next 10 years. The legislation does not identify which discretionary programs would or would not see future spending cuts under the proposal.
However, some Democrats have claimed that the bill would lead to deep cuts in several areas, including health benefits for military veterans.
"It makes a series of deeply devastating and unpopular cuts to things like veterans' health benefits," White House Press Secretary Karine Jean-Pierre said on May 2, adding that the Department of Veterans Affairs would be "gutted."
But some GOP lawmakers have called such Democratic claims a "lie" and argued that congressional Republicans do not intend to scale back spending on services for veterans.
"Joe Biden and the Democrats are yet again shamelessly lying to the American people," Rep. Elise Stefanik, the chair of the House Republican Conference, wrote in a May 1 tweet. "There are absolutely NO cuts to veterans benefits, or the VA in the Limit, Save, and Grow Act."
It's true that the bill does not mention spending cuts for veterans, but it does not exempt them either. The specific cuts would be determined later, during the appropriations process — if the House-passed bill became law, which is unlikely to happen.
Senate Majority Leader Chuck Schumer said the bill is dead on arrival in the Senate, which is controlled by the Democratic caucus. The White House also opposes the bill and has said President Joe Biden would not sign it even if it reached his desk.
Here we'll explain why Democrats claim that the legislation is a threat to veterans, as well as why Republicans claim that those opposing the bill are simply using fear tactics.
The House Republicans' Bill
Treasury Secretary Janet Yellen informed Congress in a May 1 letter that the U.S. could default on its $31.4 trillion debt as soon as June 1, if Republicans and Democrats fail to reach an agreement to lift the debt limit before that time.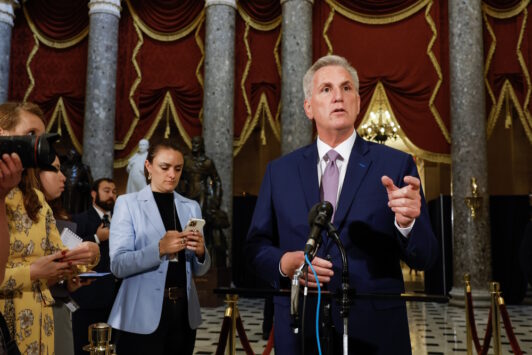 On April 26, House Republicans passed their proposal — the Limit, Save, Grow Act — by a vote of 217 to 215. It would extend the borrowing limit through March 31, 2024, or until the debt increases by $1.5 trillion, whichever comes first.
In exchange, starting in fiscal year 2024, the bill would cap discretionary budget authority at about $1.47 trillion — similar to fiscal year 2022 levels — and then restrict future growth in spending to 1% per year for a decade. (Discretionary spending refers to spending that is authorized in annual appropriations legislation and is separate from mandatory spending for programs such as Medicare and Social Security.)
According to summaries of the GOP bill, it also would repeal certain renewable and clean energy tax credits in the Inflation Reduction Act, block Biden's executive actions canceling student loan debt, reclaim some of the unspent COVID-19 funding, rescind funds designated for the Internal Revenue Service, as well as create new work requirements for Medicaid beneficiaries and expand work requirements for those enrolled in Temporary Assistance for Needy Families and the Supplemental Nutrition Assistance Program.
The Congressional Budget Office estimates the bill would reduce budget deficits by a total of about $4.8 trillion through 2033, compared with CBO's baseline projections under current law. Nearly $3.2 trillion of that amount would come from savings in discretionary spending, the nonpartisan budget analysts said.
Democratic Claims
The White House budget office has said that if Defense Department funding is exempted from the discretionary spending cuts, as Republicans have indicated, the GOP bill would initially require a 22% cut to funding for all other discretionary programs, assuming the cuts are applied across the board.
"The legislation proposed by Congressional Republicans would set the FY2024 topline at $1.471 trillion, equal to the FY 2022 level," says an April 20 blog post written by Shalanda Young, director of the Office of Management and Budget. "Under the assumption that funding for defense in FY 2024 will at least match the baseline level of $885 billion, non-defense funding would total $586 billion, which is 22 percent lower than the currently enacted level of $756 billion."
Among other things, those cuts would "undermine medical care for veterans," leading to "30 million fewer veteran outpatient visits, and 81,000 jobs lost across the Veterans Health Administration," Young's blog post said.
An April 30 tweet from Biden's presidential Twitter account similarly claimed that "217 House Republicans Voted to Undermine Veterans' Health Care," and other Democratic lawmakers, like Sen. Chris Coons, claimed that the GOP bill "would cut veterans' health care."
Veterans groups also have raised concerns about the potential impact of the legislation, and the Department of Veterans' Affairs has warned that discretionary spending cuts could affect additional benefits for veterans — not just health care.
In responding to these comments, Republicans have said they would not reduce funding for defense or veterans.
Republicans Push Back
On ABC's "This Week" on April 30, House Majority Leader Steve Scalise, who was interviewed after Coons, disagreed with the claim about cuts to services for veterans.
"We talk about protecting veterans," Scalise said. "We've heard this lie over and over again. The speaker himself has said we're protecting veterans. My boss, the chairman of the Veterans Affairs Committee, is a veteran himself. The only person talking about cutting veterans' benefits is Joe Biden. And I'll tell you, as the majority leader, I will not bring a bill to the floor of the House, even if President Biden wants it, I will not bring a bill that cuts our veterans."
In an April 21 statement released before the vote on the GOP bill, Rep. Mike Bost, the veterans committee chairman whom Scalise mentioned, said Democrats had "spread false claims" about House Republicans trying to cut veterans' benefits.
"This commonsense bill will grow the economy and save American taxpayers money, all while protecting veterans' benefits, Social Security, and Medicare," he said. "Republicans have always prioritized veterans in our spending to ensure veterans have access to the care, benefits, and services they have earned, and as the Chairman of this Committee, that is my number one priority. Anyone who questions our commitment to the men and women who have served should find new talking points."
In an email to FactCheck.org, Chad Gilmartin, deputy spokesman for House Speaker Kevin McCarthy, said, "Democrats should point to where in the bill it says any of the claims that they make."
As we said, the text of the bill does not specify which parts of the discretionary budget would be cut — but it also does not say which parts would be shielded from future cuts, which is a point the White House made to us.
"Congressional Republicans could have protected veterans' medical care" in the bill "but they chose not to — which is why 24 veterans organizations opposed this bill," a White House spokesperson said in an emailed statement.
We would note that the bill also does not state that defense spending will be spared. However, Democrats seemingly have accepted Republican assurances that it would be, while now dismissing similar assurances that funding for veterans also would not be cut.
But if Republicans were to exclude defense and veterans' health care from cuts, as they say they would do, that means other discretionary programs would have to be cut by larger percentages.
"If they protect both defense and veterans' health care from cuts, then all other non-defense discretionary programs would have to be cut 33 percent in 2024 and 59 percent in 2025," the left-leaning Center on Budget and Policy Priorities estimated in an April 24 analysis.
Discretionary funding also pays for programs for homeland security, transportation, education, housing, social services and more.
Ultimately, specific spending cuts, or exemptions from those cuts, would be addressed during the regular appropriations process — if the GOP bill somehow became law.
---
Editor's note: FactCheck.org does not accept advertising. We rely on grants and individual donations from people like you. Please consider a donation. Credit card donations may be made through our "Donate" page. If you prefer to give by check, send to: FactCheck.org, Annenberg Public Policy Center, 202 S. 36th St., Philadelphia, PA 19104.