For the fourth time in a little more than four months, former President Donald Trump was indicted.
This time, it's by a special state grand jury in Georgia that alleges Trump and 18 co-defendants "refused to accept that Trump lost" the 2020 presidential election to Joe Biden and conspired "to unlawfully change the outcome."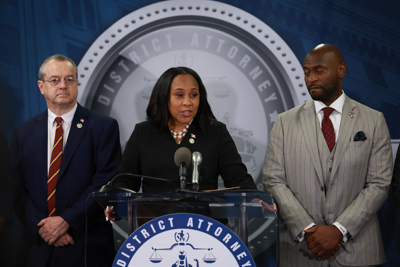 The indictment lists 41 felony counts, including one count of violating the state's Racketeer Influenced and Corrupt Organizations Act, or RICO Act, which is better known as a prosecutorial tool to break up organized crime groups. The indictment details 161 "acts" in furtherance of the RICO conspiracy.
"The indictment alleges that rather than abide by Georgia's legal process for election challenges, the defendants engaged in a criminal racketeering enterprise to overturn Georgia's presidential election results," Fulton County District Attorney Fani Willis said at a press conference.
Willis asked that the defendants surrender by noon on Aug. 25.
Here we answer some questions about the indictment, as we did for two federal indictments and a state indictment that was brought against Trump in New York.
What are the charges against Trump?
The indictment lists a total of 41 felony counts, and Trump is facing 13 counts himself. The charges against Trump are:
Trump could get at least one year's imprisonment for most of the charges, if found guilty. The most prison time he could receive for any single charge is 20 years, for violating the Georgia RICO Act, which also carries a minimum sentence of five years in prison. Fines are also a possibility for some of the charges.
Why is this a RICO case?
Everyone in the indictment is charged with one count of violating the state's Racketeer Influenced and Corrupt Organizations Act, "through participation in a criminal enterprise in Fulton County, Georgia, and elsewhere, to accomplish the illegal goal of allowing Donald J. Trump to seize the presidential term of office beginning on Jan. 20, '21," Willis said in an Aug. 14 press conference after the indictment was released.
RICO charges are associated with organized crime operations, but the statute can apply to other enterprises and criminal conspiracies. For instance, in 2015, Willis successfully prosecuted public school educators for a standardized test cheating scandal under RICO. She's prosecuting rappers and those involved in a record label in a RICO case that charges those individuals are a criminal street gang.
The federal statute, which was enacted in 1970, "was not intended for just the mob," lawyer Jim Walden, a former federal prosecutor and assistant U.S. attorney for the Eastern District of New York, explained in a column for NBC News published last fall. "Its drafters understood that otherwise legal entities could also commit large-scale crimes. … Essentially, it allowed a centralized theory of prosecution for attacking an array of criminal activity under a single statute."
Georgia enacted its RICO law in 1980.
"The idea of the RICO Act is you could take lots of different actions by different people over a large period of time, and you can link them together to create a compelling narrative for the, for the jury," Clark D. Cunningham, a law professor at Georgia State University, told CNN on Aug. 15. "And so I think she [Willis] plans to present to the jury a story of a really pretty vast conspiracy to subvert democracy itself. And to be able to make that story, she has to take all kinds of individual events which by themselves might not seem that sinister, but when you start putting them together, she believes she has a compelling case of a criminal enterprise with Donald Trump at the top of it."
Georgia's law makes it a crime for anyone "associated with any enterprise to conduct or participate in, directly or indirectly, such enterprise through a pattern of racketeering activity." And a pattern is at least two racketeering acts that are related in "intents, results, accomplices, victims, or methods of commission."
The law lists more than 40 predicate crimes that are considered racketeering activity, including false statements and writings, forgery, and impersonating a public officer — charges against Trump and others that are also in the indictment. Attempting to commit such acts or soliciting or coercing someone else to commit them are also racketeering activities.
Who are the other defendants?
Besides Trump, there are 18 other defendants.
Trump's co-defendants are: former New York Mayor Rudy Giuliani, who served as a lawyer to Trump; John Eastman, another lawyer to Trump; Mark Meadows, Trump's former chief of staff; Kenneth Chesebro, a lawyer; Jeffrey Clark, who was acting assistant attorney general for the civil division of the U.S. Department of Justice; Jenna Lynn Ellis, an attorney; Ray S. Smith III, an attorney; Robert David Cheeley, an attorney; Michael A. Roman, who was director of the Trump campaign's Election Day operations; David Shafer, who was chairman of the Georgia Republican Party; Shawn Still, a Georgia state senator; Stephen C. Lee, an Illinois minister; Harrison William Prescott Floyd, also known as Willie Lewis Floyd III, who was associated with a group called "Black Voices for Trump"; Trevian C. Kutti, a Chicago publicist; Sidney Powell, an attorney; Cathleen Alston Latham, a former Republican Party leader in Coffee County, Georgia; Scott Graham Hall, a bail bondsman in Georgia; and Misty Hampton, who was the Coffee County elections supervisor.
For more, see our article "Trump's Co-Conspirators in Georgia."
What does the indictment allege?
The introduction to the indictment begins with these stark facts: "Defendant Donald John Trump lost the United States presidential election held on November 3, 2020. One of the states he lost was Georgia."
Nonetheless, the indictment states, Trump and the other co-defendants "refused to accept that Trump lost, and they knowingly and willfully joined a conspiracy to unlawfully change the outcome of the election in favor of Trump."
The indictment then details 161 "acts" in furtherance of a RICO conspiracy, starting with a litany of false statements made by Trump and others about voter fraud.
For example, lawyers for the Trump campaign, including Rudy Giuliani and Ray Smith, appeared before the Georgia Assembly several times in December 2020 and made numerous false statements about vote fraud, from improper votes from dead or underage people or felons to voting machines changing votes to Joe Biden, the indictment states. The purpose of those falsehoods, the indictment states, was "to persuade Georgia legislators to reject lawful electoral votes cast by the duly elected and qualified presidential electors from Georgia" and instead to "unlawfully appoint their own presidential electors for the purpose of casting electoral votes for Donald Trump."
The indictment notes that Trump parroted many of those false voter fraud claims in social media posts that talked about things like "ballot stuffing," "dead voters," "out of state 'voters,'" a "'ballots under the table' scam" and, more generally, "Massive VOTER FRAUD." (We have written about these sorts of claims numerous times.)
Trump and other co-defendants also tried to convince the Republican Georgia governor, secretary of state and speaker of the House to "violate their oaths to the Georgia Constitution and to the United States Constitution by unlawfully changing the outcome of the November 3, 2020, presidential election in Georgia in favor of Donald Trump," the indictment states. That included an effort by Trump on Dec. 7, 2020, to convince Speaker of the Georgia House David Ralston to convene a special session of the Georgia Assembly "for the purpose of unlawfully appointing presidential electors from Georgia." With regard to Georgia Secretary of State Brad Raffensperger, it included Trump's phone call on Jan. 2, 2021, seeking "to find 11,780 votes" to swing the state to Trump.
It also included a letter Trump sent to Raffensperger nearly a year after the election, on Sept. 17, 2021, asking Raffensperger to look into a report of 43,000 absentee ballots in DeKalb County that Trump said violated chain of custody procedures. Given that and "many other claims of voter fraud," Trump asked Raffensperger to "start the process of decertifying the Election, or whatever the correct legal remedy is, and announce the true winner."
According to the indictment, lawyers for Trump created "false Electoral College documents and recruited individuals to convene and cast false Electoral College votes at the Georgia State Capitol" on Dec. 14, 2020, and then sent those documents to the president of the U.S. Senate, the U.S. archivist, the Georgia secretary of state and the chief judge of the U.S. District Court for the Northern District of Georgia.
"The false documents were intended to disrupt and delay the joint session of Congress on January 6, 2021, in order to unlawfully change the outcome of the November 3, 2020, presidential election in favor of Donald Trump," the indictment states. And, the indictment notes, those tactics were repeated in several other swing states that broke for Biden.
The indictment also includes charges related to allegations of harassment and intimidation of Georgia election worker Ruby Freeman. On Dec. 10, 2020, Giuliani told members of the Georgia House that Freeman and two others were "quite obviously surreptitiously passing around USB ports as if they're vials of heroin or cocaine" at the State Farm Arena to be used to "infiltrate the crooked Dominion voting machines." In a Jan. 2, 2021, phone call with Raffensperger and other state officials, Trump called Freeman "a professional vote scammer and hustler" who stuffed the ballot box with votes for Biden. As we have written, Freeman did nothing wrong. Freeman said those public comments by Giuliani and Trump led to numerous death threats.
The indictment accuses several of the co-conspirators of showing up at Freeman's home with the "intent to influence her testimony."
The indictment says co-defendants solicited high-ranking U.S. Department of Justice officials to make false statements about voter fraud in Fulton County. "In one instance," the indictment states, "Donald Trump stated to the Acting United States Attorney General, 'Just say that the election was corrupt, and leave the rest to me and the Republican congressmen.'"
And in some overlap of a federal indictment of Trump, the Georgia indictment includes accusations that Trump and other co-defendants repeatedly tried — unsuccessfully — to pressure Vice President Mike Pence "to violate the United States Constitution and federal law by unlawfully rejecting Electoral College votes cast in Fulton County, Georgia, by the duly elected and qualified presidential electors from Georgia."
The indictment also alleges that several of the co-conspirators and unindicted co-conspirators — though not Trump — conspired to "unlawfully access secure voting equipment and voter data" in Georgia. The stolen data was then shared with other "members of the enterprise."
According to the indictment, on Dec. 6, 2020, then Trump campaign attorney Sidney Powell entered a written agreement with a forensic data firm to perform forensic analytics on Dominion Voting Systems equipment. Several of the co-conspirators subsequently and unlawfully "breach[ed]" election equipment and voter data in the Coffee County Board of Elections & Registration Office, the indictment says. Before the indictment was announced, CNN had reported that local investigators were "in possession of text messages and emails" implicating members of Trump's team in the breach.
In addition to Powell, Misty Hampton, a former elections supervisor for Coffee County, Cathy Latham, a former GOP official in Coffee County, and Scott Hall, a pro-Trump poll watcher, were charged for their involvement in the breach.
Finally, the indictment alleges that several of the co-conspirators — including David Shafer, former chairman of the Georgia Republican Party, Powell and Latham — lied to government investigators and in court proceedings in Fulton County "to cover up the conspiracy."
How has Trump's campaign responded?
In a statement posted on its website, the Trump campaign called all the indictments against Trump "bogus," and attacked Willis, the Fulton County district attorney, as a "rabid partisan" who "strategically stalled her investigation" for political reasons.
"They could have brought this two and half years ago, yet they chose to do this for election interference reasons in the middle of President Trump's successful campaign," the statement said.
The campaign added: "They are taking away President Trump's First Amendment right to free speech, and the right to challenge a rigged and stolen election that the Democrats do all the time. The ones who should be prosecuted are the ones who created the corruption."
In his own Truth Social post about the latest indictment, Trump wrote, "the Witch Hunt continues!" In another post, he said he would hold a press conference on Aug. 21 to release a "Large, Complex, Detailed but Irrefutable REPORT on the Presidential Election Fraud which took place in Georgia," claiming it would exonerate him and his co-defendants.
As we have noted before, a prosecution or conviction does not prevent Trump from running for or serving as president.
Can Trump be pardoned?
In Georgia, a five-member board — not the governor — considers applications for pardons, and those convicted of crimes can't apply until five years after they have completed their sentences.
If Trump and others are convicted of crimes under this indictment, they would have to serve any prison sentences and then wait five years, pay any fines and "have no pending charges" against them before requesting pardons, according to the state Board of Pardons and Paroles' website.
Board members are appointed by the governor and confirmed by the state Senate for seven-year terms, the state Constitution says.
A U.S. president can only issue pardons for federal, not state, offenses.
What is the status of other Trump investigations?
In April, Trump pleaded not guilty in New York to 34 felony counts of falsifying business records. In the indictment, Manhattan District Attorney Alvin Bragg alleged the records were falsified in order to help Trump's 2020 presidential campaign by concealing hush money payments to three people alleging extramarital affairs with Trump. The trial has been scheduled for March 25, 2024.
Then, in June, Trump was charged with 37 federal felony counts related to his alleged mishandling of sensitive classified documents after he was no longer president, as well as obstructing federal officials who tried to retrieve those documents. A superseding indictment in July added new charges for corruptly attempting to alter, destroy or conceal evidence – which stemmed from his alleged attempt to delete security camera footage at Mar-a-Lago. Trump pleaded not guilty on all counts; his trial begins on May 20, 2024.
And earlier this month, the Justice Department filed its second indictment against Trump — for attempts he made to stay in power despite losing the 2020 election. Trump later pleaded not guilty to the indictment's four federal counts, including conspiracy to defraud the U.S. and conspiracy to obstruct an official proceeding. Jack Smith, the special counsel who is also leading the classified documents case, has requested that the trial start on Jan. 2, 2024.
---
Editor's note: FactCheck.org does not accept advertising. We rely on grants and individual donations from people like you. Please consider a donation. Credit card donations may be made through our "Donate" page. If you prefer to give by check, send to: FactCheck.org, Annenberg Public Policy Center, 202 S. 36th St., Philadelphia, PA 19104.