On June 9, the Department of Justice unsealed a 44-page indictment against former President Donald Trump detailing allegations not only of mishandling sensitive classified documents after he left office, but of obstructing federal officials who tried to get them back.
In a brief public statement, Jack Smith, the special counsel who is bringing the case, said the indictment charges Trump "with felony violations of our national security laws as well as participating in a conspiracy to obstruct justice."
"Our laws that protect national defense information are critical to the safety and security of the United States and they must be enforced," Smith said. "Violations of those laws put our country at risk."
"We have one set of laws in this country, and they apply to everyone," Smith added.
Trump became the first former president to face federal criminal charges. He pleaded not guilty in Miami on June 13.
The indictment also charged Walt Nauta, an executive assistant to the former president, with conspiring to obstruct justice and making false statements to investigators, among other alleged violations. Nauta has also pleaded not guilty.
Seven weeks later, the Justice Department filed a superseding indictment adding new charges against Trump and Nauta, as well as a third man, Carlos De Oliveira, property manager at Trump's Mar-a-Lago Club. The new charges include an allegation that the three men asked the club's director of information technology to "delete security camera footage at The Mar-a-Lago Club to prevent the footage from being provided to a federal grand jury." 
(For more on the investigation, see "Timeline of FBI Investigation of Trump's Handling of Highly Classified Documents.")
Here, we answer some questions about the charges, Trump's response and more.
What are the charges against Trump?
The original indictment contained 37 felony counts – including violating Section 793(e) of Title 18, which is part of the Espionage Act. That section of the law makes it a crime to have "unauthorized possession of, access to, or control over" documents "relating to the national defense which information the possessor has reason to believe could be used to the injury of the United States or to the advantage of any foreign nation."
The 37 charges include 31 counts of "willful retention of national defense information," a crime punishable by up to 10 years in prison.
Additional counts of "conspiracy to obstruct justice," "withholding a document or record," "corruptly concealing a document or record," and "concealing a document in a federal investigation," all carry a maximum sentence of 20 years imprisonment.
For the other two counts, a "scheme to conceal" and making "false statements and representations," Trump, if found guilty, could be incarcerated for five years.
Each of the charges also carries a maximum fine of $250,000, as well as a maximum of three years of "supervised release," or parole, after imprisonment.
The superseding indictment added information to the conspiracy to obstruct justice charge, and added new charges – attempting to destroy evidence in an official proceeding and corruptly attempting to do so – stemming from his alleged attempt to delete security camera footage at Mar-a-Lago.
It also added yet another count of illegally retaining national defense information, specifically a classified "plan of attack" on another country, reportedly Iran.
What details are in the indictment?
According to the indictment, Trump had unauthorized possession of "information regarding defense and weapons capabilities of both the United States and foreign countries," including the U.S. nuclear programs.
"The unauthorized disclosure of these classified documents could put at risk the national security of the United States," the indictment says, adding that Trump kept the sensitive documents "in a ballroom, a bathroom and shower, an office space, his bedroom, and a storage room."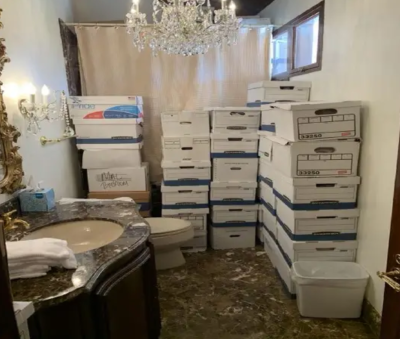 On two occasions in 2021, Trump allegedly showed the classified documents to others. The government has an audio recording of one such instance, which occurred in July 2021 at his golf course in New Jersey, that involved documents about a planned attack on Iran.
"Trump showed and described a 'plan of attack' that Trump said was prepared for him by the Department of Defense and a senior military official," the indictment says of the July 2021 incident. "Trump told the individuals that the plan was 'highly confidential' and 'secret.' Trump also said, 'as president I could have declassified it,' and, 'Now I can't, you know, but this is still a secret."
About a month or two later, Trump allegedly showed a staffer at his political action committee "a classified map related to a military operation."
The indictment also accuses Trump of obstructing justice and providing false statements.
It says Trump suggested that "his attorney hide or destroy documents called for by the grand jury subpoena," as well as falsely claim that he did not have documents sought by the grand jury.
The indictment also describes how Trump hid boxes of documents from his own attorney after receiving the May 11, 2022, grand jury subpoena seeking documents "bearing classification markings."
On June 2, in response to the subpoena, an attorney for Trump searched boxes in a storage room at Mar-a-Lago, Trump's Florida home and club, for classified documents. But, prior to the inspection, Trump directed one of his employees, Walt Nauta, "to move boxes of documents to conceal them from Trump's attorney, the FBI, and the grand jury," according to the indictment. From May 23 to June 2, "Nauta — at Trump's direction — moved approximately 64 boxes from the Storage Room to Trump's residence" and returned "only approximately 30 boxes" for the attorney's review.
At Mar-a-Lago on June 3, 2022, another Trump attorney — who wasn't involved in reviewing the boxes — provided government agents with "38 unique documents bearing classification markings," and a sworn statement that said a "diligent search was conducted" for "all documents that are responsive to the subpoena."
But, shortly after the visit, "the FBI uncovered multiple sources of evidence indicating" that Trump's "response to the May 11 grand jury subpoena was incomplete and that classified documents remained at the Premises," a court filing said. That evidence — including surveillance video showing Nauta moving boxes — resulted in the FBI obtaining a court-approved search warrant, which was executed on Aug. 8, 2022.
"During the execution of the warrant at The Mar-a-Lago Club, the FBI seized 102 documents with classification markings in Trump's office and the Storage Room," including 17 top secret documents, the indictment says.
The revised indictment added a new allegation of Trump's attempt to delete surveillance video of his employees moving boxes from the storage room.
According to the indictment, the DOJ emailed Trump's legal team a draft grand jury subpoena on June 22, 2022, that included a request for security camera footage, including from cameras "where the Storage Room was located." The next night, Trump called De Oliveira and the two men spoke for about 24 minutes.
On June 27, 2022, De Oliveira met with the club's IT director and told him "that 'the boss' wanted the server deleted," the indictment says.
The indictment also uses Trump's own words against him. During the 2016 presidential campaign, Trump frequently attacked Democratic nominee Hillary Clinton for mishandling classified information. The indictment includes several examples of Trump promising during the campaign to "enforce all laws concerning the protection of classified information."
"No one will be above the law," Trump said at that time.
Who is Walt Nauta?
Nauta, a member of the U.S. Navy who served as a valet in Trump's White House and later as Trump's personal aide, has also been indicted in the documents case.
According to the indictment, Nauta served as Trump's "body man" starting in August 2021, and he was personally involved in moving around boxes of records at Mar-a-Lago — at Trump's direction — to avoid their detection by not only the Department of Justice, but also Trump's own attorneys.
Trump and Nauta "misled" a Trump attorney "by moving boxes that contained documents with classification markings so that [the attorney] would not find the documents and produce them to a federal grand jury," according to the indictment. As we said, Nauta helped move approximately 64 boxes from a storage room to Trump's residence, the indictment says.
The indictment says that under questioning by the FBI, Nauta also lied about that.
Nauta has been charged with violating federal codes related to conspiring to obstruct justice, withholding a document or record, corruptly concealing a document or record, concealing a document in a federal investigation, scheming to conceal, and making false statements and representations. The first four carry a maximum penalty of 20 years in prison and a $250,000 fine, and the last two carry a maximum of five years in prison and a $250,000 fine.
Who is Carlos De Oliveira?
Since January 2022, De Oliveira has been the property manager of Mar-a-Lago. Prior to that, according to the indictment, he was a valet at the club.
De Oliveira voluntarily spoke to the FBI on Jan. 13, claiming that he "never saw" boxes being moved into and out of the club's storage room. The indictment says that's false "because De Oliveira had personally observed and helped move Trump's boxes when they arrived at The Mar-a-Lago Club in January 2021."
In addition to being charged with one count of making false statements and one count of concealing documents, De Oliveira also was charged with two counts related to his role in attempting to delete security footage. Making false statements carries a maximum penalty of five years in prison, while the other three charges carry a maximum penalty of 20 years in prison. All four charges carry a maximum fine of $250,000.
What about Biden?
In a Truth Social post announcing his indictment, Trump quickly turned to whataboutism, lashing out at what he perceives as unequal Department of Justice treatment of Biden for doing what Trump says is the same or worse. But it's not the same, and Trump's claims are false and misleading.
Trump said he had been indicted, "even though Joe Biden has 1850 Boxes at the University of Delaware, additional Boxes in Chinatown, D.C., with even more Boxes at the University of Pennsylvania, and documents strewn all over his garage floor where he parks his Corvette, and which is 'secured' by only a garage door that is paper thin, and open much of the time."
As we have explained, in 2012 Biden donated more than 1,850 boxes of records from his years in the U.S. Senate to the University of Delaware. The documents are not available for public access following an agreement between Biden and the university at the time of the donation not to provide public access to any of the materials until "two years after the donor [Biden] retires from public life." In October, a Delaware Superior Court judge upheld the University of Delaware's refusal to provide access to the documents after the nonprofit Judicial Watch sought them through a Freedom of Information Act request.
However, the Justice Department, with Biden's consent, reviewed the documents in February and did not find any with classified markings, although some were taken for further review, CBS News has reported.
As for the "additional Boxes in Chinatown, D.C.," Trump is referring to the revelation from Biden aide Kathy Chung that the boxes of documents taken from Biden's vice presidential offices that ended up at the Penn Biden Center — and were later determined to contain classified documents — were previously and temporarily kept at two other locations, including one in Chinatown.
"He had seven or eight boxes in Chinatown in Washington, D.C., where nobody even speaks English in Chinatown," Trump said at a Fox News town hall on June 1. "Chinatown is very — it's in favor of China and he has boxes in Chinatown."
Testifying before the House Oversight Committee in April, Chung said after the materials were initially boxed up at the end of Biden's term as vice president, they were stored for six months at a space rented by the General Services Administration. The boxes were then moved temporarily — for about a month she said — to a private office space in the Chinatown neighborhood of Washington, D.C. The boxes, which she said were unopened at both of the temporary storage locations, were then permanently moved to the Penn Biden Center in D.C. So despite Trump's post, there are no longer any Biden documents being stored at the location in Chinatown.
It's also misleading for Trump to say "even more" boxes were stored at the University of Pennsylvania. Those are the same boxes that were stored temporarily in Chinatown.
As we detailed in our Jan. 19 story, "Timeline of Biden's Classified Documents," Richard Sauber, special counsel to Biden, said in a Jan. 9 statement that on Nov. 2, while packing files in preparation for vacating office space used by the former vice president at the Penn Biden Center for Diplomacy and Global Engagement in Washington, D.C., personal attorneys for Biden came across "what appear to be Obama-Biden Administration records, including a small number of documents with classified markings." The University of Pennsylvania-affiliated think tank was established in 2017, after Biden was no longer vice president, and its offices opened in February 2018, about a year before Biden took a leave of absence to run for president.
The office of the Penn Biden Center "was not authorized for storage of classified documents," Attorney General Merrick Garland said in remarks on Jan. 12. Garland said that on Nov. 9 the FBI began "an assessment, consistent with standard protocols, to understand whether classified information had been mishandled in violation of federal law." Garland also noted that on Nov. 14, he tapped U.S. Attorney for the Northern District of Illinois John R. Lausch Jr. to conduct an initial review related to "the possible unauthorized removal and retention of classified documents or other records" at the Penn Biden Center.
With Biden's consent, the FBI searched the Penn Biden Center in mid-November. But the existence of even more classified documents came to light a month later when Biden's personal counsel informed Lausch that additional documents from Biden's time as vice president bearing classification markings were found in the garage of Biden's home in Wilmington, Delaware. The FBI took possession of the documents.
Still more documents with classified markings were found by Biden attorneys in Biden's home and garage in mid-January. At various points, the FBI searched the Penn Biden Center, as well as Biden's homes in Wilmington and Rehoboth Beach, all with the consent and cooperation of Biden. According to CBS News' reporting and what we know from statements by Biden's lawyers, less than 30 classified documents were found in Biden's possession at different locations.
On Jan. 12, Garland announced the appointment of Robert Hur as a special counsel "to investigate whether any person or entity violated the law in connection with this matter." So the Biden mishandling of classified documents is not being ignored. The investigation has not concluded.
As we have written, there are significant differences between Biden's situation and Trump's. In Trump's case, the search warrant was issued after months of negotiations and a grand jury subpoena resulted in only a partial return of classified documents.
We should note that Trump has repeatedly claimed that he is being held to a double standard compared with other past presidents who he says have done the same thing. But as we have written, that's not accurate.
Do presidents have the authority to declassify documents?
On Truth Social, Trump shared a June 9 post from Sen. J.D. Vance of Ohio, who wrote: "The former president will be indicted for 'mishandling' his own government's classified info. Yet everyone agrees the president has the authority to declassify anything."
Yes, the president has the ultimate authority to declassify a document. As we've written: "The legal authority for classifying national security information rests in the president's power afforded as commander-in-chief and is guided by a series of presidential executive orders, beginning with one issued by President Franklin Roosevelt in 1940. The latest of such orders, Executive Order 13526, issued in late 2009 by then-President Barack Obama, lays out in detail the procedures to declassify information, and the various officials who are to be included in such decisions."
However, Trump's representatives have made the dubious claim that he previously declassified all of the Mar-a-Lago documents via a "standing order" that said "documents removed from the Oval Office and taken to the residence were deemed to be declassified the moment he removed them."
Multiple experts on national security and the law surrounding classified documents said that explanation isn't plausible, and a number of former Trump administration officials said they had no knowledge of the former president issuing such an order when he was in office.
John Bolton, Trump's former national security adviser, told the New York Times in 2022 that the claim is "almost certainly a lie."
Bolton told the Times he "was never briefed on any such order, procedure, policy" when he worked at the White House or after. "If he [Trump] were to say something like that, you would have to memorialize that, so that people would know it existed," Bolton said.
In a phone interview, Glenn Gerstell, who served as general counsel for the National Security Agency during the Obama and Trump administrations, told us the standard procedure for declassifying information is "quite detailed." He said a determination has to be made that the information is significant and in the public interest, followed by a determination that declassification wouldn't pose a security threat if the information was revealed. The agency that initiated the classification would also be consulted for input on whether the information should remain classified. The agency's recommendation would be considered by the president, who would then make a final decision, Gerstell said.
In addition, according to the indictment, Trump, in a July 2021 meeting at his Bedminster, New Jersey, golf resort, admitted that he had not declassified at least one classified Pentagon document in his possession about attacking Iran.
"[A]s president, I could have declassified. … Now I can't," a transcript of a recording of the conversation says. At another point, Trump tells those in the room, who did not have security clearances, that the document had been classified by the military. "Secret. This is secret information. Look, look at this," Trump reportedly said.
Can Trump continue to run for, or legally serve as, president if convicted?
"Yes, someone can run for president while under indictment or even having been convicted and serving prison time," Josh Chafetz, a Georgetown University law professor, told us in March. "The reason is that the Constitution lays out the qualifications for being president."
According to Article II, Section 1, Clause 5 of the U.S. Constitution, there are three qualifications to serve as president: He or she must be at least 35 years old upon taking office, a U.S. resident for at least 14 years and a "natural born Citizen, or a Citizen of the United States."
"These qualifications are understood to be exclusive," Chafetz said. "Anyone can be president so long as they meet the constitutional qualifications and do not trigger any constitutional disqualifications."
The 22nd Amendment states that "[n]o person shall be elected to the office of the President more than twice." But that wouldn't apply to Trump, who has been elected only once.
Insider surveyed nine other legal scholars who reached the same conclusion. One of them, Harvard University Professor Laurence Tribe, told the news site: "Some presidents have described the White House as a prison, but the Constitution doesn't specify that that's the only prison you could occupy in order to serve as president."
As an example, Chafetz cited Eugene V. Debs, the late labor leader, who, in 1920, ran for president from prison on the Socialist Party ticket and got almost 1 million votes.
What is the status of other Trump investigations?
In addition to handling the documents investigation on Trump, Garland has said Smith would also oversee the Justice Department's ongoing probe of "whether any person or entity unlawfully interfered with the transfer of power following the 2020 presidential election or the certification of the Electoral College vote held on or about January 6, 2021."
In addition, the Fulton County district attorney's office is investigating whether Trump's efforts to reverse the 2020 election outcome in Georgia amounted to a crime. In February, the jury foreperson of a special grand jury empaneled in Atlanta revealed that the grand jury recommended multiple people be indicted related to activities involving criminal interference in Georgia's 2020 elections. Although the jury forewoman did not name those recommended for indictment, she said, "You're not going to be shocked" by whom the list might include.
In mid-May, the Hill reported that Fulton County District Attorney Fani Willis asked judges in her county not to schedule trials and in-person hearings in the early part of August, in what many took as a sign that Willis will bring charges at that time.
On July 29, Willis told Atlanta's WXIA-TV that the case is "ready to go." 
"The work is accomplished," she said. "We've been working for two-and-a-half years. We're ready to go."
And, of course, Trump faces an indictment in New York accusing him of 34 felony counts of falsifying business records. In documents filed at Trump's arraignment on April 4, Manhattan District Attorney Alvin Bragg alleged the falsified business records were meant to conceal hush money payments to three people alleging extramarital affairs by Trump, in furtherance of helping Trump's presidential campaign.
Update, July 31: This story was updated with information from the superseding indictment.
---
Editor's note: FactCheck.org does not accept advertising. We rely on grants and individual donations from people like you. Please consider a donation. Credit card donations may be made through our "Donate" page. If you prefer to give by check, send to: FactCheck.org, Annenberg Public Policy Center, 202 S. 36th St., Philadelphia, PA 19104.