Speaker Kevin McCarthy announced on Sept. 12 that he would direct the House to open a formal impeachment inquiry against President Joe Biden.
The unilateral move came just a week and a half after McCarthy told Breitbart News that an impeachment inquiry "would occur through a vote on the floor of the People's House and not through a declaration by one person."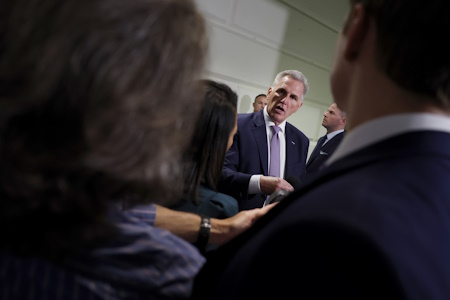 The inquiry — which will be led by the Republican chairmen of the House oversight, judiciary, and ways and means committees — is largely based on the findings of an investigation that the Republican-controlled House oversight committee officially launched eight months ago into Biden and his family's international business deals.
"House Republicans have uncovered serious and credible allegations into President Biden's conduct," McCarthy said. "Taken together, these allegations paint a picture of a culture of corruption."
But as we have written, there is currently no proof that Joe Biden was involved in the business deals of his son, Hunter, or that the president ever benefited from those deals or ever used his position as vice president to assist the companies on his son's behalf.
White House Press Secretary Karine Jean-Pierre called the inquiry a "political stunt" and said the oversight committee "has turned up with no evidence, none, that he [Biden] did anything wrong."
Even a handful of Republican House members have stated publicly that there isn't enough evidence to move forward with an impeachment inquiry.
"The time for impeachment is the time when there's evidence linking President Biden, if there's evidence linking President Biden, to a high crime or misdemeanor," Republican Rep. Ken Buck said on MSNBC on Sept. 10. "That doesn't exist right now."
In his announcement of the impeachment inquiry, McCarthy made numerous claims about what the House Republicans have discovered about Biden's activities that he said "warrant[s] further investigation by the House of Representatives."
Below, we review specific allegations that McCarthy made in a Sept. 12 announcement and where those allegations fall short of the evidence so far.
Phone Calls and Dinners
McCarthy: "Eyewitnesses have testified that the president joined on multiple phone calls and had multiple interactions, dinners, resulted in cars and millions of dollars into his son's and his son's business partners."
As we have written, Hunter Biden's former business partner, Devon Archer, revealed in congressional testimony on July 31 that Hunter Biden put his father on speakerphone to exchange pleasantries with Hunter Biden's foreign business associates on about 20 occasions over a 10-year period. Archer also described two occasions when Joe Biden attended dinners where foreign business partners — or prospective business partners — were present. Archer described the social interactions as part of the "brand" that Hunter Biden brought to foreign business deals.
But Archer also said the conversations were always limited to benign pleasantries, such as asking about the weather, and never included "specific business deal or business dealings or, you know, specifics about any kind of financial stuff."
House oversight committee research has documented that Hunter Biden and Archer made millions off their foreign business deals, and Archer testified that Kenes Rakishev, a businessman from Kazakhstan, once wired $142,300 to Hunter Biden to purchase a car. But there has been no evidence presented so far that Joe Biden's brief interactions exchanging "general niceties" with his son's foreign business associates resulted in Hunter Biden securing millions in those deals. (In one such incident in which Joe Biden visited via speakerphone, Archer noted they did not get the business of prospective clients, a French energy company). Archer said Joe Biden never participated in any of their business deals.
$20 Million to Biden Family Members and Associates
McCarthy: "We know that bank records show that nearly $20 million in payments were directed to the Biden family members and associates through various shell companies."
In August, the House oversight committee reported that it had obtained bank records showing "over $20 million in payments from foreign sources to the Biden family and their business associates." At the time, several Republican lawmakers, including McCarthy, incorrectly claimed that all of the money had been paid to "the Bidens" or "the Biden family."
A Washington Post analysis of House oversight committee memos concluded that about $7.5 million out of the roughly $23 million in foreign business deals identified by House investigators went to Biden family members, with the overwhelming majority of that going to Hunter Biden. The rest went to other business associates.
In a House Freedom Caucus news conference on Sept. 12, Rep. Dan Bishop said Biden family members and associates received that $20 million despite there being "no apparent … expertise or services rendered." In his House testimony, Archer said that a "large part of the value" that Hunter Biden brought to the foreign business deals was an "illusion of access" to his father, but Archer repeatedly noted that wasn't Hunter's only contribution. Archer also said Hunter Biden, a lawyer, had legal expertise in corporate governance and had contacts and experience in navigating Washington, D.C., bureaucracy.
Although Republicans have described some of the limited liability corporations used by Hunter Biden and his associates as shell corporations whose complexity could only be for nefarious purposes, the New York Times noted that "such entities are common in new business ventures."
Most important, however, as it relates to an impeachment inquiry, there has been no evidence uncovered to date that proves Joe Biden received any money from these foreign business deals, or that he took any actions with the intent to aid these businesses.
Suspicious Activity Reports
McCarthy: "The Treasury Department alone has more than 150 transactions involving the Biden family and other business associates that were flagged as suspicious activity by US banks."
McCarthy is referring to Suspicious Activity Reports, or SARs, that the House oversight committee obtained from U.S. financial institutions. The committee in a report last year said, "Between Hunter Biden and James Biden, President Biden's brother, American banks have generated at least 150 SARs."
So, the bank reports were about the business dealings of the president's son and brother — but not the president. Also, the fact that a bank filed such a report isn't necessarily evidence of a crime.
Under the Bank Secrecy Act, financial institutions are required to "report suspicious activity that might signal criminal activity" to the Treasury Department's Financial Crimes Enforcement Network, or FinCEN, the department says. In fiscal year 2022, FinCEN received "approximately 3.6 million suspicious activity reports," and it has projected that it will receive about 3.7 million SARs in FY 2023, which ends Sept. 30, according to the Congressional Research Service.
But that doesn't mean that more than 3 million financial crimes occurred in those years.
"The reports reflect compliance officers' concerns regarding a transaction; they do not, however, represent proof nor imply a criminal investigation in the matter," Maria Nizzero, then a Dow Jones research editor, wrote in a blog about SARs reports in September 2020.
Biden 'Lied'
McCarthy: "Through our investigations, we have found that President Biden did lie to the American people about his own knowledge of his family's foreign business dealings."
On its website, the House oversight committee alleges that Joe Biden "Lied At Least 16 Times About His Family's Business Schemes." It lists several instances in which it alleges that Biden "lied about not talking to his son about his business dealings" and other times the committee claims the president "lied" about payments his family members received from Chinese companies or individuals.
In August, Joe Biden did deny that bank records obtained by the oversight committee showed $1 million in transfers to Biden family members through a third-party paid by a Shanghai-based energy company. He also falsely claimed during a presidential debate in October 2020 that Hunter Biden "has not made money" from China. According to a transcript of court testimony in July, Hunter Biden acknowledged that he did receive hundreds of thousands of dollars via Chinese business deals in 2017 and 2018.
But that does not mean that Joe Biden had prior knowledge of the payments and therefore "lied" about them.
It also has not been proven that he lied about having "never discussed" business with son, as Joe Biden has said several times.
The oversight committee has pointed to times when Joe Biden met some of Hunter Biden's business associates and other occasions when Joe Biden talked to Hunter Biden and his business associates via speakerphone. Also, Hunter Biden reportedly sent a WhatsApp message to a business associate in July 2017 in which he claimed that his father was in the room with him. "I am sitting here with my father and we would like to understand why the commitment made has not been fulfilled," Hunter Biden wrote.
That still is not proof that Joe Biden was in the room that day or that he talked with Hunter Biden about the details of his business deals or specific transactions.
The Firing of Shokin
A key element of the Republican case against Biden is the Ukrainian Parliament's vote in March 2016 to remove Viktor Shokin as the country's prosecutor general. Shokin has claimed — without evidence — that Biden had him fired because he was investigating Burisma, a Ukrainian oil and gas company that employed Hunter Biden at the time.
McCarthy didn't mention it in his remarks announcing the impeachment inquiry, but Rep. Scott Perry of Pennsylvania did at a press conference that day.
"We also have the president — the vice president at the time — on record saying that the prosecutor was fired. 'Well, son of a bitch, the prosecutor was fired.' Right? Because the prosecutor was going after the company that his son was working on," Perry said.
Perry was referring to remarks Biden made at the Council on Foreign Relations in 2018. Biden boasted that he threatened to withhold $1 billion in U.S. aid unless Shokin was fired.
"I said, you're not getting the billion. I'm going to be leaving here in, I think it was about six hours. I looked at them and said: I'm leaving in six hours. If the prosecutor is not fired, you're not getting the money," Biden said, recalling a meeting with Petro Poroshenko, Ukraine's president at the time. "Well, son of a bitch. He got fired. And they put in place someone who was solid at the time."
As we wrote last month and many times before that, Biden was carrying out the Obama administration's policy — which was shared by numerous others.
About a month before Shokin was fired, the managing director of the International Monetary Fund threatened to withhold $40 billion unless Ukraine undertook "a substantial new effort" to fight corruption after the country's economic minister and his team resigned to protest government corruption. That same month, a "reform-minded deputy prosecutor resigned, complaining that his efforts to address government corruption had been consistently stymied by his own prosecutor general, Viktor Shokin," according to a 2017 Congressional Research Service report.
Michael McFaul, a former U.S. ambassador to Russia under President Barack Obama, summed it up in a Sept. 20, 2019, tweet: "It was not just Obama administration policy (not just 'Biden policy') to push for this Ukrainian general prosecutor to go, but a shared view in many capitals, multilateral lending institutions, and pro-democratic Ukrainian civil society."
Alleged Biden 'Bribe'
McCarthy: "Even a trusted FBI informant has alleged a bribe to the Biden family."
McCarthy is referring to an FBI report made public on July 20 in which an FBI informant said that years ago, Burisma owner Mykola Zlochevsky told the informant he was "pushed to pay" bribes of $5 million each to Hunter and Joe Biden for what the informant understood was assurance that Shokin would be fired. The informant said Zlochevsky told him "he did not send any funds directly to the 'Big Guy'" — which the informant believes was a reference to Joe Biden — and that it would take investigators "10 years to find the records" of the illicit payments to the Bidens.
The report is unverified and no evidence has yet been discovered of such a payment to Joe Biden. The informant said he could not verify whether Zlochevsky's statements to him were true, noting that "it is very common for business men in post-Soviet countries to brag or show-off." Archer testified that he was not aware of any $5 million payments to either Hunter or Joe Biden, and he cautioned not to put too much stock in the FBI report because it was his experience that Ukrainian businessmen exaggerate and "tell fibs" about bribes.
The bribery claim was also contradicted by Zlochevsky himself, in a document initially obtained by Rudy Giuliani during his investigation of the Bidens in 2019 and 2020.
"NO ONE FROM BURISMA EVER HAD ANY CONTACTS WITH VP BIDEN OR PEOPLE WORKING FOR HIM DURING HUNTER BIDEN'S ENGAGEMENT," Zlochevsky allegedly wrote.
'Special Treatment'
McCarthy: "Finally, despite these serious allegations, it appears that the president's family has been offered special treatment by Biden's own administration, treatment that not otherwise would have received if they were not related to the president."
In his remarks, McCarthy didn't identify the "special treatment" that the Biden family members were allegedly given by the administration. However, McCarthy and others have alleged that Hunter Biden's plea agreement (which was later withdrawn) on tax and gun charges was a "sweetheart deal." McCarthy has also cited two IRS whistleblowers who testified earlier this year that Hunter Biden had received "preferential treatment" from the Department of Justice.
But there is no evidence that the president was involved in any decisions made by the IRS and DOJ involving his son.
As we have written, U.S. Attorney David Weiss announced in June that Hunter Biden had agreed to plead guilty to two misdemeanor counts of willful failure to pay $100,000 in taxes on over $1.5 million in income he received in 2017 and 2018. Hunter Biden also agreed to enter into a pretrial diversion program for a felony charge of firearm possession by a user of a controlled substance, which stemmed from him providing false information about his drug use while obtaining a gun in 2018.
Each of the tax charges carries up to one year in prison and a fine of at least $100,000, and the felony gun charge ordinarily carries a maximum of 10 years in prison and other penalties, including fines. News outlets reported that the Justice Department planned to recommend a sentence of probation for the tax charges, and the pretrial diversion program would allow him to avoid prison time if certain conditions were met.
In arguing that the Justice Department did not go easy on Hunter Biden, some former federal prosecutors have noted that first-time tax offenders are rarely prosecuted or jailed, especially for misdemeanor charges, and that few people are ever prosecuted or jailed for filing false gun applications. Other legal analysts have pointed out that the vast majority of federal cases involving criminal charges result in plea agreements.
But the plea deal, which still needed to be approved by a federal judge, ended up falling apart in late July. U.S. District Court Judge Maryellen Noreika raised questions about whether the deal shielded Hunter Biden from other federal charges, such as, hypothetically, failing to register as a foreign agent. Then, on Aug. 11, U.S. Attorney General Merrick Garland announced the appointment of Weiss to serve as special counsel in the ongoing investigation into Hunter Biden, "as well as for any other matters that arose or may arise from that investigation."
In a court filing earlier this month, Weiss indicated that he now intends to seek a grand jury indictment to bring gun charges against Hunter Biden by the end of the month.
In the case of the IRS whistleblowers, some of the alleged special treatment occurred under the previous administration, and other allegations are a matter of dispute.
Gary Shapley Jr., a supervisory special IRS agent investigating Hunter Biden, told the House Ways and Means Committee on May 26 that after Biden "became the presumptive Democratic nominee for President in early April 2020 career DOJ officials dragged their feet" on allowing the IRS to take certain investigative steps. For example, the DOJ denied the agency's requests to seek search warrants involving Hunter Biden, he said.
Asked why he didn't go to then-Attorney General Bill Barr or Congress with his complaints in 2020, Shapley said: "I'm not coming to the House Ways and Means Committee when a prosecutor says we can't do one search warrant. That's just not — I'm not going to do — I'm never going to do that, right? This is a series of events over 3 years where every single thing was to obstruct the investigation."
He also alleged that Weiss, the U.S. attorney in Delaware, requested to be named a special counsel after Biden became president, but Garland denied the request. That meant, Shapley claimed, that Weiss could not bring criminal charges against Hunter Biden outside his jurisdiction and, as a result, could not pursue serious charges for the 2014 and 2015 tax years.
Weiss denied the allegation. "To clarify an apparent misperception and to avoid future confusion, I wish to make one point clear: in this case, I have not requested Special Counsel designation," Weiss wrote to the Senate, adding that he had "never been denied the authority to bring charges in any jurisdiction."
---
Editor's note: FactCheck.org does not accept advertising. We rely on grants and individual donations from people like you. Please consider a donation. Credit card donations may be made through our "Donate" page. If you prefer to give by check, send to: FactCheck.org, Annenberg Public Policy Center, 202 S. 36th St., Philadelphia, PA 19104.