Several Republican lawmakers have objected to a plea deal between the Department of Justice and Hunter Biden, the president's son, claiming it was "a slap on the wrist." We'll explain the plea and what we know about several other offenses Republicans say Hunter Biden committed, some of which are unsubstantiated.
The Justice Department investigation, which was ongoing during former President Donald Trump's term and is headed by a Trump-appointed U.S. attorney, has led to an agreement by Hunter Biden to plead guilty to two misdemeanor charges for not paying federal taxes. The DOJ reportedly will recommend a sentence of probation. Hunter Biden also agreed to enter into a pretrial diversion program for a felony charge of firearm possession by a user of a controlled substance.
Update, Aug. 16: On July 26, the plea deal fell apart. The deal dissolved after U.S. District Judge Maryellen Noreika raised questions about whether the deal shielded Hunter Biden from other federal charges, such as, hypothetically, failing to register as a foreign agent. On Aug. 11, U.S. Attorney General Merrick Garland announced the appointment of U.S. Attorney David Weiss to serve as special counsel in the ongoing investigation into Hunter Biden, "as well as for any other matters that arose or may arise from that investigation."
Update, Sept. 19: Federal prosecutors charged Biden on Sept. 14 with three counts related to his purchase and possession of a Colt Cobra revolver. Biden is charged with lying about his drug use in order to purchase the gun in 2018, which carries a maximum penalty of 10 years in prison; lying about his drug use on a form that would be kept by the dealer, which carries a maximum penalty of five years; and possession of a firearm while using illegal drugs, which carries a maximum penalty of 10 years.
In a June 20 statement, the day the agreement was announced, Rep. Elise Stefanik, the House Republican conference chair, summed up the Republican reaction. "This is the epitome of the politicization and Weaponization of Joe Biden's Department of Justice as they give a slap on the wrist to President Biden's son – a tax fraud and corrupt pay-to-play criminal," Stefanik said. "It's never been more clear that we have a two-tiered system of justice when you have the son of the sitting President of the United States selling our country out to the highest bidder, laundering money, committing tax fraud, accepting bribes, illegally obtaining a firearm, and shamefully avoiding child support."
We'll start with "tax fraud" and the plea deal.
Tax and Gun Charges
Hunter Biden has agreed to plead guilty to two misdemeanor counts of willful failure to pay taxes, according to a June 20 letter from the office of David C. Weiss, the Trump-appointed U.S. attorney for Delaware leading the federal probe.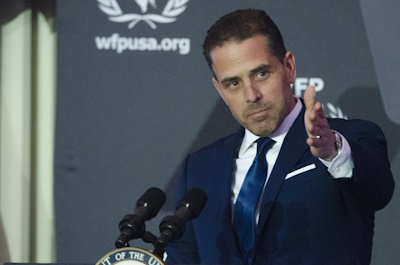 The prosecutors said Biden made over $1.5 million in taxable income in both 2017 and 2018, but didn't pay the more than $100,000 in federal income tax he owed by the filing deadline for each of those years. He paid off his outstanding tax debt in 2021.
For each count, Hunter Biden could face up to one year in prison and a fine of at least $100,000. But news outlets reported that, as part of the deal, the Justice Department plans to recommend a sentence of probation for the tax charges, potentially sparing him any jail time.
Hunter Biden also was charged separately with a single count of possession of a firearm by a person who is an unlawful user of or addicted to a controlled substance, a felony offense.
In his 2021 memoir, "Beautiful Things," Hunter Biden, who struggled with drug use for years, wrote that he relapsed and was regularly using drugs in 2018, the year that he possessed a firearm in Delaware, according to the charging documents. Politico reported in March 2021 that when buying the gun, Biden answered "no" to a question on the firearm transaction form that asks, "Are you an unlawful user of, or addicted to, marijuana or any depressant, stimulant, narcotic drug, or any other controlled substance?"
Biden had the gun for about two weeks, before his then-girlfriend found it and discarded it in a trash bin that was behind a local grocery store.
The felony gun charge ordinarily carries a maximum of 10 years in prison and other penalties, including fines. However, Biden agreed to enter into a not-yet-disclosed pretrial diversion agreement for the gun offense, the court documents say.
Diversion programs "divert certain offenders from traditional criminal justice processing into alternative systems of supervision and services," according to a Justice Department manual. Successful completion of a diversion program could result in criminal charges being dropped or reduced, "or a more favorable recommendation at sentencing."
The two agreements still have to be approved by a federal district judge and any penalties would be based on U.S. sentencing guidelines and other factors, Weiss' office said.
While Stefanik and other Republicans have called this a "sweetheart deal" or a "slap on the wrist" for Hunter Biden, some legal experts have said the DOJ did not go easy on him.
Andrew Weissmann, a former federal prosecutor and FBI general counsel, said that first-time tax offenders "rarely get prosecuted" and it's "even rarer" for them to be jailed.
"And false gun applications sadly also almost never get prosecuted or jail time. So this is if anything harsh, not lenient," he wrote in a June 20 tweet.
Renato Mariotti, another former federal prosecutor, also tweeted that "[m]isdemeanor tax charges are rarely charged on their own, without felony tax counts."
Douglas Berman, an Ohio State University law professor and a sentencing expert, told the New York Times that prosecutors may have felt pressure to charge Biden.
"Everyone is paying attention and the facts are not in dispute, so a failure to bring charges would create the perception that there was some sort of special treatment or leniency being given to the president's son," the newspaper quoted him saying.
But he predicted that most prosecutors would say these offenses in general wouldn't warrant making this a federal case "unless there's reason to be concerned that there's a public safety issue or the trust that everyone is treated equally under the law is at stake."
'Laundering Money'
As other Republicans have done, Stefanik stated as fact that Hunter Biden is "laundering money" — a charge that has not been substantiated.
The Justice Department reportedly has been investigating Hunter Biden's business dealings, including for money laundering. Stefanik's office referred us to a New York Times story from March 2022 that said the DOJ's tax probe was "widened in 2018" to include potential violations of "money laundering rules."
Republican members on the House oversight committee have been investigating Hunter Biden since 2020. In an interim report released in November 2022, the Republicans on the committee claimed to have potential evidence of money laundering, alleging that "Hunter Biden and James Biden, President Biden's brother, American banks have generated at least 150 SARs," or suspicious activity reports.
Under the Bank Secrecy Act, banks and other financial institutions are required to "report suspicious activity that might signal criminal activity" to the Treasury Department's Financial Crimes Enforcement Network, or FinCEN, as explained on the Treasury website.
The House Republican committee report said it obtained "several SARs that implicate Hunter in criminal activity." The committee report featured one filed by JPMorgan Chase regarding transactions that the bank said "may be associated to prostitution or adult entertainment services."
Banks file millions of such reports every year. In fiscal year 2022, FinCEN received "approximately 3.6 million suspicious activity reports," and it has projected that it will receive about 3.7 million SARs in FY 2023, which ends Sept. 30, according to the Congressional Research Service.
The mere filing of such reports doesn't mean that a crime has occurred.
"The reports reflect compliance officers' concerns regarding a transaction; they do not, however, represent proof nor imply a criminal investigation in the matter," Maria Nizzero, a Dow Jones research editor, wrote in an article about SARs reports in September 2020.
On the day Hunter Biden's plea agreement was announced, Rep. James Comer, chairman of the House oversight committee, was asked by a reporter why he thought his committee would be able to uncover criminal evidence that federal prosecutors so far have not found.
"Well, I've wondered did the prosecutor find all the shell companies?" Comer said. "Did the prosecutor go through the suspicious activity reports, where six different American banks suggested that the Bidens were involved in a money-laundering scheme through various shell companies?"
The federal investigation is ongoing. But so far the committee has only "suggested" — as Comer said — that Hunter Biden has laundered money. The committee hasn't proved it, despite what some Republicans have claimed.
Bribery Claim
When Stefanik referenced Hunter Biden "accepting bribes," she is referring to allegations contained in a recently unearthed, and unverified, report from an FBI informant who said that years ago, a Ukrainian oligarch bribed Hunter and Joe Biden.
The existence of the report was revealed on May 3 by Sen. Chuck Grassley, the ranking Republican on the Budget Committee, and Comer when they sent a letter to Attorney General Merrick Garland and FBI Director Christopher Wray. It said a whistleblower had brought to their attention that "the Department of Justice (DOJ) and the Federal Bureau of Investigation (FBI) possess an unclassified FD-1023 form that describes an alleged criminal scheme involving then-Vice President Biden and a foreign national relating to the exchange of money for policy decisions."
That same day Comer issued a subpoena seeking the document from the FBI.
According to the FBI, "the FD-1023 is the form our special agents use to record raw, unverified reporting from confidential human sources (CHSs). FD-1023s merely document that information; they do not reflect the conclusions of investigators based on a fuller context or understanding. Recording this information does not validate it, establish its credibility, or weigh it against other information known or developed by the FBI in our investigations."
Furthermore, the FBI said, "Protecting this type of information from wider disclosure is crucial to our ability to recruit sources and ensure the safety of the source or others mentioned in the reporting."
Wray ultimately allowed Comer and members of his committees, Republicans and Democrats, to view a redacted version of the documents (with the name of the informant withheld) in person in a secure facility at the Capitol.
According to legislators who have viewed the documents and spoken to DOJ officials about them, the report contains information from a trusted FBI informant passing along an allegation that an executive with the Ukrainian oil and gas company Burisma Holdings — for which Hunter Biden served on the board of directors from 2014 to 2019 — paid bribes of $5 million to both Hunter and Joe Biden. Republican Reps. Anna Paulina Luna and Marjorie Taylor Greene, both of whom viewed the documents, said that executive was Burisma owner Mykola Zlochevsky.
"It was all a bribe to get [former Ukrainian prosecutor general Viktor] Shokin fired," Greene said.
Some background: Trump was impeached in the House in 2019 (and later acquitted by the Senate) for attempting to influence Ukrainian President Volodymyr Zelensky to announce the opening of an investigation into Joe Biden. At issue was Biden's efforts when he was vice president to get Ukraine's then-president, Petro Poroshenko, to fire Shokin, who was widely viewed as ineffective at prosecuting corruption. In early 2018, Biden boasted that he threatened Poroshenko with losing $1 billion in loan guarantees from the U.S. if he didn't fire Shokin, who was removed in March 2016.
As we have written, Biden's actions were in line with the administration's stated objective to remove Shokin, and at the time the international community and anti-corruption advocates in Ukraine were also calling for Shokin to be removed from office for his failure to aggressively prosecute corruption.
In December 2015, the Wall Street Journal reported that Zlochevsky was under investigation by Ukrainian and British authorities for "alleged criminal wrongdoing," and the article quoted anti-corruption advocates in Ukraine who were concerned that Zlochevsky would be protected from prosecution because of Hunter Biden's role with Burisma.
"If an investigator sees the son of the vice president of the United States is part of the management of a company … that investigator will be uncomfortable pushing the case forward," Daria Kaleniuk, executive director of Ukraine's Anti-Corruption Action Center, told the Wall Street Journal.
In July 2019, Kaleniuk told the Washington Post that "Shokin was not investigating. He didn't want to investigate Burisma. And Shokin was fired not because he wanted to do that investigation, but quite to the contrary, because he failed that investigation."
The New York Times in September 2019 reported that while Shokin "was not aggressively pursuing investigations into Mr. Zlochevsky or Burisma … the oligarch's allies say Mr. Shokin was using the threat of prosecution to try to solicit bribes from Mr. Zlochevsky and his team, and that left the oligarch's team leery of dealing with the prosecutor."
Whether or not Shokin's removal may have aligned with the desires of Zlochevsky, there's no evidence outside of the FBI's FD-1023 form, which has not been publicly released, that Zlochevsky reportedly attempted to bribe the Bidens.
Grassley and Comer have been careful to note that the allegations are unproven, and that they are only seeking to find out more about the extent of the FBI investigation into it.
"It is a very serious allegation," Grassley said. "I wish I could say that I knew it was true or untrue."
On June 12, Grassley added the detail that according to the 1023 form, "the foreign national possesses fifteen audio recordings of phone calls between him and Hunter Biden" and "two audio recordings of phone calls between him and then-Vice President Joe Biden" that "were allegedly kept as a sort of insurance policy for the foreign national in case he got into a tight spot."
Grassley later told CNN, "I don't even know where they [the recordings] are. I just know they exist, because of what the report says. Now, maybe they don't exist. But how will I know until the FBI tells us, are they showing us their work?"
In remarks after his arraignment on charges related to handling classified documents, Trump framed the allegation in more definitive terms, saying that "evidence revealed Joe Biden took a $5 million bribe from Ukraine." Again, to date, there is no evidence that actually happened.
There is some dispute about the status of the DOJ's investigation into the alleged bribery.
The Washington Post, citing "people familiar with the investigation," reported that the "allegation contained in the document was reviewed by the FBI at the time and was found to not be supported by facts, and the investigation was subsequently dropped with the Trump Justice Department's sign-off."
Rep. Jamie Raskin, the ranking Democrat on the Committee on Oversight and Accountability, said the "assessment was closed after a determination was made that there were no more investigative steps to be taken and the evidence collected did not meet FBI's standard for opening a preliminary or full-scale investigation—namely that the assessment had not developed an articulable factual basis to reasonably indicate a crime may have occurred."
But in a "Fox News Sunday" interview on June 11, Bill Barr, attorney general under Trump, disputed that, saying, "investigation of the allegations made in that document was not closed down." Barr said the allegation was vetted in the DOJ's Pittsburgh office.
"They actually went back and developed more information that apparently had been overlooked by the FBI," Barr said. "And they developed this 1023 that has a lot of detail. And then they took it to the Delaware and to other offices and briefed them on it for their use and for follow up. … They were simply performing a unique and limited task of vetting information that would then go to pending already open investigations."
It's unclear what the status is of a possible bribery investigation, now that, in an investigation out of the DOJ office in Delaware, Hunter Biden has agreed to plead guilty to not paying his taxes on time in exchange for probation.
Chris Clark, attorney for Hunter Biden, released a statement saying, "With the announcement of two agreements between my client, Hunter Biden, and the United States Attorney's Office for the District of Delaware, it is my understanding that the five-year investigation into Hunter is resolved."
But the last line of the press release from the U.S. Attorney's Office about the charges filed against Hunter Biden ends with the sentence: "The investigation is ongoing."
In a press conference on June 20, Comer said he didn't know what to make of that.
"I think everyone in America wants to know, what do you mean by, 'This is an ongoing investigation'?" Comer said.
Comer said the FBI that day had made available to him two other FD-1023 forms that were referenced in the initial form. Comer said the forms mentioned Burisma and Hunter Biden and some sort of an investigation into fraud, but he said the documents were so heavily redacted, "you really couldn't tell anything." Comer is seeking at least one other 1023 form as well.
Asked about the bribery allegations, Joe Biden on June 8 said, "Where's the money? I'm joking. It's — it's a bunch of malarkey."
Child Support Case
Stefanik added "shamefully avoiding child support" to a list of offenses by Hunter Biden that show "we have a two-tiered system of justice." But the child support dispute has been handled by an Arkansas court.
Hunter Biden fathered a child with Lunden Roberts, who filed a petition for child support on May 28, 2019, nine months after their daughter was born. Hunter Biden agreed to pay $20,000 a month in 2020, and to make payments retroactive to November 2018.
According to court documents, Hunter Biden denied the pair had a relationship or a child, and agreed to take a DNA test — which, Roberts said in a court filing, established that he was the father. In his memoir, which chronicles his struggle with alcoholism and drug addiction, Hunter Biden said that he had challenged Roberts' claim because "I had no recollection of our encounter."
In a Dec. 23, 2019, filing, Roberts said that Hunter Biden was "a complete stranger" to her child and "has never seen the child."
In 2020, the court ordered Hunter Biden to start making monthly child support payments on Feb. 1, 2020, and to pay a lump sum for retroactive payments as well as Lunden's attorneys fees and costs (see page 70). The final court order, dated March 12, 2020, said Hunter Biden also would pay for the child's health insurance. The amounts he was ordered to pay are redacted in those documents.
The case, in the circuit court of Independence, County, Arkansas, was reopened by Hunter Biden on Sept. 12 to ask that the child support payments be reduced. His attorney said in a May 1 hearing that he was paying $20,000 a month and had paid $750,000 in total, according to CNN.
The New York Post reported on June 20 that the two parties had reached a private settlement, but Roberts' lawyer told the Post the details had not yet been finalized. We reached out to Hunter Biden's lawyer on the matter and haven't received a response.
---
Editor's note: FactCheck.org does not accept advertising. We rely on grants and individual donations from people like you. Please consider a donation. Credit card donations may be made through our "Donate" page. If you prefer to give by check, send to: FactCheck.org, Annenberg Public Policy Center, 202 S. 36th St., Philadelphia, PA 19104.