In a speech at a Michigan auto parts plant, former President Donald Trump distorted the facts about electric vehicles and the U.S. auto industry.
Trump said President Joe Biden "has dictated that nearly 70% of all cars" made in the U.S. must be "fully electric" in 10 years. The administration cannot mandate how many cars must be all-electric. It proposed new emission standards, and how the industry meets the new rules is up to them.
We found no support for Trump's claim that the proposed rules would kill 40% of the auto industry's jobs. Instead, Ford's CEO said EVs take 40% less labor to make, but the company would offset job losses by making its own EV parts.
Trump claimed all-electric vehicles can only "drive for 15 minutes before you have to get a charge." Most EVs have a range of 110 to 300 miles, with some expensive models reaching 400 to 500 miles.
He claimed EVs are "bad … for the environment." But studies show that electric cars produce less pollution over their entire lifespan than gas-powered vehicles.
He said Ford expects to lose $4.5 billion on EVs. The company projected that loss for this year but expects to make a profit on EVs by the end of 2026.
Trump falsely claimed he "saved American auto manufacturing" after "eight long years of [Barack] Obama and [Joe] Biden." The Obama administration helped rescue the industry, which increased the number of motor vehicle and parts manufacturing jobs in Michigan by 79,600, or 83%, in those eight years.
Trump's speech, which he delivered on Sept. 27 in lieu of attending a GOP primary debate, came during a strike by the United Auto Workers union against Ford Motor Co., Stellantis NV and General Motors Co. Trump delivered his remarks at a nonunion plant, Drake Enterprises, which manufactures driveline and transmission parts.
Michigan was a key swing state in Trump's last two presidential elections — he won the state in 2016, but lost it in 2020 — and it is expected to be a critical state again next year.
EPA Proposal Not a Mandate
Trump mischaracterized regulations proposed by the Biden administration to reduce pollution from motor vehicles.
"Biden's job-killing EV mandate has dictated that nearly 70% of all cars sold in the United States must be fully electric less than 10 years from now," Trump said.
Not exactly. As the New York Times wrote in April, "The E.P.A. cannot mandate that carmakers sell a certain number of electric vehicles."
Instead, that month, the Environmental Protection Agency introduced new proposed rules that would significantly restrict the amount of emissions from light-, medium- and heavy-duty vehicles, which includes passenger cars, trucks and large pickups and vans. If approved, the proposed standards, with some exceptions, would phase in starting in 2027.
In a statement at the time, the EPA said the new standards are "projected to accelerate the transition to electric vehicles," which "could account for 67% of new light-duty vehicle sales and 46% of new medium-duty vehicle sales" in 2032. But that depends on "the compliance pathways manufacturers select to meet the standards," the agency said.
In theory, automakers could find other ways to meet the emissions targets without having to produce as many EVs, as Joseph Goffman, principal deputy assistant administrator for the EPA's Office of Air and Radiation, wrote in prepared testimony for Congress in June.
"The proposed standards are performance-based emissions standards and are technology neutral, meaning that manufacturers can choose the mix of technologies (including internal combustion technologies) that they believe would be best suited for their fleet to meet the standards and to meet the needs of American drivers," his opening statement said.
The Alliance for Automotive Innovation, a trade group representing the big automakers, said it would be difficult to meet the standards in the time proposed by the rules.
Auto Jobs and the Transition to EVs
Trump made several claims about an increase in U.S. electric vehicle manufacturing and the loss of auto industry jobs. He claimed, "By most estimates, under Biden's electric vehicle mandate, 40% of all U.S. auto jobs will disappear … in one or two years." That figure may be from Ford's CEO saying it takes 40% less labor to make an EV than a gas-powered vehicle, but the CEO went on to say the company wants to manufacture its own EV parts to offset those job losses.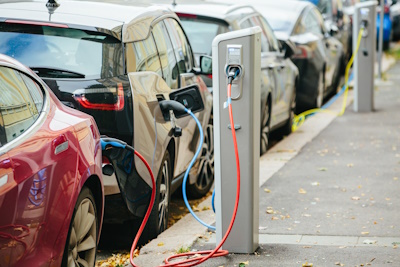 We don't know where Trump got his 40% figure; the campaign didn't respond to our request for support.
However, last November Ford President and CEO Jim Farley told reporters: "It takes 40 per cent less labour to make an electric car, so . . . we have to insource, so that everyone has a role in this growth," according to the Financial Times. "We have a whole new supply chain to roll out, in batteries and motors and electronics, and diversity has to play an even greater role in that," he said at a conference sponsored by the civil rights group Rainbow PUSH Coalition.
Other media also reported on Farley's 40% figure. "Ford Motor is attempting to build as many of its own parts as possible for its electric vehicles to offset an expected 40% reduction in workers needed to build such cars and trucks, CEO Jim Farley said Tuesday," CNBC reported on Nov. 15.
CNBC, Nov. 15, 2022: In addition to making sense for the business, he said retaining the jobs and workforce is another reason Ford wants to build more parts in-house rather than purchasing them from suppliers.

He said Ford plans to build such businesses rather than acquire them. For its increasingly popular Mustang Mach-E crossover, the company purchased motors and batteries. Going forward, Farley said that will no longer be the case.
In 2021, Ford announced an $11.4 billion investment in facilities in Kentucky and Tennessee to build EV batteries and vehicles. The company said the plants would create 11,000 jobs. Earlier this year, Ford announced an EV battery plant in Michigan, but it paused construction last week while the company and the UAW negotiate a contract. Union representation among these new battery plant workers has been a point of contention between the UAW and the automakers.
In remarks on Sept. 29 on the contract talks, Farley said: "None of our workers today are going to lose their jobs due to our battery plants during this contract period and even beyond the contract. In fact, for the foreseeable future we will have to hire more workers as some workers retire, in order to keep up with demand."
We were unable to find another potential source for Trump's 40% figure. At other points in his speech, he claimed the transition to EVs, pushed by the Biden administration's proposed rule, would kill "hundreds of thousands of American jobs" or even that the rule "will spell the death of the U.S. auto industry." Estimates vary on the potential impact of more EV production in the U.S., and the estimates depend on the researchers' assumptions.
The America First Policy Institute, whose leadership includes former Trump administration officials, said "at least 117,000" net auto manufacturing jobs would be lost if EVs made up 67% of U.S. vehicle sales by 2032. It doesn't consider offsets from battery manufacturing jobs. The left-leaning Economic Policy Institute has estimated a loss of 75,000 jobs with EVs making up half of U.S. vehicle sales by 2030 — without efforts to offset such losses. "These losses would stem from policy failures that stunted investment in domestic capacity of U.S. producers to build the batteries and drivetrains of BEVs [battery electric vehicles], and from a failure to regain market share in overall vehicle sales," said EPI, which is partly funded by labor unions.
The group said that by implementing other policies to substantially increase EV component manufacturing, the auto industry could gain 150,000 jobs.
The Range and Cost of EVs
Trump also complained that EVs "don't go far enough" and are "far too expensive" for most people. He said going "all electric" would mean "you can drive for 15 minutes before you have to get a charge."
Actually, most all-electric vehicles can travel between 110 and over 300 miles on a fully-charged battery, depending on the model, according to the Department of Energy.
In EPA testing, some more expensive models can go 400 or 500 miles on a single charge.
Even many plug-in hybrid electric vehicles, or PHEVs, can go between 15 and 60 miles on battery power alone before they need to be recharged. For PHEVs, "their overall range is determined by the fuel tank capacity because the engine kicks in when the battery is depleted," the Energy Department says.
For instance, the Jeep Wrangler 4xe, the best-selling plug-in hybrid in the U.S. in 2022, can go 21 miles in electric-only mode, according to its manufacturer. The Toyota RAV4 Prime, another popular PHEV, has an all-electric driving range of 42 miles, according to estimates.
In terms of miles per gallon of gasoline-equivalent, a fuel-efficiency measurement for electric and hybrid cars, the Wrangler 4xe has an estimated 49 MPGe and the RAV4 Prime gets an estimated 94 MPGe.
Driving conditions, driving habits and battery size are some of the factors that also affect the travel range of EVs.
As for the cost, the retail price suggested by manufacturers for all-electric cars starts at roughly $28,000, the DOE says. But, in August, the average price paid for an electric vehicle was $53,376, according to Kelley Blue Book, a company that does automotive research. That compared with an average transaction price of $48,451 for all new vehicles that month.
On the other hand, in most states, owners of electric cars, depending on the model, tend to pay less to operate and maintain their vehicles than people with gas-powered cars.
In addition, to encourage residents to purchase EVs, the federal government is providing tax credits of up to $7,500 for buying qualifying new models. For purchases of certain used models, the credits can be as much as $4,000. Some states also offer rebates and incentives for buying electric cars.
Environmental Impact
According to experts, electric cars produce less pollution over their entire lifespan than vehicles with an internal combustion engine. But Trump argued that the public is not aware of the environmental downsides of EVs.
"People have no idea how bad this is going to be also for the environment," he said. "Those batteries, when they get rid of them and lots of bad things happen. When they're digging it out of the ground to make those batteries, it's going to be very bad for the environment."
Trump has a point: Some analyses do show that the energy required to manufacture electric car batteries — which are often made of mined lithium, nickel and cobalt — can lead to greater carbon emissions than the production of gas-powered vehicles. Also, in many areas of the country, battery charging stations use electricity generated by fossil fuels, such as coal and natural gas, which further increases the carbon footprint of EVs.
But other studies demonstrate that EVs that run on electricity only, which have no tailpipe emissions, have far fewer life-cycle emissions than conventional cars that rely on gasoline or diesel. Such studies consider all stages in the life of a vehicle, from "extracting and processing raw materials through refining and manufacture to operation and eventual recycling or disposal," as explained in a white paper published by the International Council on Clean Transportation.
For example, in a post about "electric vehicle myths," the Environmental Protection Agency noted that a 2021 Argonne National Laboratory analysis of both a gasoline car and an EV with a 300-mile range found that, even when factoring in battery manufacturing, total greenhouse gas emissions for an EV were typically lower than those for the gasoline car.
Furthermore, while not easy, recycling the batteries, rather than simply disposing of them in landfills where they can leak toxins, "can reduce the emissions associated with making an EV by reducing the need for new materials," the EPA says.
EV Investments
Trump said that "Ford alone is projecting to lose an astonishing $4.5 billion on electric vehicles." Ford did estimate a $4.5 billion loss this year on its EVs — though overall, it expected to earn $11 billion to $12 billion companywide, according to its second quarter financial report.
Ford said the loss on EVs was due to "the pricing environment, disciplined investments in new products and capacity, and other costs." But the company expects EVs to make money in the coming years. In July, Ford said it expected an 8% profit margin on EVs at the end of 2026, the company told us.
General Motors has said it expects its EV line to be profitable by 2025.
Trump Didn't 'Save' U.S. Auto Manufacturing
In boasting about his record, Trump falsely claimed that he "saved American auto manufacturing" and wrongly suggested that he was responsible for an increase in auto manufacturing jobs in Michigan.
Trump, Sept. 27: I saved American auto manufacturing, you know that, in my first term, and I'll save it again. We did great. We did everything to keep those jobs going.
In fact, as we've written before, Michigan lost motor vehicle manufacturing jobs and motor vehicle parts manufacturing jobs under Trump, and that was the case even before the COVID-19 pandemic caused economic shutdowns and job losses. (We will get to his claim about saving the industry later.)
As of February 2020, before the pandemic shutdowns began, motor vehicle and parts manufacturing jobs in Michigan had fallen by 3,700 from January 2017, when Trump took office, according to the Bureau of Labor Statistics. Motor vehicle manufacturing jobs declined from 43,300 in January 2017 to 40,500 in February 2020, while motor vehicle parts manufacturing jobs fell from 175,000 to 171,300.
Of course, the pandemic-induced shutdowns caused massive temporary job losses, beginning in March 2020 but most significantly in April 2020. By the time Trump left office, most of those job losses had been recovered. Still, when Trump left office in January 2021, the number of motor vehicle and parts manufacturing jobs in Michigan had gone down by 8,700 over his entire term.
Nationwide, the number of motor vehicles and parts manufacturing jobs under Trump increased prior to the pandemic by 34,400, or 3.6%. Over his full four years, the U.S. lost 9,200 motor vehicles and parts manufacturing jobs.
As for his claim about saving the auto industry, the former president spoke more about that later in his speech. But, in doing so, he misrepresented the state of the industry when he took office from President Barack Obama.
Trump, Sept. 27: When I came into office, the auto industry was on its knees, gasping its last breaths after eight long years of Obama and Biden. But you finally got a president who stood up to the … You got to understand, I stood up to people that hate you. They hate you or they maybe hate our country. But I stood up for you. I stood up for the auto workers and stood up for the great state of Michigan like nobody's ever stood up before.
In fact, the auto industry was on its knees when Obama and Biden took office in January 2009, and it was the Bush and Obama administrations that can claim credit for saving the industry and its jobs.
Here's what happened: With General Motors and Chrysler facing bankruptcy, outgoing President George W. Bush announced on Dec. 19, 2008, that his administration would provide both automakers with $13.4 billion in short-term financing from the Troubled Asset Relief Program, or TARP. But, as the New York Times reported at the time, the companies each had "to produce a plan for long-term profitability, including concessions from unions, creditors, suppliers and dealers" by March 31, 2009.
Obama rejected the automakers' viability plans on March 30, 2009. A short time later, Obama announced bankruptcy plans for Chrysler and GM that would allow the companies to restructure operations and receive additional federal assistance. In all, the U.S. automakers received about $80 billion in loans and equity investments under TARP's Auto Industry Financing Program, or AIFP. Of that amount, the U.S. recouped $70.5 billion through loan repayments, equity sales, dividends, interest and other income, according to a November 2015 Government Accountability Office report.
The GAO report said the AIFP was created when "both GM and Chrysler were on the verge of collapse" that "threatened the overall economy as it could have led to a loss of as many as one million American jobs." Instead of losing jobs, the industry saw tremendous job growth in Obama's eight years.
From January 2009 to January 2017, the number of motor vehicle and parts manufacturing jobs in Michigan had increased by 79,600, or 83%, according to BLS jobs data.
Nationwide, motor vehicles and parts manufacturing jobs under Obama increased by 270,300, or 39.5%.
---
Editor's note: FactCheck.org does not accept advertising. We rely on grants and individual donations from people like you. Please consider a donation. Credit card donations may be made through our "Donate" page. If you prefer to give by check, send to: FactCheck.org, Annenberg Public Policy Center, 202 S. 36th St., Philadelphia, PA 19104.