A misleading TV ad from Sen. Ted Cruz claims Rep. Beto O'Rourke "said crossing the border illegally should not be a crime." O'Rourke wasn't referring to all illegal border crossings. He said asylum-seekers who enter the country between official entry ports should not be prosecuted.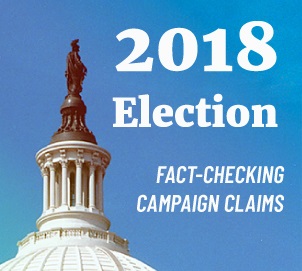 To support the claim, the Cruz campaign ad cites a Washington Examiner article that imprecisely paraphrased remarks O'Rourke made in an interview with HuffPost last month.

"These asylum-seekers — penniless, at wit's end, after surviving three weeks on the road, very often with their children — then attempt to do what I think any human would do, which is to request asylum in between the ports of entry," O'Rourke was quoted as saying in that interview. "We should not criminalize that."
But the Examiner began its article by saying that "a trio of Democrats running for top offices in Texas," including O'Rourke, "want to decriminalize unauthorized border crossings." It wasn't until later in its story that the Examiner mentioned O'Rourke was referring to asylum-seekers.
Unlike previous administrations, the Trump administration is now referring all illegal border crossings for criminal prosecution under a "zero tolerance policy" announced by Attorney General Jeff Sessions in April. That includes individuals who illegally enter the U.S. seeking asylum, a form of protection for those who can't or won't return to their home country because of persecution or a well-founded fear of persecution.
Sessions has said people should apply for asylum at a port of entry to avoid being prosecuted for illegal entry, a misdemeanor offense under federal law.
The ad, called "Deported," first aired on Sept. 19. It starts by citing the headlines of news reports about three men who all committed violent acts against women after illegally reentering the U.S. after having been deported numerous times. One of the men, Jose Ines Garcia Zarate, shot and killed Kate Steinle in California in 2015.
"Deported five times. Deported 11 times. Deported 20 times," the ad's narrator says about the men. "But Beto O'Rourke said crossing the border illegally should not be a crime, and said he's quote 'open to abolishing ICE.'"

O'Rourke's comments on Immigration and Customs Enforcement are confusing. He said in June that he would be open to a "better way to enforce our immigration laws," adding: "And if that involves doing away with this agency, giving that responsibility to somebody else, changing how this agency performs, I'm open to doing that."
But then when he was directly asked if he would abolish ICE, he said, "no."
"I don't know enough about how we would perform those same enforcement functions, if through another part of the Department of Homeland Security," he said.
What O'Rourke did not say, as the Cruz campaign ad suggests, is that he'd be in favor of decriminalizing illegal immigration for all individuals.
The Washington Examiner article cited in the TV ad says that O'Rourke is one of three Democrats running in Texas who "want to decriminalize unauthorized border crossings."
"U.S. Rep. Beto O'Rourke, who's challenging Republican Sen. Ted Cruz for his Senate seat, gubernatorial candidate Lupe Valdez, and congressional candidate Veronica Escobar told HuffPost they are in favor of such a move, which the report says would be simpler to implement than abolishing Immigration and Customs Enforcement, as some Democrats have demanded," the Examiner reported.
But HuffPost made clear that O'Rourke didn't take the exact position as the other politicians. The article's subheadline said: "Two top candidates say Congress should decriminalize unauthorized border crossings entirely, while aspiring U.S. Sen. Beto O'Rourke argues asylum-seekers should be exempted from illegal entry prosecution."
And here's how HuffPost later distinguished O'Rourke's comments:
HuffPost, Aug. 23: O'Rourke, who has mounted a competitive campaign to oust Republican Sen. Ted Cruz from his seat, offered more cautious remarks, focusing primarily on the tens of thousands of mostly Central American asylum-seekers who have crossed into the U.S. in recent years. The Trump administration has repeatedly turned away migrant families seeking to enter the U.S. at legal ports of entry, O'Rourke noted.
Even the Examiner article — toward the end — went on to say that "O'Rourke said the U.S. 'should not criminalize' immigrants requesting asylum in between ports of entry."
The Cruz ad also failed to mention that decriminalizing unauthorized entry would still leave officials the option of deporting violators by bringing civil charges.
"Treating unauthorized crossing as a civil violation allowed the government to deport unauthorized immigrants without spending huge sums on prosecuting and jailing migrants that U.S. officials planned to deport anyway," HuffPost said.